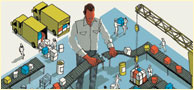 If you're curious about general high level trends and forecasts in the supply chain that are likely to impact specific procurement and supplier management strategies, it's worth checking out a recent McKinsey Quarterly article (registration required) titled, "Building the Supply Chain of the Future." The article frames the debate noting that supply chains of today were built for a more perfect world, with "stable, high-volume" production, often in regions with attractive labor-arbitrage opportunities. While this is an assertion I could quibble with — I think many global supply chains were much more fragile from the start than we cared to admit and were often built on partial assumptions around total cost, capacity, price stability, etc. — I do agree that we face more volatility and risk from past supply chain decisions than ever before. But what are companies doing about this risk?
McKinsey asserts that companies are deploying two different strategies. The first is what the authors describe as the "splintering" of the supply chain "into smaller, nimbler ones better prepared to manage higher levels of complexity". In addition companies are beginning to "treat their supply chains as hedges against uncertainty by reconfiguring their manufacturing footprints to weather a range of potential outcomes." Based on our own global sourcing experience and research at Spend Matters and MetalMiner, we agree with the movement towards "hedging", in both direct (e.g., commodity management strategies across both Western and global markets) and indirect (e.g., planning for labor cost increases, investing in supplier development programs to reduce risk, etc.) ways.
Yet the world McKinsey presents in the article only captures some of the facets of the current global supply chain equation. Yes, we can all agree that supply risk is omnipresent — and rising. And yes, companies are responding and rising to the challenge. After all, they have to, considering they got themselves into this proverbial balancing act of global opportunity and added risk in the first place. But in the supply chain reality, far outside the world of consultant studies and high-level procurement transformation initiatives, there are other changes taking shape in the supply chain.
Companies — at least smarter ones — are becoming more data-driven and analytical than ever in how they look at building supply chain partnerships, leveraging technology in new and creative ways to set strategy and manage and measure performance. Organizations are also increasingly lobbying governments to drive trade policy in their own best interests, creating a new intersection of policy, business and supply markets. And let's not forget how some more advanced companies are asserting themselves by taking advantage of supply chain knowledge and global supply markets to push competitors into a box (as Apple has successfully done in tight supply markets in the past).
McKinsey is right to raise the issue of what future supply chains may bring. But when it comes to translating strategy to action on a global basis these days, the more interesting stories and use cases aren't coming from consultant's decks (many of which led us down false paths in the rush to global sourcing at all costs). They're coming from the trenches of top performing organizations with a deep understanding of local and global supply market environments that are often serving as market makers, setting strategy for others to follow.