The Seven Deadly Sins Draws On The Dark Arts

Conversations with game designers and gamification experts over the past month highlight how important design should appeal to the human spirit.  Intrigue, reward, status, community, and challenge drive 5 key areas of engagement.  However, some of the masters of gamfication have revealed some dark arts that touch on connecting with human psychology to engage (see Figure 1).  Strategies on adopting the seven sins can be summarized as:.
Figure 1.  Applying The Seven Deadly Sins To Gamification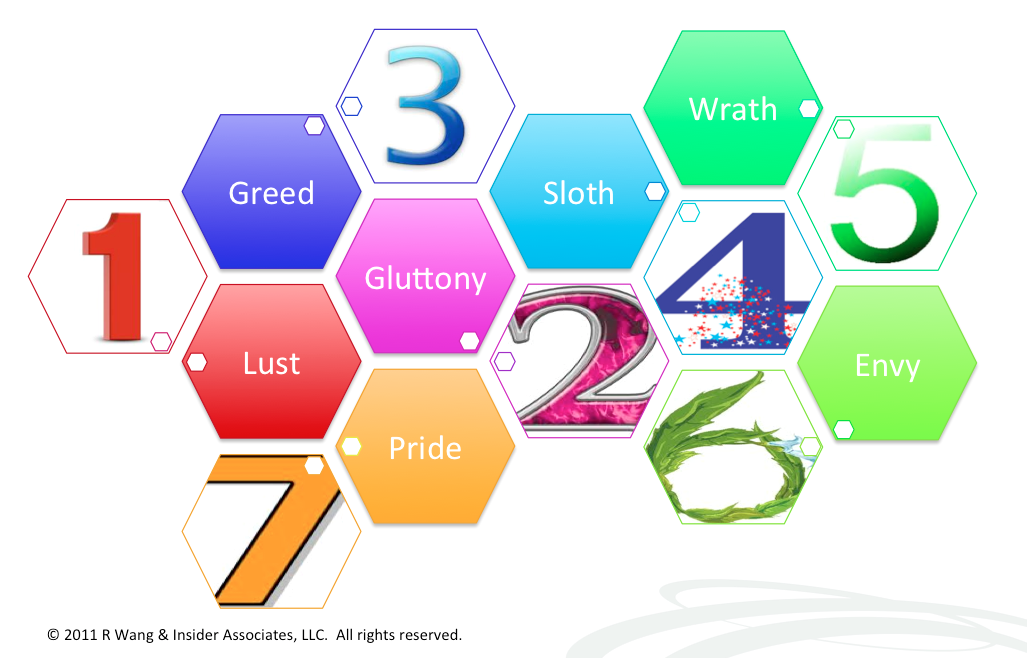 Lust appeals to lack of self control and attraction. Engage the user through intrigue.  Find what attracts the user through incentives.
Gluttony refers to excess, over-consumption, and over-indulgence. Focus on the desire to accumulate, acquire, and contribute.
Greed calls on the desire for power, status, and wealth. Use non monetary incentives such as immediate recognition to drive engagement.  Provide scarcity in rewards.
Sloth attracts laziness, indifference, and complacency. Keep designing the system to be uber convenient for the user.  Privacy falls aside when convenience wins out.
Wrath calls out anger, impatience, revenge, and rage. Draw on the desire for immediacy.  Reward for rapidity.
Envy fuels a need to desire what others have. Highlight the success of others.  Improve transparency on the spoils and rewards.
Pride draws out vanity and narcissism. Foster healthy competition.  Incentivize the pursuit of excellence.
Copyright © 2011 R Wang and Insider Associates, LLC All rights reserved.