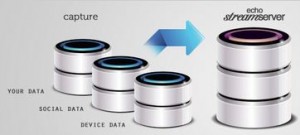 I found myself intrigued by the launch of Echo E2 during Social Media Week in San Francisco earlier this month. The new Echo service is a StreamServer and App Store that allows a company to bring together social media activity in a single Web location.
Targeted at media companies and consumer brands, the technology already has some high-profile users: Sports Illustrated used it to create a website to bring together news and picture feeds, social streams and discussion for last year's soccer World Cup; Universal Music built a site for teen idol Greyson Chance, where Twitter, Facebook, Myspace or Google users can log in and post comments on the site and to their own streams at the same time.
The heavy lifting behind all this audience engagement is described well in a posting by Ken Yeung at The Digital Letter. He also does a good job of summarizing why this matters:
"No longer do we need to tell people that they need to be fans of our brands on Facebook or follow us on Twitter — it can all be right on the brand's website. It's the start of what some might consider to be great social integration with your website … Echo is giving the power to the publishers to take back their websites and community without just simply leaving it in the hands of third-parties who may or may not have restrictions on data portability."
I've always liked Echo as a company, right from the beginning of its earlier incarnation as JS-Kit. The reason is that, unlike virtually every other player in the Web content management space, it has never sought to own the customer's core website. Instead it has specialized in plug-ins that bring interaction to the static web pages, delivered as a service. JS-Kit provided a comment capability (similar to Disqus) that took care of user log-ins so that users only had to log in once and site owners didn't have to waste resources on managing their own user sign-ins. The new E2 service does pretty much the same thing by analysing and mashing up social media streams.
"The new unit of currency on the Internet is activity data," said Echo's CEO Khris Loux in a statement at the launch. "And the new captains of the web are the teams with the creativity and insight to build highly social real-time experiences with that data."
The transformation of JS-Kit into Echo took place two years ago and was a move to what Loux then called the "death of the comment," brought on by the rise of Twitter, Flickr and other social media streams. This month's launch adds powerful real-time analysis and mash-up technology capable of processing many thousands of items per minute in order to filter and present the right content. Loux calls it "real-time as a service." As he explains it, "a publisher or start-up should no longer build real-time … The Web is becoming designing blocks and Echo, real-time as a service, is the new block in town."
This is a product that clearly follows on from the theme I highlighted at the beginning of the year as a trend to watch when I wrote, Big in 2011: Curation and Consultation. It's a powerful combination of the two components, recognizing commentary from social stream users at the same time as bringing it together in a curated context. Although for the present the market for this technology is clearly concentrated in the mass market consumer brand arena, it's a reminder that real-time analysis and mash-ups are going to be vital tools in any environment where there's a need to harness social streams to produce meaningful results.