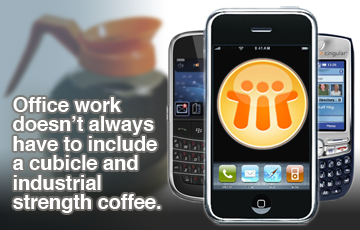 I got back from Lotusphere in an interesting frame of mind. On the one hand something kind of amazing is happening. I could tell the Web developer/designers I share an office with that IBM was going to create opportunities for them in its customers. That's right – the banks, the retailers, the insurance companies, the government departments- all of them are likely to buy into IBM Social Business story, and associated tech stack. The skills needed to extend and integrate with the environments, or even deploy them, are Web skills: REST, HTML5, Javascript and so on: IBM is going to create economic opportunities for the folks currently camped out in Silicon Roundabout. Weird, huh.
I am not invested in the Lotus brand like, say, Stuart Mcintyre but I think it has an opportunity to own an enterprise Web Stack, to nail the consumerisation of IT, to bring new developers to the Smarter Planet party. That's the line I took in a post before Lotusphere – Lotus Gears Up To Embrace The Web, Rebuild its Developer Story, pwn Social Business and its the line I took in a speech to Lotus and partner engineers at the event.
I told the Lotus engineers that now was the time to double down on developers, and that IBM should look at Apple for inspiration. I don't mean the Apple of today, the crushing bruising shiny leviathan that colours our dreams white, and brings us digital content as fast as our ADD can handle it. I meant the Apple of yesterday. The "dead" Apple.
The Apple that inspired Michael Dell to say in 1997:
"What would I do? I'd shut it down and give the money back to the shareholders."
The Apple that might have gone under without being thrown a $150m lifeline by Microsoft.
So what does this have to do with Lotus? The first point is blindingly obvious – people have been saying Lotus is dead for years. Before he became FakeSteveJobs Daniel Lyons at Forbes would regularly write off Lotus. The meme had legs. But IBM kept pushing back. For more than decade.
IBM has been pushing the idea for years now that Software Group is a set of capabilities and brands rather than a set of products. Then last year it became apparent that IBM was beginning to decommission individual software brands in favour of IBM Software. That's right- IBM as the brand. At first glance the move makes sense. IBM marketing is of course on a roll at the moment. IBM's share price is at record levels. And why keep defending brands that people don't like, anyway. Rational has its cadre of haters. Tivoli has been known to drive some customers nuts.
So lets just call it IBM, then, shall we? The problem is is that IBM is, as Alan Lepofksy says, so darned big. It is big. It feels big. its hard to navigate around. But developers don't like stuff that's hard to navigate. Developers want easy to navigate, with no barriers to entry. Developers don't press buttons to call salesmen. Developers don't register their details to download white papers. Shit – developers don't even read white papers.
Brands help us navigate. Brands represent opinions – they represent a way of thinking, and as such are crucial …