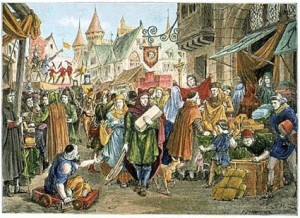 I spent a few days last week in the UK conspiring with my UK/European partner in crime on how to interject some major changes into procurement and supply chain coverage across the pond (oddly enough, world domination strategies seem far more achievable when looked at through a pint glass). In between our discussions, including our plans to pursue greater coverage of the broader European market, we had numerous meetings, outings, get-togethers and debates with a range of practitioners, vendors, academics and field-specific experts. In this final category, I had the distinct pleasure of meeting Alex Ranson, who has been contributing recently to our UK/European site on the topic of procurement and social media (you can read her recent posts here and here).
Over a dinner with our European sponsors, Alex got me thinking quite seriously about the role social media should play in a procurement professional's life. She also lectured me on why Twitter matters — I'm not totally convinced, unless you're a media company and you want to generate traffic — in terms of procurement more generally. In a series of posts looking at some of Alex's recommendations (and some by CVM Solutions in a recent Forbes online article) I'll aim to leverage these opinions for why procurement practitioners should not ignore social media in their day jobs. Incidentally, I don't define blogs and research sites/communities like Spend Matters as social media — we're simply a new form of publisher.
I'll begin with a quick dialogue with an example from Alex in the form of a procurement practitioner that frames an introduction to the subject better than I ever could. Alex begins by introducing the view of a senior colleague who doesn't have time for social media, and says: "No disrespect, but I work in PROCUREMENT! I don't have time for all this social media marketing nonsense … I couldn't care less about the minutiae of teenagers' tedious lives, I'm quite sure they don't want to hear about mine, and I certainly don't want my team wasting company time on gimmicky fads — we're hard pressed enough as it is."
How does Alex go about convincing this curmudgeon? She begins by placing social media's role in the broader community — and business community specifically. To wit, "social media is all about connecting people who care about the same things that you do. Yes, you work in procurement. But you also work for a company or organization trying to achieve complex goals in an increasingly interconnected world, where information exchanges are now taking place through social media rather than newspapers, TV or even e-mail."
Think social media is just about marketing? Guess again. While "big consumer brands with big marketing budgets were among the early adopters of social media tools, networks and spaces, and still tend to grab all the headlines," Alex suggests, it also "has a huge amount to offer disciplines like procurement in terms of more effective, more cost- and time- efficient collaboration, communication, creativity, customer service, market and supplier research." On the supplier research side consider, for example, an example I've shared before about changes in employee profiles and resumes on LinkedIn can be a leading indicator of layoffs and other negative changes at particular suppliers.
Stay tuned as we continue to investigate the topic of social media and procurement.