It's been a while since I've written a post that updated our current understanding of social business and in a concept that is evolving very rapidly, it's important to frequently share what we've learned. Lately I've worked on an infographic to capture a holistic view of social business that combines internal and external views of employees, customers, partners and suppliers.  It's easy to get overly focused on one element or another and lose the bigger picture, particularly around the customer facing side of social business. Overall social business combines social CRM and enterprise 2.0 and hinges on the concept of creating business networks. Here's the infographic: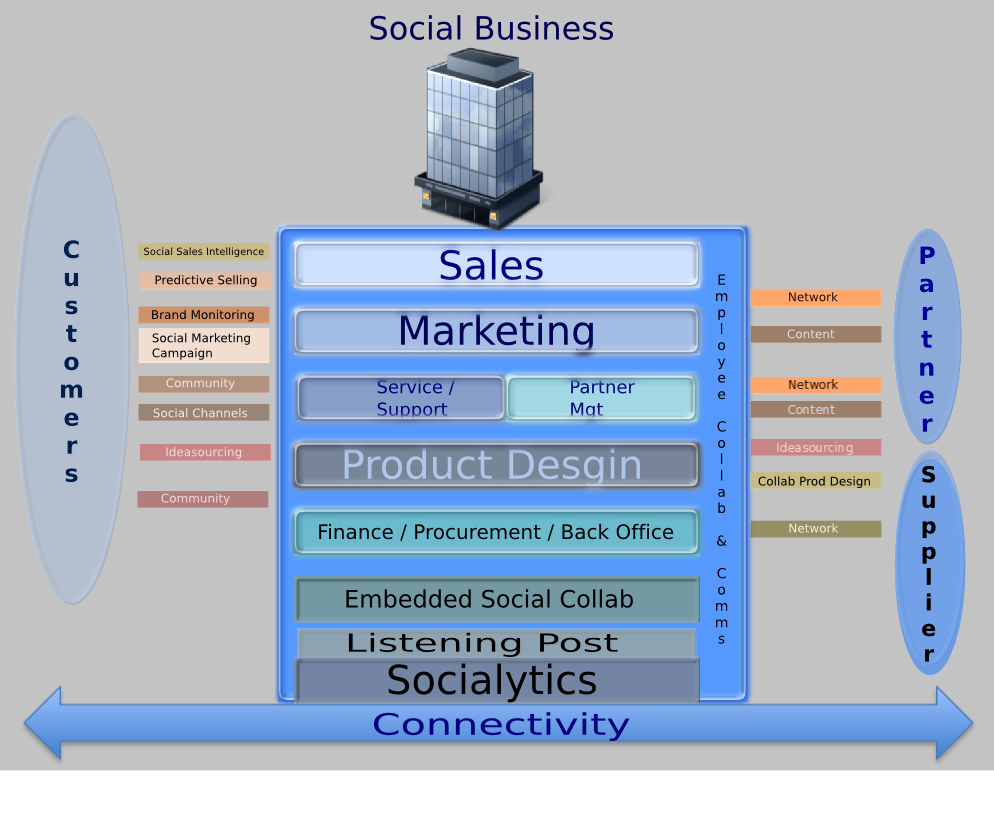 Let's take a look at the constituents, elements, interactions, activities and tools that make up a social business as represented in the diagram. At a high level the constituents consist of employees (I could segment this group in several ways and have done so below by function. This is an operational view so I did not include shareholders / investors), customers / prospects, partners and suppliers. Systematically the breakouts in each functional area may or may not represent a different tool, as often the same social solution could be applied to multiple problems. I will mention types of tools that are available for at least some of the activities and interactions but this is not meant to be an exhaustive list of potential vendors.
Sales
Social Sales Intelligence:
Social sales intelligence tools are tools that sales personnel can use to gain better understanding of prospects and customers and their behavior. While these tools are not socialytic apps themselves, they can take input from the socialytic platform to assist sales people in understanding social data and to mash up that data with other enterprise customer data (transactions, customer complaints, etc.). These tools are mobile and can be real time and often carry contextual tags like location. They can be aggregators of social data and content from public and proprietary sources. Most of these tools will be seen as extensions of current sales force automation (SFA) solutions but they can also be stand alone or complete replacements for SFA. Some examples of these types of tools include:
Embedded / extensions of SFA: Salesforce.com Data Cloud (Jigsaw) and Oracle Sales Prospector
Stand Alone: Insideview and Nimble
Predictive Selling:
Predictive selling tools are really specialty socialytic apps that incorporate behavioral modeling with social data and other customer transaction data. This is an area of a lot of R&D effort and has a lot of promise, but currently the only example I know is Trampoline Systems.
Partner Network:
You will notice that the partner network appears at several points on the diagram. From a tool perspective they can be built and managed on any community management platform including Lithium Technologies, IBM Lotus and Jive Software. The network connects sales, marketing, partner management (and any other internal constituents that interact with partners) with all types of partners. In particular sales needs connectivity with distribution channels / partners to share resources (including content), manage leads, share best practices, share product / service information and generally build a collaborative, integrated and transparent sales function.
While this diagram is meant to represent a business to network view I should mention that partner networks could (and do) exist outside of the individual enterprise environment. The best example of this is Partnerpedia.
Marketing
Brand Monitoring:
Brand monitoring is a function of socialytics platforms and consist of gathering social references to a brand and applying filters and analysis to determine things like general brand sentiment, as well as find opportunities to strengthen brand perception. A listening post application is used to collect public social data and pass that data through some type of analysis. Companies that provide solutions for brand monitoring include Radian6, SAS Institute, Attensity and SAP Business Objects.
Social Marketing Campaigns:
Social marketing campaign management often happens manually today although new tools are emerging to manage social campaigns on social networks like facebook and on social communication networks like Twitter. In some cases the solutions are extensions of traditional marketing automation systems but also can be stand alone. In simple form they can be integrations between existing CRM and public social channels like Salesforce.com has incorporated into its solution. In more complete form social marketing solutions need purpose build socialytic capabilities to enable campaign planning, management and refinement. The only stand alone social marketing automation solution I've seen so far is a new application called Hearsay Social (I wrote about it here).
Partner Network:
See the comments under sales above, they apply equally to connecting marketing to the partner network.
Partner Content:
Partner content represents the collaborative efforts of marketing departments and the partner network to develop effective social media campaigns. The network is the method of sharing and development could be on a tool as simple as a wiki built on any one of a number of social platforms including IBM Lotus, Jive Software, INGage Networks, Lithium Technologies, etc. Socially generated content provides mutual benefit to the ecosystem and helps encourage innovation while maintaining some corporate brand control and quality.
Support / Service
Community:
Peer to peer support communities are proving to be extremely beneficial and popular with both customers and companies. From a customer standpoint they can provide excellent experiences with quick and trusted problem resolution. Businesses benefit from lower support costs / lower call volumes, increased customer satisfaction and reusable, crowdsourced content for the company knowledgebase. Examples of solutions: Lithium Technologies and Get Satisfaction.
Social Channels:
Social channels open up the opportunity for companies to provide support to customers "when, where and how" the customer chooses. This is extremely important from a customer experience standpoint and can provide companies the opportunity to greatly influence negative situations in a positive way before they have a chance to "blow up" into ugly, viral social incidents. I like to say, "your customers are talking about you in a variety of online venues, are you there to listen and respond?" Integration is the solution for social channels; companies need a scalable way to open social channels in customer service systems and manage interactions in a systematic way. A few CRM systems are already offering some levels of integration (and those integrations are getting tighter with each release), including Salesforce.com, Oracle CRM and RightNow.
Product Design
Ideasourcing:
Innovation is an overused word these days I think. Even so, it's an extremely important part of business strategy, both in product design and in business models. Form a product / service perspective innovation can be a huge competitive advantage but can come at a very high cost. Involving customers, partners and suppliers in the innovation process can help reduce costs but more importantly it can provide much needed perspective for new ideas. Ideasourcing and the related concept of crowdsourcing has shown real promise in getting the ecosystem engaged in the product / service development process. Examples of innovation management solutions that facilitate ideasourcing are BrightIdea and Uservoice.
Customer Community:
As I mentioned above the customer community is an integral part of the ideation process but that's not the only role it can play in product development. The more connected the customer becomes to the company the more opportunity they have to influence direction and improve overall experiences. Customers can help companies improve products / services, identify issues and problems, provide high quality product information through user generated content and provide much more effective feedback that could be generated through outdated and limited methods of the past.
Collaborative Product Design:
Collaborative product design takes the partner and supplier relationship to a new level. Partners can provide real world perspective on products and services that goes beyond just ideasourcing as they have a vested interest in the success of the companies development process and it's products. Partners can provide input or they can be engaged in co-innovation efforts that produce jointly developed ideas. Co-innovation is not limited to partners, customers, in some instances can also be engaged in co-innovation efforts.
Engaging suppliers earlier in the design process can have lot's of mutual benefits. Suppliers can ensure the use of their products and materials while companies can head off costly manufacturability and sustainability issues. The  collaborative relationships can also lead to significant economic advantage for both parties.
Examples: Aras PLM and Dassault Systemes
Partner Management
Partner Network:
See comments under sales above.
Partner Content:
See comments under marketing above.
Finance / Procurement / Other Back Office
Supplier Network:
Supplier networks (trading communities) were pioneered by Ariba in the late 1990's and provide a collaborative, mutually beneficial environment for businesses to connect and build business value while reducing supply chain costs.
Employee Collaboration and Communication
A large part of social business is connecting people. This holds true inside the "firewall" as well as out into the companies ecosystem. Breaking down internal silo's is one of the biggest challenges facing companies as they try to change from industrial age style models to people-centric enterprises. Connectivity inside a company is often harder than it is externally for many businesses. Part of this problem could be attributed to information overload in environments where employees don't have proper communication and collaboration tools. Many traditional systems were not built to share information, instead they were more focused on "managing" and securing information. This is true of file centric collaboration tools and of many traditional content management apps. Information is only beneficial if it can be found, understood and used in real time at the point of need. Communication tools are often misused for collaborative work in ways that stretch both the tool and the employees.
New social collaboration tools are being deployed that free up traditional communication tools like email to be used for what they were actually designed for, asynchronous communication. These tools also provide a social layer that some employees will embrace as a new user interface for the enterprise. Collaboration tools that focus on facilitating interaction between people and on enabling those people to get work done can provide much needed productivity gains.
Tools:
Asynchronous communication – email, activity streams, microblogs, blogs
Synchronous communications – IM, phone, activity stream, microblogs, video conference
Collaboration – activity stream, wiki, video meeting / conference, product and portfolio management (PPM) collaboration / work management tool, real time cloud based document sharing systems that facilitate real time interaction and productivity
Embedded Social Collaboration
I called embedded social out by itself because I believe that the most effective way to drive adoption of social collaboration tools is by putting the functionality in the natural work context of the employee. For some employees using a social layer will be an excellent solution but for many employees this will not be the case. For job functions that are closely linked to a task (or workflow) that is inside a specific apps moving outside of the enterprise system to collaborate in another system, the social layer, is at best inconvenient and at worst a large productivity drain. For these employees the social collaboration solution must coexist in context to their specific workflow, embedded into the job function.
Some tool examples:
Social platform: IBM Lotus, Jive Software, Socialtext and Moxie Software
Activity stream: All of the platforms listed have an activity stream function + SocialCast (can be embedded into other apps), Novell Vibe, Salesforce.com Chatter (internal only),
Socialytics is a set of cross-discipline solutions that are used to analyze social data created through socially-based interactions.  Socialytics includes tools and applications that are either purpose built to analyze social data or may act on social data in a more generalized fashion as another form of data input.  Socially-based interactions create social data that reflects the relationship of people to people, topics, ideas or locations.  Social interactions may occur within employee, customer, or partner-based communities, corporate communication tools like email and instant messaging, public communication tools, as well as within public and private social networking environments and forums.
Some socialytic platforms:  Radian6, SAS Institute, and Attensity
I've written quite a bit lately about connectivity and it's importance to the overall social business model so I won't rehash all of that here, instead read this post. I will add though, that in the strictest sense I use connectivity to represent both the importance of the interconnected ecosystem and the concept of the organic business network as new business model. To put it simply, I believe that a big part of the advantage of the new model is tying the inside to the outside of the business and conversely the outside to the inside, effectively reducing / eliminating barriers to open communication as much as practical.
Note about new commerce tools: I considered including some of the new developments in commerce in this model but decided to keep them out. There is a social component to the evolution of modern commerce solutions for sure, but I think they are more appropriately discussed in the context of the evolution of commerce due to both the change in customer behavior and the impact of the convergence of social, mobile, online and brick and mortar to build a new kind of customer experience. Some great example of a new commerce platforms are ShopIgniter and Oracle's rapidly evolving retail suite.
There you have it, at least at a high level. I welcome feedback of course and hope to update this infographic regularly.
Tags: social business, socbiz, collaboration, social web, connectivity, socialytics, SCRM, e2.0, customer, employee, partner, supplier