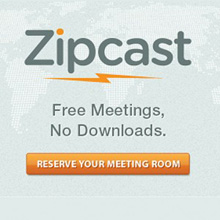 I know I'm not alone in my dissatisfaction with web meetings, because I frequently hear the same sentiments expressed by colleagues and associates. We're all fed up with dialing in to online meetings, waiting for clunky client software to load up, and then listening passively to presentations with little to no opportunity to participate. Probably the most damning indictment of the current state of web conferencing software is the number of times in the week I get invited to GoToMeeting or WebEx calls when no one ever bothers to fire up the screen sharing and we just use the dial-in for a phone conference. If I were running one of those conferencing vendors, I would be desperately worried about this lack of enthusiasm for the product among my customers. It's a telling sign that something is badly wrong.
What's needed goes further than a few enhancements. The web conferencing model is broken and faces disruptive change. Nothing illustrates that better than contrasting recent moves by Cisco and Slideshare.
Cisco last week announced the shutdown of its online mail product, which was based on the 2008 acquisition of online email and calendaring startup PostPath, and which was originally going to be relaunched as WebEx Mail (it was since rebranded Cisco Mail). Web meeting market leader WebEx was itself acquired by Cisco in 2007, and in the first year or two Cisco aimed to make it the centerpiece of a sophisticated enterprise collaboration platform.
It has turned out that the vision was over-engineered and the high-falutin' platform concept has gone nowhere — which is probably the real reason for the demise of the mail component, as it no longer has a context to make it compelling. But what's really sad is the continued neglect of WebEx itself, which is in an even worse state than I was already complaining of in mid-2009:
"Despite the glaring inadequacies users have had to put up with throughout those years, web meetings to this day remain difficult to schedule, poorly integrated with other web collaboration technologies, absurdly complex to post-edit, archive and search, and still totally cut off from recent developments in social media (how difficult can it be to plug in a Twitter stream widget?) … I'm sad to say that WebEx comes across as a meager, undernourished poster child for Cisco's ambitions in cloud services."
To be fair, I was equally critical of Cisco's rivals Citrix Online and Microsoft for their failure to innovate. It seems that all the big web meeting vendors are perfectly happy to milk their users for the easy revenues they've been able to generate, without pausing to think about or invest in next-generation meeting capabilities.
I hoped that perhaps the cosy cartel might be challenged by outsiders such as European vendor Netviewer, which back in 2009 was experimenting with online live video. But last month Citrix completed its acquisition of Netviewer, bringing 18,000 mainly European customers to the Citrix Online platform but doing little to refresh its feature set.
No, the real excitement last month came when online slidedeck sharing platform SlideShare announced Zipcast, which adds a conferencing capability to its already successful slideshow platform. [Disclosure: I've been offered an early opportunity to present a promoted Zipcast using the platform]. The genius of this new release is that it strips away all the unnecessary paraphenalia that we've come to associate with web meetings: the clunky client software, the cumbersome integration of social tools, the proprietary screenshare window. Instead it just gives us the slidedeck in a browser window and video, audio and social feeds from the presenter and other participants.
This is a classic disruptive move, giving the unserved majority the 'just enough' that they need to get the job done, but in a platform that's easy to extend with additional features. The established web conferencing vendors have had the past ten years to consolidate their dominance by driving forward with innovations that made the experience richer, simpler and more productive. They flunked that opportunity. Now the disruption begins, and online collaboration steps out in a new direction that I hope will rapidly generate some explosive, pent-up innovation from newly liberated users.