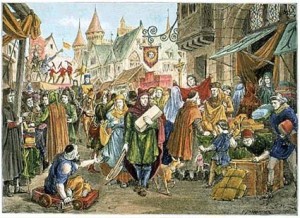 Click here for the first post in this series.
I previously shared a few observations from Alex Ranson, our trusty social media correspondent on Spend Matters UK/Europe, about why social media matters for procurement. Alex, who has worked in a range of fields from marketing to investment banking to public sector procurement, has a keen
eye for the reasons social media matters. I particularly like her recent observations over on Spend Matters UK/Europe about how social media has changed the way we observe and analyze political and economic change in global markets. Consider the current upheavals and revolutions taking place in North African and other Arab countries (not to mention Iran) which have driven the price of oil to recent new heights and created material risk in regional supply chains and even global shipping lanes.
Alex notes that social media tools have played a "huge role in accelerating change" as well as our ability to monitor and manage its implications for our organizations. Consider how as the events unfolded, "we saw incredibly fast information sharing: real time casualty figures from streets and hospitals posted on Twitter, a set of Flickr photos showing minutes-old propaganda SMS messages sent by the Egyptian government, and hours- old YouTube video footage of the military clashing with protesters." We also saw "information reaching far more people" and "networking and coordination taking place through social media."
If you're on top of social media, how might these actions have impacted your organization? For one, you'd probably be able to more quickly see any potential supply chain disruptions around the regional corner far more quickly than through traditional means. You'd also be able to react more quickly to change in the oil markets to understand the cost impact on your supply chain, not to mention potential mitigation strategies available to you. And hopefully, as Alex suggests, the role of social media tools "to bring about previously unthinkable change so quickly, simply and cheaply" may do the same in your organization when it comes to managing suppliers, reducing supply risk and creating more effective, decentralized procurement governance and stewardship in a wildly dynamic and changing global environment.