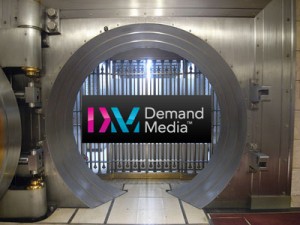 Gotta hand it to Demand Media ($DMD), despite the beating they have taken for being a 'content farm' they have repositioned themselves very nicely away from the firestorm.
First they not only escaped but apparently benefitted from Google's algorithm shift, aimed directly at the content farms that they supposedly were.
Now they've made a move into User-Generated Content with this morning's announced acquisition of CoveritLive.
"CoveritLive really reflects our mission as a company – publishing what the world wants to know and share. Consumers around the world are tuning in by the millions to participate in live events powered by CoveritLive, collectively spending over a billion minutes on the platform each month" said Richard Rosenblatt, Chairman and CEO of Demand Media. "CoveritLive's live event platform helps us continue to work towards that mission, building on both our social publishing model and our social media product offering with a platform that offers proven value to both brands and consumers."
As some of our most premium and well-respected brands continue to prove, consumers care a lot more about the product they're getting than about where and how it's made.
I'm still not sure I particularly like Demand Media, but I admit to gaining considerable new respect.
Related articles