Rackspace is now offering paid support for OpenStack-based clouds, seeding the team with their acquisition of Anso Labs and partnerships with hardware, cloud management, and cloud servicing companies.
Rather than try to take over the entire support market for OpenStack, Rackspace wants others to join in the market, leaving Rackspace to do the higher level support.
Dell, Opscode, and Rackspace also announced the beta of an (unnamed?) offering that combines Dell Power Edge C class hardware, OpenStack, and Chef to create bare-metal, bootstrapping clouds.
Cloud Builders
"The one thing we've heard [from businesses] is that people need a commercial entity to back an open source project," Collier says. "Free and open source is great and all, but they want someone they call when they run into problems. Rackspace is the natural company to do that."
Rackspace announced it's support plan for OpenStack cloud installs today, Cloud Builders. Here's the quick summary:
Rackspace is starting a new line of business to support uses of OpenStack beyond its own data centers, "Rackspace Cloud Builders." This support would be anything from training, helping setup clouds, to high level escalation of problems with those clouds.
They purchased Anso Labs, creators of a core part of OpenStack and a cloud services company, to help seed this business. Rackspace expects the team to be 30-40 people this year, but draw on the 3,000+ support staff in the rest of Rackspace.
Rather than displace other companies who are looking to build businesses on OpenStack, Rackspace would like to be the "third level" support for these folks and others. As Mark Collier put it, "we're not trying to be Accenture or anything like that."
Momentum around OpenStack continues to be strong as gauged by "big" community members (such as Cisco, Canonical, and Dell) as well as the features road-map (pulling in more hyper-visors, upping storage limits, and providing more networking options). Indeed, RedMonk is asked about OpenStack frequently, both by users and other vendors.
In addition to Rackspace's new team, they've put together partners: Opscode, Dell, Equinix, Cloudscaling, and Citrix. Presumably, these folks will help build and service the various clouds (private and otherwise) being supported. See below for an example of that between Rackspace, Dell, and Opscode.
For an introduction to OpenStack, see this RedMonk interview with Rackspace's Jonathan Bryce (there's a full transcript if you prefer):
Cloud Body of Knowledge
As part of this new business, Rackspace will be generating a lot of material around best practices, architectures, and other "documentation" and practices for running various types of clouds. I asked if that would be "open," to which the answer was more or less "yes," or at the very least, "that's a good idea."
RedMonk fields a lot of inquires around cloud best practices and experiences, so there's obviously a hunger for it. Keeping this material "open" versus close-to-the chest (as big consulting outfits would do) would be very beneficial to Rackspace: the more OpenStack-based clouds there are out there, the wider the pie for their support offering. Additionally, being the "owner" and (potentially) "biggest user" of OpenStack would have plenty of benefits to Rackspace even if they didn't monetize support.
OpenStack Installer, Dell-based clouds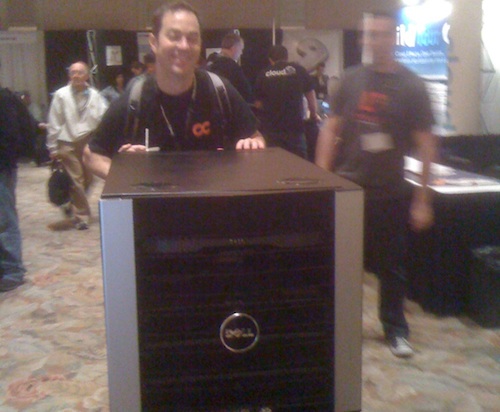 Building a hyperscale cloud requires a different mindset (we like to call it "revolutionary") compared to a traditional enterprise virtualized infrastructure. This means driving a degree of simplicity, homogeneity, and density that is beyond most enterprise systems.

The core lesson of these large systems is that redundancy moves from the hardware into the software and applications. In fact, the expectation of failure is built into the system as a key assumption because daily failures are a fact of life when you have thousands of servers.
The Dell, Opscode, and Rackspace offering is the launch of a beta program for OpenStack clouds, based, of course, on Dell hardware (they're actively seeking people to do PoC's). As Dell sums it up: it's an "OpenStack installer that allows bare metal deployment of OpenStack clouds in a few hours (vs. a manual installation period of several days)." In addition to using, of course, OpenStack, Dell is looking to use Chef for not only the on-going automation ("configuration management," if you prefer) and initial setup. Their nicely detailed paper on the topic sums it up: