I've been playing around with LinkedIn Today for a bit and have come to the conclusion that, as much as I like both LinkedIn and their partner Twitter, it doesn't work for me.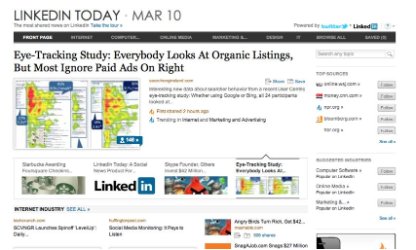 I absolutely understand how LinkedIn needs more pageviews and time spent on their site – especially with their upcoming IPO.
I am also a long-time LinkedIn advocate, and as my friend Art Papas stated so eloquently in yesterday's Focus Roundtable (listen to the MP3 if you weren't there live), LinkedIn is absolutely killing it in the recruiting and HR space.
But thinking through how I consume the news…
| | | |
| --- | --- | --- |
| | Breaking | Analysis |
| World | Twitter | Google -> Various |
| Politics | Twitter | Google -> Various |
| Financial | StockTwits | WSJ |
| Sports | Twitter | ESPN.com |
| Regional | Twitter (lists) | Boston.com |
| Local | Twitter (list) | Patch |
Notice a pattern?
In addition, I'm finding that my computer is less-and-less often my device of choice for long(er)-form reading, as I'm absolutely in love with Flipboard and it has made my iPad into my media consumption device of choice (it's the software Steve, not the hardware…). Even when I do find a long-form piece I want to read while I'm on my Mac, more often than not I just send it to Instapaper and read it during evening wind-down time through Flipboard.
Lacking a gap to fill and running on my creation and not my consumption device – LinkedIn Today might've filled a need for me a few years ago, but right now it just seems to be too little, too late, and wrong device. Of course, your mileage may vary.