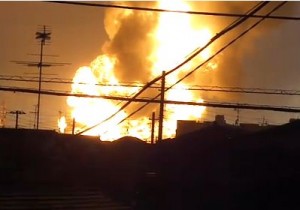 After the death toll is counted in Japan and potentially other countries from the massive 8.9 Richter Scale magnitude earthquake that hit this morning and the subsequent Pacific Ocean Tsunamis, today is likely to be extremely tragic as measured by any geological standards — historic or modern. The only potential saving grace that's already been pointed out by others in the media is that the quake and initial Tsunami struck Japan, which has among the strongest building standards and codes in the world. If the epicenter of a similar disaster had struck virtually any other country in the region (e.g., China) with lower building standards/codes, the death toll no doubt would be significantly higher than even the likely thousands of those that lost their lives already from the tragedy.
In disasters such as this, we need to immediately consider the broader economic implications and supply disruptions that might possibly result as the extent of the tragic affair becomes apparent — not to mention the potential localized and global impact on commodity prices including oil, energy, metals, chemicals, grains and other base materials/agricultural products. From a supply risk standpoint, companies operating in Japan, Asia and the rest of the world need to be vigilant about potential disruptions that are likely to hit in the coming days (and subsequent weeks/months). A Reuters wire dispatch from this morning notes that "auto plants, electronics factories and oil refineries shut across large parts of Japan," in the wake of the disaster.
Spend Matters also believes that it is likely that disruptions — or at the least, potential spot-market price spikes — resulting from potential shutdowns in the high tech and semiconductor manufacturing industry are also likely to have a cascading effect across industries. The same potential exists in the chemicals industry, a lesser but important export market for Japan. Japans' oil production is minor, and given that it is concentrated to the West of the country in offshore areas away from the quake and tsunami, the limited supply is unlikely to be disrupted. However, the potential for supply disruptions exist for any commodity moving in and out of Japan given potential port damage (if you're curious, Japan has over 1,000 ports).
What should procurement and supply chain practitioners do given the situation? Spend Matters suggests an earthquake/tsunami procurement, commodity management and supply chain action plan based on the following steps for companies anywhere in the world in the following industries: automotive, diversified manufacturing (including transportation equipment and electrical machinery), aerospace and defense, high technology, consumer products, chemical/process. A plan should include at least the following steps:
Fully understand your extended supply chain and supplier locations and facilities — two, three or even four levels down
Stay in constant communication with your suppliers and send resources, if possible, to monitor production ramp-up at key facilities. Lessons from supply chain history suggest that what suppliers might be telling you on the phone in situations like this might be very different than reality. Those buying organizations who are on-the-ground first working closely with their suppliers are likely to receive more favorable treatment in capacity-constrained situations
Understand the geographic concentration of suppliers in potential regions in the area (and potential geographic concentration from a port standpoint as well). Even in a multi-source arrangement, natural disasters can help cancel out most of the insurance a split-of-business sourcing strategy provides when geographic concentration exists
Offer to help purchase raw materials and lower tier parts/components if necessary on a demand aggregation basis (your purchasing power as a larger organization may help secure supply given the constraints created by the disaster); provide resources to support the sourcing of materials necessary to get supplier facilities back up to production levels and understand, on a bill of material level, the raw material specifications that comprise a finished part, component, SKU or product (i.e., what your suppliers must buy)
Monitor the situation (and your supply chains) in neighboring countries as well as those throughout the Pacific that may be impacted by the disaster
Prepare to rely heavily on airfreight in the coming weeks and offer to step in and help suppliers from a logistics standpoint — despite the high costs, those who can rapidly secure sufficient capacity and favorable terms with airfreight working closely with carriers directly or indirectly through their 3PL partners are likely to face less; move quickly in general and consider charter situations based on industry, volume and the degree of impact
Put friendships and relationships with supplier personnel first — factories can be rebuilt, facilities can be overhauled, ports can be brought back online. Human lives and the spirit of connection are temporal. We must all remember that relationships need to come first — not the bottom line.
Related articles