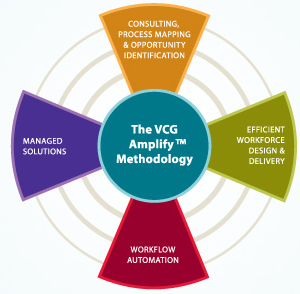 Earlier in March, Volt Information Sciences announced it was repositioning and rebranding its non-VMS services procurement and related human capital solutions under the Volt Consulting Group label (the Group's specific URL: can be found here. According to the announcement, this includes positioning its MSP capabilities under this new group of workforce capabilities. But one of the shifts in this combined offering doesn't just involve uniting an MSP capability and consulting arm under a single overarching group, common mission and P&L separate from staffing and VMS. It also brings together an enhanced competence in what Volt positions as "process mapping, workforce design, delivery, workflow automation" in combination with managed solutions. Spend Matters had the chance to talk with Volt about this new, integrated go-to-market model and they helped to place their new common portfolio of solutions in the context of the current market environment, especially the needs of middle market organizations.

For example, the Volt team suggests that historically, "MSPs have often been targeted on just contingent labor" while VMS programs "have often been focused just on procurement programs." Yet with continually expanding technology capabilities and the organizational move many companies are making toward more complex and integrated services procurement management, Volt perceives an expanding need to bring together a united group that can collectively bridge the procurement and human capital services divide to identify opportunities for efficiency and pull the implementation trigger on actual programs. This new offering will include capabilities to drive both human capital design and delivery, including (but going beyond) basic contingent labor and simple SOW/project-based type engagements.
Spend Matters is aware of other MSPs that have taken a more concerted effort to bridge the human capital/services procurement divide by uniting consulting and implementation arms. Volt takes this model a step further by including non-VMS technology focused on what they describe as "full workflow automation." Readers should note that Spend Matters has not yet seen this technology or had the chance to talk to reference users.
But the idea behind combining services with this capability is to drive services procurement/talent management automation via a technology focused on capturing, storing and archiving information while adding a workflow/process layer for approvals, routing, search, etc. Volt believes this technology will primarily be delivered in a "SaaS context" but it is separate from ProcureStaff technologies. However, like Consol, the ProcureStaff platform, it is based on .Net technology (although it is not the same codebase).
Stay tuned as we continue to investigate the market implications of Volt's new integrated consulting, MSP and workflow solution offering.