Over the last year, the discussion of the many business uses of social media has been coalescing into an industry-wide, interdisciplinary conversation that's increasingly focused around the moniker of 'social business.' This conversation — which many think provides the clearest perspective yet on how social computing is transforming how we work — has begun to connect, integrate, and reconcile the gamut of enterprise social media into something more useful, specific, and business-directed. As we better discern the moving parts of social business and how they relate to each other, the opportunities and road ahead has resolved more clearly while emerging new horizons are also being mapped out.
For the last half decade, the center of attention for enterprise social computing has tended to be in localized efforts that were largely disconnected, tactical, and experimental. As I explored with the emergence of The Social Business Unit, a more strategic approach has now come of age as organizations climb the social business maturity curve. Internally focused disciplines like Enterprise 2.0 and social intranets or customer-facing social media such as social media marketing and Social CRM as point solutions far out ahead of the rest of the company and largely out-of-context are now evolving into something more aligned with top-of-line business objectives. With the advent of social business, these efforts are turning into more naturally emergent, larger scale initiatives that are deeply woven into an organization's lines of business and their long-term vision.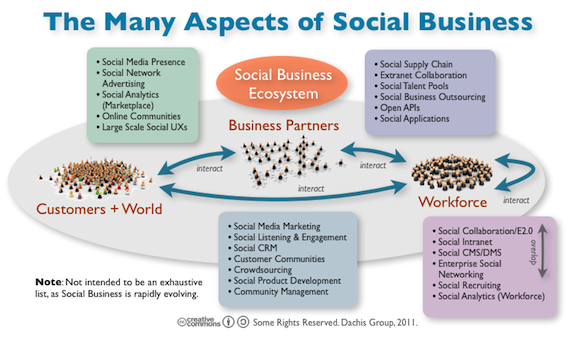 This then, is the frame-up for our Social Business Summit series that's taking place around the world this month and next. Now in its second year, the Social Business Summit assembles some of the leading minds in social business for a hosted discussion on what's happening now and what's coming next. This week sees the London edition of the summit and in early April the event will open for the first time in Asia, at Social Business Summit 2011 Singapore.
Note: There are a handful of invitations that have been kept available for last-minute attendees, so please contact us if you'd still like to attend either London or Singapore.
Social Business Summit 2011 Sydney
The first of the four summits this year was held in downtown Sydney, Australia at The Mint on Macquarie Street. The historic venue was an elegant backdrop for a conference focused on looking forward in the full context of business, society, and culture. As with each of the summits, speakers have been hand-picked for authority as well as, when appropriate, regional experience and background. The morning was opened by Anne Bartlett-Bragg and Peter Kim who both provided excellent you-are-here dots for social business both globally as well as for Australia and surrounding environs, with Peter posing the challenge to the audience, "How do you best organize yourself to support social business across your organization?"

The first speaker was Martin Stewart-Weeks from Cisco, who gave a detailed, rousing, and insightful view into how businesses are getting smarter and more connected using social media. He had perhaps the best line of the day, which was "collaboration is an unnatural activity between non-consenting adults." Following him was a more regional story from Virgin Blue, told by Liz Savage. She provided a detailed overview of their social business strategy and observed that they've found social media to be a "massive catalyst for goodwill" and that they've been able to get more immediately connected to the customers and better understand their needs, often in real-time, around issues such as pricing and services.
Kevin Tate from Dachis Group came up next and explored the world of business-focused Facebook applications and something that's becoming known as large-scale social experiences. Kevin shared what we've learned, as the world's largest Facebook developer, including what works and what doesn't in Facebook, noting that it is not (yet) great for creating a funnel, selling, or conducting push marketing. As far as Facebook's strengths, they are finding unparalleled awareness, amplification, and participation to be where the 600 million+ active member global social networking platform shines when it comes to social business. Kevin left us with a profound statement that I think many organizations will take a while yet to absorb fully: "Today, you have to earn your way into your customer's attention streams."
Before lunch, IBM's Josh Scribner provided a compelling overview of the workforce engagement aspect of social business (aka formerly known as Enterprise 2.0) Using IBM's own experience, Josh walked everyone through what they've learned at transforming virtually the entire company into a social business including the importance of community management and making sure they were addressing long standing pain points in the organization. Josh presented some useful data on a social business impacts breakdown that listed increased skills, access to experts, and better knowledge sharing as benefits listed by over three quarters of the organization surveyed.
After lunch, there was a terrific drum improvisation session that helped everyone get in the mood and then several speakers including myself as well as XPLANE's Dave Gray gave sessions. Dave Gray explored his latest thinking about The Connected Company, which takes the viewpoint that businesses can't be treated as machines, as much as some try to, but are more like living organisms and we need to treat them that way. Dave's thinking has been expressed in detail in his excellent blog post that explores The Connected Company and the backstory including his research and citations. As always, Dave is thought provoking and profound in his insights, and I fully expect that management theory in the next 5 years will look at lot more like his thinking and less about hierarchy, org charts, and out-dated, mechanistic business process "optimization".
I've omitted several speakers due to space considerations but you can always catch them when the videos are online for the Sydney event. And it's always best to attend the summits in person to get the latest content first-hand and as early as possible. All-in-all, it was an exceptional and informative event, and having attended hundreds of conferences in the last 6 years, I can attest to the expertise on display.

Social Business Summit 2011 Austin
Next, the summit series moved to the hometown of the Dachis Group: Austin, Texas. Held the day before SXSW started up, the Social Business Summit 2011 Austin had an truly amazing line-up of speakers.
Peter Kim and Jeff Dachis started things off with a heartfelt introduction to the day to a packed audience at The W Hotel in downtown Austin and then introduced the first speaker.
My good friend JP Rangaswami, recently CIO of British Telecom and now Chief Scientist of Salesforce came up to talk about how to think about adapting to today's increasingly social business world. As always, JP's ruminations are alternately profound, insightful, wry, and humorous. He opened by observing that "we have meticulously engineered the act of being social, out of business", which genuinely resonated with the audience and the Twitterverse, if retweets are any judge. One of his key observations was that social systems allow us to finally "store failure" in a reusable fashion so that we can "future proof" ourselves against old mistakes and "go on to make all new mistakes." JP provided these and many other useful perspectives on social and cloud computing. I urge you to see the video of his talk when it's released.
Rawn Shah came up and spoke about IBM's experiences with social computing, covering similar material to Josh Scribner in the Sydney event but with new data and insights. My favorite was Rawn's assertion (with visual) that social business is the 5th global shift in computing where mainframes, departmental computing, personal computers, and Internet were the first four generations.
After lunch, Forrester's Josh Bernoff presented on the latest on social computing trends. In particular, Josh's update to their breakdown of social participation showed the recently the number of creators, those that craft and share new content online has become about a quarter of the online population with the biggest overall demographic breakdown being joiners (those participating in social communities online), which has moved from 25% to 59% of the online world. Josh has been watching this space for a long time and his expertise showed. You can catch all the details when the video is released.
Then one of my favorite speakers went on stage, John Hagel, now of Deloitte and author of one of the most important new books in this space, The Power of Pull. Speaking without the benefit of slides, John proceeded to give the audience one of the most insightful views on social business I've had the pleasure of hearing, opening with what he calls The Big Shift: "We are moving from an era of diminishing returns to an era of increasing returns" made possible by new digital business models. I've explored these concepts in my overview of the Power Laws of 21st Century Economics but John certainly put it far more succinctly. He wrapped up with a presentation of two key ideas in social business: 1) "Exceptions are the shadow economies of firms today" and is fertile ground for social business solutions, which thrive in an exception-driven environment, and 2) his advice to start social business "on the edge. The core of businesses have antibodies that are effective at throwing off and resisting change."
Next was Michael Gold of Jazz Impact who led an amazing musical session that was interwoven with insights on improvisation and collaboration, using jazz music as a metaphor and eventually engaging the entire audience in an extemporaneous collaborative effort with shared musical composition. Best quote: "Simply rendering the beauty and integrity of what's already there isn't what business is today. Instead, we must improvise." Michael's observation that we have to push ourselves out of our comfort zones to achieve the full benefits of social business was one of the most poignant and high impact observations of the day.
As with Sydney, there were other terrific speakers that space won't allow me to cover but videos of most of the presentations will be put online over time. It's fair to say that both events provided a state-of-the-art overview of the social business industry from experts and practitioners alike. As I examined recently on ZDNet, this is an industry that is the future of business in the largest sense. I look forward to the next two summits and the discussions they'll provoke online and in the business world. I hope you join me there to attend or track from afar. You can keep up with all Social Business Summit activity this month and next by tracking the hashtag #sbs2011.