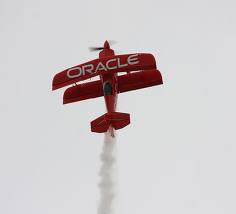 Oracle reported strong Q3 2011 results across all product lines last week. Okay, that's not necessarily a new thing this quarter, in general, Oracle has reported better than the market average for several years now, even through the recession. But the Q3 numbers were way better than market average, in fact, you'd have to go back to FY 07 (which remember for Oracle ends in May 2008) to find results this good.
First the numbers: fiscal 2011 Q3 GAAP total revenues were up 37% to $8.8 billion, while non-GAAP total revenues were up 36% to $8.8 billion. Both GAAP and non-GAAP new software license revenues were up 29% to $2.2 billion. GAAP software license updates and product support revenues were up 13% to $3.7 billion, while non-GAAP software license updates and product support revenues were up 13% to $3.8 billion. Both GAAP and non-GAAP hardware systems products revenues were $1.0 billion. GAAP operating income was up 62% to $3.0 billion, and GAAP operating margin was 34%. Non-GAAP operating income was up 35% to $3.9 billion, and non-GAAP operating margin was 44%. GAAP net income was up 78% to $2.1 billion, while non-GAAP net income was up 42% to $2.8 billion.
Digging into the numbers a little deeper you can see that they showed fairly even strength across all three regions and all three product lines, applications, middleware / database and hardware. New license growth for the database / middleware business was 27%, the second highest growth rate in the last 7 quarters and overall for applications new license growth was 34%, by far the highest in the last 7 quarters. Overall new license software growth, at 31% was also the highest in 7 quarters.  During the earnings call Oracle President Safra Catz noted that new applications license revenue growth over the last couple of years is 53% in constant currency. New license growth rates are an important indicator of overall business health.
Focusing on applications new license growth in constant currency looks like this:

During the earnings call and in a follow on session with a few IDC analysts Oracle President Mark Hurd attributed much of the success in the apps business to the strength of Oracle's Global Business Units, which are vertically focused industry units and include solutions for telcom, retail, banking, insurance and energy. Oracle's sales strategy includes leading with these GBU solution, which have full control over their entire business line from development to sales, and then letting the vertical apps pull in other horizontal solutions. This worked well for Oracle, particularly during the recession. According to Hurd each of the GBU's grew over 20% in Q3.
From a regional perspective apps performed well across the board. In a bit of a surprise to me, EMEA actually led the regions in apps with 47% growth. EMEA had been a bit soft when compared to the other regions over the last 2 years but seems to have pulled out of that trend. When I asked Hurd what he thought caused the newfound strength in EMEA he stated that it was an overall improvement in both vertical's and horizontal SW and across the region, not localized to any regional segment. The other regions reported new license growth of 26% in Americas and 45% in Apac.
 During the earnings call Hurd also mentioned that Oracle had expanded its sales force by over 1500 reps during the past year. He also indicated that he planned to continue to expand the sales force moving forward to take advantage of growth opportunities that they were seeing throughout its product portfolio. When we asked him in the follow up call for more color on the comment he indicated that as they analyzed the productivity and coverage in their sales territories they found that they have the opportunity to see significant growth by adding additional sales coverage.
The Fusion apps launch didn't get much mention during the call but I know that in the background Oracle is putting a lot of resources and focus on the launch, and have many customers live or in progress of implementing some or all of the new suite during what they're calling a controlled general release. Expect to start hearing more from Oracle on those customers and the next phase of release, which will be broader and much more visible.
All-in-all strong results from executing on the strategy that has served them well over the last several years. It will be interesting to see the reaction to Fusion apps as they get a more prominent position in the Oracle product portfolio going forward.
Tags: oracle, erp, applications, Fusion, earnings, software, enterprise, industry vertical