Yesterday Workday announced that it is opening up its integration platform for customer and partner use. The platform, built off of technology that Workday acquired when it bought Cape Clear, provides a set of cloud based tools to build, deploy, run and manage custom integrations. Integration between applications has traditionally been a complex and expensive process to design, build and manage but this complexity and cost can be greatly reduced by using a comprehensive integration platform. Until this announcement Workday had taken the path of providing pre-built integration packages either directly or through a partner offering. While it will continue to expand its pre-built integration API portfolio, this new platform as a service (PaaS) offering will allow a much more comprehensive approach to the broad set of integrations likely to be required in Workday's target customer base of upper mid-market and enterprise businesses. In IT environments that are becoming increasingly heterogeneous, mixing (and integrating) cloud based and on premise apps will be common place and will require this type of platform approach.
The Workday Integration Cloud Platform contains two sets of integration tools, the Workday Studio and the Enterprise Interface Builder, each optimized for a specific set of users. Overall the platform is built on open standards and uses a web-services based approach to integration. The following shows the Workday Integration Cloud: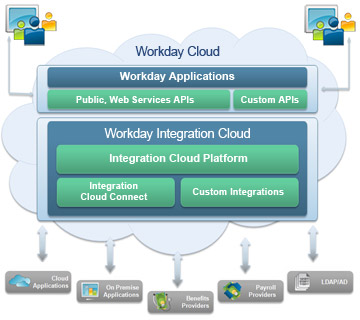 And the Workday Cloud Integration Platform: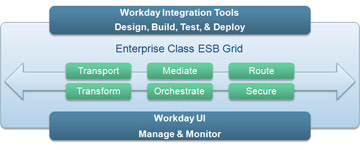 The first set of tools is the Workday Studio, which is the tool set designed for use by skilled integration developers with a rich, graphical integrated development environment (IDE). The Studio has a drag and drop UI and the ability to build and re-use components to speed integration development supporting complex and highly customized integrations to/from Workday to both other SaaS solutions as well as legacy on premise apps.
The second set of tools is the Workday Enterprise Integration Builder (EIB) is designed for business users and has a simple, graphical UI that allows them to build, deploy and manage basic integrations without developer or IT assistance. The tools provides a business user with a easy-to-use toolset that allows them to quickly implement needed integrations on their own, empowering the users and reducing the need for IT involvement in these simpler use cases.
The Workday Integration Cloud was opened up to existing customers and partners in Q1 of this year and in that time has already been used to build and deploy over 100,000 integrations. Simplifying integration complexity, empowering business users and providing consistent and highly manageable and scaleable integration platforms is extremely important in today's hybrid IT environment. Workday moves closer to this goal with its new integration toolkit, a welcome addition to its solutions and a strong step towards addressing the needs of IT, business users and partners.