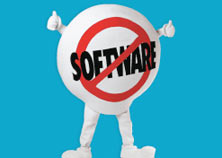 Earlier today Salesforce.com announced its agreement to acquire socialytics software vendor Radian6 for a total of $326M in cash and stock. This acquisition continues the expansion of Salesforce.com's goal of gaining share in the social business market. This acquisition comes as no surprise as Salesforce.com has been clear that it intends to grow it's social business portfolio and just recently Radian6 announced its release of Radian6 for Salesforce during the week that Salesforce unveiled its new Service Cloud offering with expanded social functionality. Salesforce.com had dipped its toes in the social business waters first with integration to Facebook and then recently with its release of an internal social collaboration tool, Chatter.
Radian6 is a full featured socialytics package focused on social media monitoring and analysis in real time. It includes a listening post to collect social data by monitoring conversations on Twitter, the blogsphere, public Facebook, comments and other destinations on the social web. Once collected the social data can then be used by:
1. Marketing: analyze social campaign results, refine marketing efforts, monitor brand sentiment and learn about competitors
2. Sales: refine sales efforts, learn about competitors, gather intelligence on prospects
3. Service: find and identify product or service complaints and issues / problems
For Salesforce.com this acquisition will strengthen its Sales and Service Cloud. The Radian6 for Salesforce.com offering already provides integration into the Service cloud with the following features:
Engage from inside the Service Cloud: Customer service reps can work entirely within the Salesforce app to engage customers via Twitter, Facebook and other social channels
Social media content will automatically be added to Salesforce based on customizable Radian6 workflow rules to automatically create cases.
The full view of a customer's social profile available within Salesforce providing a wider view of the customer.
Social conversations automatically associated with cases and automatically re-open cases as defined by Radian6 workflow.
Cases and contacts originating from a social source contain attributes available for deep analysis and reporting including source tracking and social case analysis..
The ability to create new or view existing cases, leads and contacts from within the Radian6 Engagement Console
Radian6 also recently added connectivity that enables it to interact with Salesforce Chatter directly within the Radian6 Engagement Console. In addition to the clear benefits inside Salesforce.com's apps, adding Radian6 to its product portfolio should also strengthen its PaaS offering, providing ISV's the ability to include socialytics inside their apps through Force.com.
This announcement is positive news for both parties. For Radian6 shows once again that in today's economic environment the road to liquidity might not be through the IPO markets and $326M is a good payday by anyone's standards. For Salesforce.com it add much needed socialytics functionality to its Sales and Service Clouds while also increasing the value of its Force.com platform to its growing ISV community. Taking a customer view I'd say that both Salesfore.com's customers benefit from the new functionality and also Radian6's customers benefit from the stability of association with a larger vendor and also potential access to Salesforce.com products. All in all I'd say this is a good move by both acquirer and acquired.
Related articles