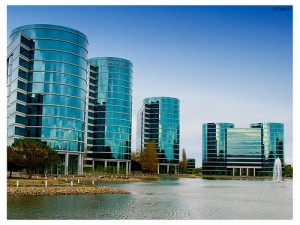 This post is part of a Spend Matters series looking at Ariba Supplier Network alternatives. We will cover each Ariba supplier network alternative in a series of three-part posts beginning with the provider's basic background in the area. Following this initial installment, we will then examine their solution approach and Ariba/third party systems integration. Finally, we will provide our own summary and analysis of the provider's overall capabilities.
Of the two largest ERP providers, Oracle decided early on in its eProcurement application development to pursue a network enablement strategy for suppliers to facilitate transactional information exchange. SAP, in contrast, required customers to directly connect with suppliers or work with a network partner or third-party network for transactional exchanges (in this regard, Oracle also has a network partner, Transcepta, that provides a cost effective means to enable the bulk of a company's suppliers versus a select few).
Oracle told Spend Matters that the Oracle Supplier Network (OSN) is an electronic messaging hub that provides a free delivery service that allows buyers and suppliers to exchange a wide range of business documents used throughout the procure-to-pay (P2P) process. The Oracle Financials/Procurement community, that may be running Oracle E-Business Suite or Oracle Peoplesoft Enterprise can "use a standard out-of-the-box connection to access OSN."
For customers wishing to outsource the supplier on-boarding process, "OSN has been integrated to Transcepta," Oracle suggests. Trancepta, an Oracle partner, provides a solution to connect all suppliers — from SMBs to large global enterprises — running any type of billing system for delivery of any format of invoice document. Oracle suggests, "the Transcepta service handles all of the document format mapping/translation on behalf of a supplier and can typically connect each supplier in less than a day." Spend Matters cursory research into Transcepta suggests that their supplier on-boarding process is one of the most rapid in the business.
Suppliers may also opt to join OSN directly, choosing from a variety of protocols to establish a connection. They must be able to support either the OAG or cXML document formats. The very best thing about the OSN may be the business model — it's free. Oracle notes "the OSN service is provided free-of-charge to customers of Oracle procurement applications as well as their suppliers, and customers are guaranteed no charge for at least the first year." Transcepta does charge fees, but Spend Matters analysis suggests they are lower cost than many other invoicing/PO document exchange options in the market.
For solution connectivity, Oracle suggests, "that suppliers connected to the Transcepta solution are connected to buyers through the OSN." All other suppliers are required to establish a direct connection with OSN. On a volume basis, the OSN is processing more than one million documents a year. The OSN supports OAG and cXML transactional standards and Transcepta accepts supplier networks and documents in any format "from EDI to email to QuickBooks to email attachments."
Oracle policy does not allow it to disclose customer numbers, however Spend Matters believes that there are fewer than 100 buyers and 1,000 suppliers using the OSN. Transcepta recently told Spend Matters that they have fewer than 50 employees, but more than 25 and in the "multiple tens" of customers — 20+ to be somewhat more precise. It is safe to assume that a material number of these customers came from the Oracle relationship (although Transcepta also has a normal direct sales force and sells into a wide range of shops — SAP, Ariba, etc.).
Stay tuned as we continue our analysis of Oracle's OSN and talk about the user experience.