On November 8, 2008, John Wookey left Oracle to lead SAP's large enterprise "Line of Business" (LOB) team. Since Wookey joined SAP, we've seen internal clarifications of SAP's LOB on-demand strategy, but not much new product. That changed on February 24, 2011, when SAP hosted a group of "influencers" at the Boston Museum of Science for a hands-on debut of Sales OnDemand, the first LOB app from SAP that was built from the ground up with a new role-based, "socialized" design approach (Sales OnDemand is currently in ramp-up with about 50 customers participating, with a GA optimistically targeted for Q2 2011).
It's surprising that there isn't as much talk about SAP large enterprise (LE) on-demand as there is about Business ByDesign. ByD will face its share of established competitors, but there are more "greenfield" accounts in the SME space ByD is built for, when you take into account Global 2000 subsidiaries as well as thousands of smaller companies struggling with chaotic QuickBooks/Excel financial operations. Contrast that to LOB on-demand, where the pie in some key areas, CRM and HCM in particular, is being rapidly divided up, with SAP late to the party as Salesforce.com moves in on 100,000 customers – including more SAP customers than anyone at SAP should be comfortable with.
After the event, attendees such as Josh Greenbaum and Paul Greenberg posted worthwhile summaries of the event (Greenbaum had two posts, one reviewing the product strategy, and one about the clever "gamification of the analysts" approach SAP took for the event; Greenberg issued his usual monster post, with screen shots). Ray Wang (Constellation Group) did not attend personally but posted another take from his own briefing, also including screen shots.  Update 4/1/2011: Dennis Howlett has posted a fresh take on Sales OnDemand based on a meeting with John Wookey, with a 20 minute video interview with Wookey to follow on JD-OD.com.
However, not all the analysis was coherent. The product was misrepresented by other media sources (such as Forbes' inaccurate comparison of Sales OnDemand as a salesforce.com "Chatter rival"). I also saw reports which said SAP pitched the  Sales OnDemand launch as "Facebook for the enterprise."  Maybe I missed something, but I haven't heard anyone from SAP describe the product that way and it strikes me as a perfectly horrible marketing idea. There is a huge difference between "Enterprise Facebook" (bad idea) and "people-centric design" (potentially a very good idea).   These are the kinds of lingering questions from the event that nagged at me. After chasing down some loose ends, it's time for a post about the questions I've been sorting through:
1. SAP Sales OnDemand is NOT a "Chatter rival." Perhaps the ill-advised comparison of the products is understandable given that they both have an activity stream, but the differences between the two are significant. Chatter was built as a "social layer" applied to salesforce.com after it was built. Chatter is an enterprise activity stream, whereas SAP Sales OnDemand is a CRM (specifically a "Sales Force Automation") product that was designed with a social sensibility and an integrated activity stream before a line of code was typed.
There are advantages to both approaches. As a layer on the SalesForce.com platform, Chatter can more easily be applied to other apps on the platform, and in fact has been applied contextually into FinancialForce.com. It remains to be seen whether SAP can take the social technology it developed for Sales OnDemand and apply it to other products. In theory, future Line Of Business apps should be able to lift this "social tech" into their design. Whether SAP could ever take this activity feed and apply it across their new "unified on-demand platform" remains to be seen.
One thing we do know: SAP would have a much harder time applying an activity stream across the on-premise Business Suite, and I've heard of no plans to attempt that, except perhaps with targeted StreamWork integration – with the caveat that StreamWork is NOT really a Chatter equivalent as some think – it's a collaborative decision making tool currently best applied to specific projects or situational resolutions.
StreamWork does have an activity feed that can be used to monitor project activities, and I get the impression that the product development team has some bigger plans in mind for what StreamWork could mean to enterprises down the the road for broader collaboration. But StreamWork does not yet make use of the @mention protocol that is so useful for pulling people into relevant tasks, and the project-based invitation system is very different than an open collaboration layer applied across a platform as Chatter is on salesforce.com. StreamWork is nowhere near being applied across the Business Suite as a collaboration layer, for example. I don't think that's the best StreamWork use case anyhow. In a process context, I like StreamWork better for exception handling scenarios and prioritization exercises for decisions with many variables. Meanwhile, StreamWork has some not-small usability issues of its own, but that's another blog. (updated: 4/01/2011)
Here's a screen shot from Sales OnDemand – it's a view of a sales account which includes a graphical revenue overview and an embedded "latest updates" activity feed: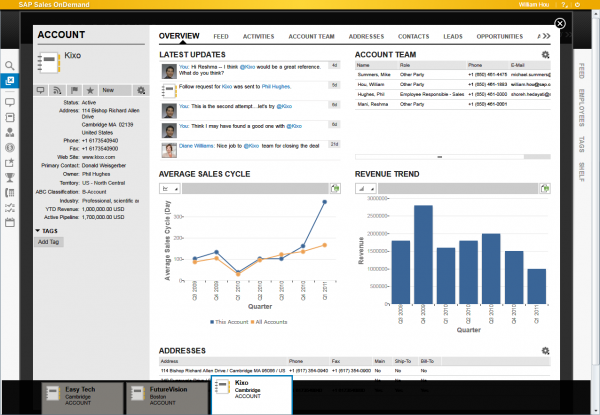 2. Future SAP LOB OnDemand Apps will be built using the same role-based, socialized approach. Now that SAP has clarified its "core and edge" on-demand platform, it will be easier going with the design/rollout of new LOB apps. If SAP can hold to their plan, which includes Career OnDemand and Travel OnDemand both slated for ramp-up in the second half of 2011, that will be a significant improvement on previous years when internal design and platform issues held SAP back from new LOB on-demand products, unless you want to count Carbon Impact, which is technically a simpler "edge" app that runs on the River platform intended for lightweight on-demand apps.
This is not the place to describe SAP's "core and edge" on-demand platform in detail; I've already done that elsewhere. What we can say is that SAP has had a breakthrough in terms of leveraging the ByDesign multi-tenant architecture for Line of Business as well. This solves vexing technical and platform ecosystem problems. At the Boston event, Wookey's group was clearly energized by their ability to focus on what they consider to be groundbreaking product design and not platform headaches. Sales OnDemand (and other LOB apps) should be able to utilize the same (or similar) SDK as ByDesign and hopefully benefit from the partner development community that SAP must energize for ByD to be successful.
Greenbaum captured the potential of this ByD/LOB integration: "The secret sauce for Sales OD comes in the form of an even tighter connection to SAP Business ByDesign than had been previously intimated. ByD has become not only the platform for Sales OD and SAP's other present and future on-demand applications, but the functionality in ByD – all the non-CRM, ERP stuff that ByD is designed to do – will be made available via a forthcoming software development environment that is similar to the SDK SAP released last year."
He concludes this will allow Sales OnDemand to incorporate process and data integration with ByD's ERP processes, making Sales OnDemand "the kind of deeply integrated CRM/ERP application that Salesforce has to partner to deliver." I'll be honest – this reads a bit like science fiction to me, but it's possible Greenbaum picked up on these details while I was refilling my tea. Here's what IS clear to me: the LOB-ByD connection and platform compatibility is going to help SAP going forward. This won't erase all confusion about the disparate on-demand packages that have been grandfathered in from various SAP acquisitions (Sourcing OnDemand for example), but it should clear things up going forward, both for SAP developers and for customers. Speaking of clearing things up:
3. SAP CRM On-Demand – the "hosted solution" SAP first launched in 2006, is going away. It's no longer featured on the SAP.com LOB on-demand web page. When I asked SAP about this, their official response was, "We stopped selling CRM On-Demand before we started to work on Sales OnDemand… Existing SAP CRM On-Demand customers are currently either migrating to an SAP on-premise solutions or will be participating in the ramp-up program for Sales OnDemand."
4. SAP took a bigger risk than people realize by letting analysts try to "break" Sales OnDemand at the Boston event. I read some nice blogs about the gamification of the event, and while it was fun to fight with other analysts about commissions as if we were salespeople in the hunt for our next deal, we were in a sense "breaking" the system, or seeing if it would break. That's not something SAP is used to doing and the outcome could have been a PR mess. This resulted in some glitches and a consensus verdict that the functionality of Sales OnDemand is still limited, but SAP's gutsy approach to this event was refreshing. SAP is figuring out that you can't hide behind ramp-up.
One event highlight was a very open discussion about filtering and prioritizing information in a noisy activity feed. The last thing companies want to do is to distract their best closers with meaningless happy talk updates of the kind we see on Facebook. In my view, the solution is to give users a range of customized choices about the information they want to see and the devices they want to interact on, but it was a useful discussion for both sides, with SAP literally taking notes and following up. Some might see this as a sign of weakness or product chaos, but I saw it as a valuable exercise in transparency that can only help SAP if it becomes a habit.
I really wanted to ask John Wookey about the "live without a net" experience of the event, so here's a short video of Wookey reflecting on the risk SAP took and what he took away from the event. The production values of this "twilight video" are not going to win any awards, but the moment was still worth capturing:
5. SAP has work to do on pricing – and that means learning how to talk about it. Greenberg, who liked the event overall, honed in on this problem: "First, salesforce.com sets the bar for the pricing – meaning an enterprise edition that is $125.00 per user per month. Second, Microsoft is on a pricing rampage, with their SFA product, Microsoft Dynamics CRM Pro, which is aimed at the enterprise customer, running as low as $34.95 per user per month. That sets a different kind of bar that is not ignorable, even if you're used to SAP on premise pricing."
When it's time to get pricing questions answered at SAP events, it's typical to run into a wall. The standard response is that "SAP doesn't discuss pricing during ramp-up." And it seems like the products we really want to talk about at these events are always in ramp-up. Perhaps that's a separate problem, but SAP would do well to figure out how to share pricing considerations more openly. Some key players inside of SAP realize there is an issue here, so hopefully we'll see more information not only about Sales OnDemand pricing, along with a more forthcoming approach to pricing talk in general.
6. SAP's late start may have a hidden benefit – next generation design. SAP clearly needs to pick up the pace with its LOB on-demand releases. However, the late start could pay off in this respect: the socialization of the enterprise is now in a "test case" phase, giving SAP a chance to bake proven collaboration techniques into the design and tie Facebook/Twitter like activity feeds into re-envisioned "enterprise roles." In the case of Sales OnDemand, this meant designing an application around the constant pressures and interruptions of today's salesperson, all the while rethinking the meaning of sales from a "solo hunter" to a team concept that is increasingly impacted by collaborative software.
Only the real social media nutjobs think we need Facebook for the enterprise, but during the gaming exercise, it was immediately obvious that the streaming notifications and @mentions that Twitter and Facebook users are accustomed to can have an impact on enterprise tasks – as long as the user is in control of who gets to ping them and in what context.
Of course, this invokes a new problem of older knowledge workers who may not be adept at these social conventions or even interested in their use. If so, that's a problem SAP is going to get a crash course in as it takes this product to market. It bears remembering that the problem salespeople have had with Sales Force Automation is not magically solved by creating a fun and interactive UI.
Salespeople have their reasons for keeping vital account information in their heads, and the sleek technology of Sales OnDemand and iPads don't solve that issue. Ironically, the most effective solution I have heard is to force salespeople to enter data in order to receive commissions – a brow-beating tactic from the hierarchical enterprise coming to the rescue of the (supposed) "flat social enterprise."
Concluding thoughts
SAP has it work cut out for them building out LOB on-demand while competitors surge ahead. One of the most interesting possibilities, Service OnDemand, is an area SAP told me they are "definitely considering" but without further details at this time. For now, SAP will move ahead with an apparent plan of building LOB apps where competitors are doubtless selling into the SAP install base (SFA, HCM, travel/expense management). The downside is that by not moving immediately into Service OnDemand, SAP will lack the service component that gives competitors salesforce.com, Oracle, and Microsoft more complete on-demand CRM Solutions. As for Sales OnDemand, I'll be surprised if SAP hits its goal of General Availability in Q2 2011 – there are still plenty of functional threads to tie together. If I have to eat those words, then more power to SAP.
Compared to the ByD rollout, SAP has even more to prove with its LOB on-demand strategy. It's hard to imagine any significant revenue impact from these new apps until well into 2012, so don't expect them to take center stage at SAPPHIRE NOW this year. A heavy dose of HANA, mobility, and analytics, all closer to impactful revenue, should push LOB on-demand off center stage for a while. I don't recommend under-estimating Wookey or his team, but with these questions answered, there's a whole new batch to tackle.
Note: SAP covered my travel and accommodations to this event. This post was originally featured on PAC's Feeding the ecosystem blog. It has been updated with some new additions and reprinted by permission here.
Related articles