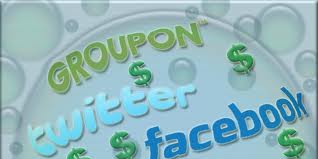 I've read several blogs and articles over the last few weeks debating the current tech environment and comparing (or arguing why not to compare) today to 1999. I guess it's not surprise that there's concern over this topic though, considering the soaring valuations that some of the current crop of social start ups has garnered in the secondary markets. When private companies are valued in excess of $50B it's probably healthy to take a look and see if there's some risk that we've overlooked and, if so, how do we mitigate potential impacts on the overall economy which is still quite fragile from our recent recession.
So why all the concern? Well, there is certainly an air of exuberance that is growing around the current high profile private social companies like Facebook, Twitter, Groupon, Zynga and LinkedIn. That exuberance is fueling investing from banks, high wealth individuals, VC's, etc. in tech funds, in fact the money is pouring in and almost every week there's a new fund announcement. From that perspective alone it does "feel" a lot like 1999. And think about those valuations, Groupon, for example is talking IPO at around $25B when only a year ago they were valued at ~$1.4B and Zynga and Facebook's valuations have jumped 4X in under two years. The Internet drove 1999's explosion, social drives today's. I found the following Morgan Stanley chart that provides an interesting comparison: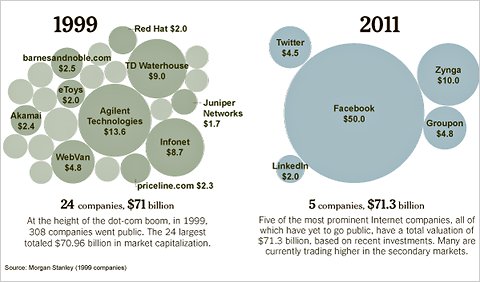 There are however some significant differences between 1999 and 2011. In 1999 I was an executive in a VC-backed Internet start up, so I have some perspective on this. So what are those differences:
From the chart it's obvious that in 1999 the boom was fueled by the sheer number of start ups going public. Today there is a small group of private companies with soaring valuations, something that was not possible in 1999 due to the lack of secondary markets.
And that's the second difference, the secondary markets. In 1999 the only way for companies (and investors, employees and executives) to monetize stock was to go public or be acquired. Today, with secondary markets trading in pre-IPO stock, that is not the case. The pressure to do an IPO sooner rather than later just isn't there. Companies today can delay with no real impact, and wait for business plans to play out and build revenue streams.
During the Internet boom gaining customer share was valued over revenue. I remember joining my first Internet start up and being rebuffed for trying to do profitability models on current customers…it seems profitability wasn't a business objective, customer acquisition was (eyeballs and clicks as we used to say)…not so today.
Today we joke that Internet start ups in 1999 didn't need a real product, and in fact that wasn't far from true. Prototypes and proof of concept products got funded right along with fully functional, operating and well planned businesses. That would not work today, products must be complete and launched, there have to be customers and for the most part a revenue model / strategy must be operational and understandable.
In 1999 there were 308 tech IPO's, in 2010 there were 20.
The profiles of the companies are very different today versus 1999. In 1999 tiny tech companies with no revenue landed investments and went public (and very few of those survived more than a few months). Today, as you can see from the chart above, there are only a few companies and they have revenue, global reach, and massive adoption.
In 1999, there were lot's of innovative product "ideas" but many never turned into working products. In 2011 we have and continue to see innovative products and innovative business models. In fact business model innovation is a big part of the current high flyer companies.
There are risks today. When a trend like social drives wild, visible and large high profile companies and deals there is always the possibility that what follows those initial few successful companies won't be innovative and instead will try to mimic the previous successes. Because it's a hot trend they might get investment anyway, even without the same potential. Are we heading for another bubble? I don't know. I suppose we could already be in that bubble and not necessarily know, that is one of the traits of a "bubble", it's clear. Some even argue that tech has always been cyclic, run up to the bubble, burst, do over… I don't believe that this course is inevitable though. In fact I don't think we're near the place we were in 1999. There are many innovations and new tech trends like social, mobility, cloud, Internet of things, big data, etc. that are driving change in the enterprise. This change cycle along with the corresponding innovation cycle should continue to drive the industry and I'd expect to see start ups capitalize on this for the foreseeable future. A lot of the new companies have been focused on consumer and BtoC, now I think we'll see a whole new round of BtoB focused start ups as well as large vendors moving to take advantage of these trends.