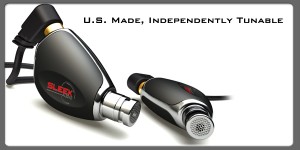 I usually read Wired as a form of tech magazine p*rn to stay remotely in touch with innovation — easy on the eyes and almost always superficially enjoyable, if not more. Yet there's an article in a recent edition that suggests just how far the topic of re-shoring has come. It's not only hit the mainstream business press (e.g., FT, Forbes, WSJ , etc.– it's now hit the more casual world of periodicals as well. The piece in question tracks the global sourcing challenges of a company, Sleek Audio, a "a purveyor of high-end earphones," including their sourcing flight from China. Before changing their production and sourcing strategy, the owner and his son were used to making "the long trip every few months to troubleshoot quality flaws" despite the fact "their Chinese partners assured them everything was under control." The situations this family-owned business faced in China are remarkable not because they're outliers, but because anyone involved in Chinese sourcing without two feet always on the ground will immediately relate to similar circumstances they've faced.
Consider that Sleek Audio had to discard a full shipment of 10,000 earphones because "they were improperly welded, a mistake that cost the company millions. Or factor in the "delivery delays caused by the [their supplier's] lackadaisical approach to deadlines, which forced [Sleek Audio] … to spend a fortune air-freighting products to the US. And even when things went right, "the company always had precious cash tied up in inventory that took months to arrive after the prototypes had been approved." In short, China sourcing nearly destroyed the company itself, despite the initial promise of low-cost and a reliable supply chain that was becoming the norm for manufactured electronic products.
Yet supply chain salvation ended up coming only a stone's throw away for the company. They were able to re-shore their spend and find a supplier who was just a "few miles away" from their corporate headquarters. This supplier has now provided them with a "full-scale manufacturing operation that can be reached via a 15-minute car ride rather than a 24-hour flight." And even though "each earphone costs roughly 50 percent more to produce in Florida than in China, the total is still less and the company is projecting 2011 to be its most profitable year ever."
Stories such Sleek Audio's supply chain transformation by cutting China out of the equation are likely to become more frequent in the coming years (we're actually surprised that the company did not also find itself competing against its own Chinese supplier's products based on stolen IP, but that's another story). As even small and middle market companies begin to get total cost models and working capital into their sourcing DNA rather than superficially looking at unit cost as a driver for buying decisions, Spend Matters believes that the rising local sourcing tide will continue. Stay tuned for Part 2 of this post, where we'll examine other anecdotes from the Wired article as well as share our own views into the total cost elements that middle-market and supplier companies sourcing on a global basis are most likely to run into.