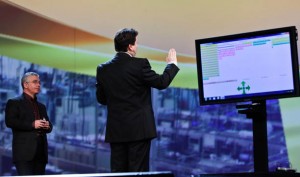 I've just come back the Microsoft Dynamics' Convergence conference, where the news about Dynamics' progress in the enterprise software space can be summed up in the following manner: The company's two flagship products, AX and Dynamics CRM, have reached a functional level that basically places them on par with the best of their respective categories.
This leveling effect gives Microsoft the honor of not only being in elite company comparable in many ways to SAP, Oracle, and Salesforce.com, but also effectively takes technology and functionality off the table with respect to its three largest competitors, at least today. This means that in all but the very largest enterprises –where only Dynamics CRM plays – Microsoft will win and lose deals based on the quality of its partner channel and their ability to provide support for local and micro-verticalized extensions of the Dynamics product line. The idea that Dynamics needs to play catch-up with its bigger brethren is no longer on the table.
That's good enough for now, but in a couple of years the playing field will be even more different, and with that difference an important potential advantage will shift to Microsoft.  Dynamics' promise – laid out in keynotes and one-on-one meetings over the course of the conference  – to fully support on-demand, on-premise, and hybrid deployments of AX, CRM, as well as GP and NAV, means that, starting approximately in 2013, only Microsoft will be able to offer pretty much any possible deployment model of its software from a single code-base.
This is an important distinction that may be hard for its competitors to deal with. The ability to offer customers the choice of running their deployments on premise, in the cloud, as a managed service, or as a hybridized mix of the above won't be something that SAP, Oracle, or Salesforce.com will be able to do across their core products – never in the case of Oracle and Salesforce.com, and not for a while in the case of SAP.
While each of Microsoft's competitors has plans for a varying mix of on-premise and on-demand products, the breadth of choice they can and will offer will be much less clean. Oracle's Fusion will be deployable in a similar fashion to AX, with two powerful limitations: there are no plans to sell Fusion as a suite, nor will it in the conceivable future have the broad industry coverage that Oracle's eBusiness Suite offers (or AX, for that matter.) There's also the question of when Oracle will actually release Fusion into general availability – the official word is that there is no official word on when, leading to considerable speculation about the company's commitment to what was to be its flagship, post-acquisition bin product.
The impact on Salesforce.com will be harder to gauge: the on-demand market leader has tremendous momentum as the original go-to company for on-demand CRM, and its pure play strategy will appeal to on-demand purists. But as multi-mode deployment options gain ground, it will be harder for Salesforce.com to insist that on-demand is the only way to offer rapid deployment and a means to shift the CRM budget from capex to opex.
SAP has a much broader shot at competing with Dynamics' vision, though its Business ByDesign and forthcoming Sales On-demand have no on-premise deployment model, nor do any of the on-demand products under development at SAP that I am aware of. The larger Business Suite may someday become available in the cloud, but plans for such an eventuality have not been shared publicly. In short, SAP, which I believe has much a more solid cloud strategy than Oracle, will not be supporting the level of deployment choice that Microsoft has in mind.
There are many who think this breadth of deployment options is not as strategic as Microsoft or I believe – there's a pretty formidable cast of pundits who believe this level of choice is either unnecessary or heretical or both. Time will tell, but I'm in the camp that believes that customers will prefer the multi-mode option for many of their deployments if given that option, and Microsoft's plans to offer a supreme breadth of options is the right one for the foreseeable future.
And that choice effectively starts now – or rather later this year with the full release of AX 2012. Microsoft has promised that this version, while not the Azure-ready, dual-mode version that offers multi-mode deployment out of the box, will be readily upgradeable to the multi-mode version when it's available, effectively allowing customers to buy an on-premise ERP system today and have the option to move it to on-demand at the next revision cycle. For the customer who prefers to sit on the fence and keep his or her options open, AX 2012 is looking good.
This in no way wipes Business ByDesign's prospects off the map, nor does it obviate the fact that SAP has a strong product set for the mid-market – All-in-One, Business One for the on-premise customer, and Business ByDesign for the on-demand customer – that compete well against Dynamics. There is still considerable customer choice for SAP's prospects – multi-mode deployments are possible, though from different code bases. And SAP's willingness to put fight aggressively with its direct sales approach against Dynamics' partner-driven model is a distinct advantage that one day Microsoft will have to do something about other than take the hit and live to fight another day.
The bottom line is that Dynamics has really hit its stride on the technology front, and now it needs to worry about how to compete in the channel. The above-mentioned problem with going indirect against competitors like SAP and Oracle that deploy direct sales forces against Dynamics in the upper mid-market and lower echelons of the large enterprise market will someday need to be addressed head-on, in my opinion. There are already Microsoft teams that call on large accounts, and then bring in partners to actually do the work of closing the deal. That may need to change as the capabilities of AX 2012 and beyond make it clear that Microsoft can play a stronger role at the top end of the market. At which point it may need a top end sales strategy to match its technical prowess. That's the price to pay for growing up so well.