Out of left field, T-Mobile and Facebook launched Bobsled, a VOIP service that allows voice calls to anyone on your Facebook list for free.  At this moment the entire blogging world is busy writing about it, so I skip the basics… and just run to some funny experience while testing it.
First, here's how you call from your Chat list: click the phone button.. then voila!: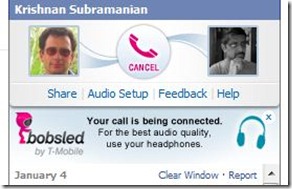 As it happens, none of my contacts pick up my test call – I suppose the feature is too new, nobody knows where the funny sound comes from or how to react.  They will get used to it.  But here's the real surprise: it has VoiceMail.  To the World.  Literally: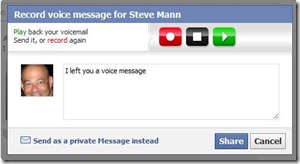 You record your message, type a note if you'd like, and hit the SEND button.  Well, there is no SEND button .. except the Big Blue Button .. it should be it… I guess.  Labeling it SHARE should raise some suspicion, but if you are not careful enough and click it, your voicemail gets placed on your friend's Wall, where ALL his friends can listen to it.
No kidding. We just tested it with @krishnan.  Yes, there is an option to "Send as private Message Instead" – do you want to guess how many callers will mistakenly leave public messages instead?
No surprise though.  After all, we're in Facebook Land.  Hang your privacy at the door.
Related articles