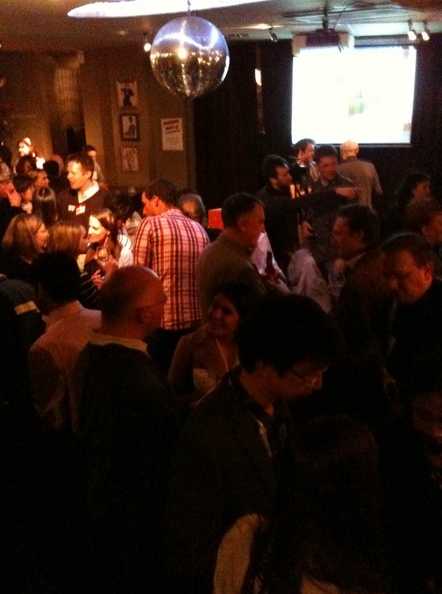 Last Thursday I sampled the latest incarnation of the London Bloggers Meetup, as organized by Andy Bargery and friends.  This meetup has been running for years, but it was my first time.  What sparked my interest was a combination of meeting Andy at a Social Medial Week London event in January, the sheer numbers that had signed up (167 at the time I booked on), and the chance to hear how Leo Babauta  grew his Zen Habits blog to a readership of over 200,000.  I think the other reason I went along is that I'm trying to find the atmosphere and energy of ideas in the melting pot that I used to feel way back in 2007 at OpenCoffee Club when it ran at a Starbucks Regent Street and then Waterstones, Piccadilly, or at The Tuttle Club from it's start early in 2008 and well in to 2010.  I felt the same thing at CreativeCoffee Club sessions – where has it migrated to?
Although over 100 people packed in to the basement of The Long Acre for a noisy, lively event, that particular spark I'm looking for wasn't there at LBM.  I saw but didn't get a chance to speak to a smattering of longstanding bloggers like Judith Lewis (
@JudithLewis
on Twitter), Rachel Clarke (
@rachelclarke
), Farhan Rehman (
@farhan
) there, but  met up to chat with Jo Jordan (
@jobucks
and I owe her a beer).  When we discussed the event on Twitter afterwards we were both surprised by the demographic.  Jo
described it on Twitter
this way:
"You know London Bloggers was startling that no ne actually blogged and all were in the private sector….

I only realise after as I mentally played it back – that's the young entrepreneurial wannabe crowd with some spare cashflow #LBM"

It wasn't what I expected, and I would love to see a proper analysis of the attendees, but it's obviously a thriving community.  The event was sponsored by Total Greek Yoghurt – goody bags and waffles were on offer, but I left before the end and missed out.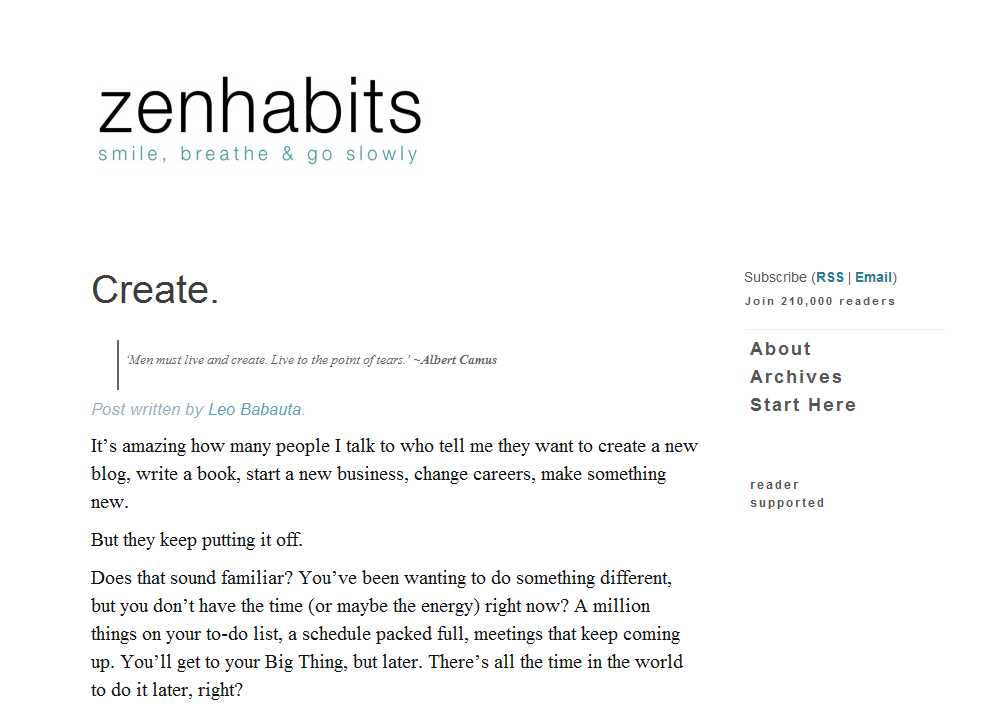 I had mixed feelings about Leo Babauta, the main speaker.  He seemed like a very earnest, well meaning and enthusiastic guy telling the story of his rise from being pretty much the only blogger on the island of Guam with a handful of readers back at the start of 2007 to giving up his government day job and earning his living as both a published author and professional  blogger with a following of 200,000.  His blog is all about keeping it simple , finding time for the important things and living lightly, which is why it's called Zen Habits.  At the time, and maybe this will be heresy to his many fans, I was a bit underwhelmed by his presentation.  He was telling me that I could make my blog successful by solving a problem or by writing powerful content – yep, I get that.  However, when I thought about it on the train home his message and the story of the techniques he used to build his blog started to form a much stronger message in my mind.  Maybe the key point here is that it's not rocket science or earth shattering, it IS common sense, and it IS straightforward.  Actually there are plenty of personal and corporate blogs that don't succeed because they don't recognize high quality content is the reason people come back to read more.  It's also worth learning from how he slowly made connections and built up his following over time:
He found other blogs where he could guest post to extend his reach and get himself known.
He started freelance writing for other blogs – that brought in a very modest amount of cash initially, but he was honing his writing skills and building a reputation with a larger audience.  As he got more successful he could ask for a better rate and be more choosy with the assignments.
He wrote an eBook collecting together his ideas, which he got published and so made him some money.  However, he didn't hold back his best content for the book – the good stuff still went on the blog for free, with the blog feeding the book.
In terms of structure his blog is as simple as they come – no widgets or gizmos – whereas most blogs (like mine) have a couple of columns of extra stuff to attract people on the side, his is all about the content.
He urged us to find our voice – that's what you need to do to make your blog authentic.
He told us it was essential to listen to your readers and write for them, not just for you.
He explained how he made plenty of mistakes, but he kept experimenting, trying out new things and testing the reaction of the readers.
In the end I can see how he's applied his Zen to his blog, and it works!
I had to leave just at the start of Arvind Devalia's story, so I'll check out his blog later.  Leo's story was well worth hearing, and I met some interesting people, but I'm still searching for that buzz of creativity and ideas, so I'll keep sampling different meetups to see where it's hiding.
photo courtesy of Bernie Mitchell