If you haven't heard, we launched CRM Idol 2011 as of Monday – this past one that is.  What is both lovely and surprising is the amazing response we've gotten from all involved – the potential contestants, the media, the vendors, the influencers – the entire ecosystem that's risen in support of helping some of the small companies get a break or get some support that they might otherwise not get.  You can check out the fundamentals here but what I want to do is update you on what's happened since Monday including who is now in and what slots are still available – and all the additions and even some rule changes and clarifications.
I mean, think about it, this is all since MONDAY.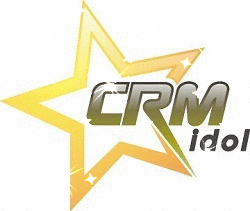 Let's rock!
The Numbers
So far, in the Americas, we have 35 of the 40 slots filled. In EMEA we have 8 of the 20 filled. See below for the who fills what slots when and which ones are still open (check out rules changes and clarifications for the explanation).
Human Being Additions
New Prizes
Thanks to Jive Software for the addition of their prize which they are calling an Enterprise Launch Package:

Free workshop with Mark Weitzel, Jive Apps developer evangelist and President of the OpenSocial foundation on how to socially enable your application with Jive's enterprise social graph
12 months free in Jive Apps Market (Jive waives their 25% revenue share)
Free attendance and demo pod at JiveWorld 11 in Las Vegas on October 4th-6th (1,500 enterprise attendees)

Thanks to Attensity for donating a free year of Attensity 360, their social media monitoring package, with 1 user and 5 topics.  Give them a huge round of applause, at least in your heads.
New Media Partners
We'd like to welcome ReadWriteWeb, through theirReadWriteEnterprise property managed by Alex Williams (see above).  They are a powerhouse in the social world – and perhaps the most important and influential social property when it comes to understanding the enterprise. We are thrilled to have them onboard.
We'd also like to welcome SmallBizTechnology.com, the brainchild of small business power broker, Ramon Ray. They cut a wide swath through small business circles in North America and have an incredible reach.  We are lucky to have them.
Rules Changes and Clarification
Rather than "first come, first serve" on the times and "you're out of luck" if the two times/dates you picked are already taken, we are going to be publishing the times and dates (see below) that are still available. For those who chose already taken dates/times, we've given them a single open date and time which they had the option of choosing or not. They've all taken the date/time available.
As we've seen the entrants register, several of the judges (including me) have had some sort of paid relationship with a small handful of the registrants. Each judge who has had that relationship can recuse themselves from the demo/evaluation and leave it to the other judges to make the evaluation. Those judges who make the evaluation will sign off on the evaluation that will be published the next day.
The Works in Progress
There is currently three works in progress which will be announced that are along with the continuing growth of prizes, media partners and panel selections.
The crmidol.com website (Joomla based) is being created.  Its going to be a bit before its live but it will be live and once live will be updated not only through the competition but ongoing.
There is a YouTube Channel that has been created that will be the home of the 7 finalists videos and prior to that, other videos that any entrant or interested party will be allowed to upload (with judges approval).  That will be announced soon along with the email address associated with it.
There will be a Facebook page devoted to CRM Idol also to be announced "soon."
The Current Competition Calendar – Meet the Entrants
Okay, dudes and dudettes, here are your…current….candidates….for….C-R-M IDOL!!!!! (my best Ryan Seacrest) (cut to music).
The Americas (all times are Eastern Time)
Date
August 15 3pm – Phaseware

4pm – Performance Solutions

5pm – Solucciones

6pm – Jaguar TPM

August 16 3pm – Relenta CRM

4pm – Luxor

5pm – thedatabank

6pm –Connected

August 17

3pm –Assistly

4pm – SplendidCRM

5pm – RO/Innovation

6pm –

August 18

3pm – Cosential

4pm – Media Funnel

5pm – Tasker.ly

6pm – Aplicor

August 19 3pm -FreeCRM

4pm – Interaction Corp

5pm – Anthana, LLC

6pm – Relayware

August 22 3pm –Lookout Solutions

4pm – InvisibleCRM

5pm – Negoxia

6pm -CiviCRM

August 23 3pm –Vigilius LLC

4pm – Hyperoffice

5pm – SalesNexus LLC

6pm – Salestrakr

August 24 3pm – Brick St. Software

4pm – Stone Cobra

5pm – VIPOrbit

6pm – Nimble

August 25 3pm – Front Row CRM

4pm – GetSatisfaction

5pm – ContactMe

6pm – FuzeDigital

August 26 3pm –

4pm –

5pm – Vertical Solutions, Inc.

6pm –
EMEA (all times are GMT)
Date
September 5

3pm –

4pm – InTouch

5pm –

6pm –

September 6

3pm –

4pm – B-Kin

5pm – Atollon

6pm –

September 7

3pm –

4pm –Akordis

5pm –

6pm –

September 8 3pm – Iko System

4pm – Zestia Ltd

5pm –

6pm –

September 9 3pm –The SelfService Co.

4pm – Digita Srl

5pm –ABCrm

6pm –
Thus….Available Times as of April 28 at 1:30pm ET
Americas (all ET)
August 17 – 5pm, 6pm
August 19 –5pm
August 26 – 3pm, 4pm, 6pm
EMEA (all GMT)
September 5 – 3pm, 5pm, 6pm
September 6 – 3pm, 6pm
September 7 – 3pm, 5pm, 6pm
September 8 – 5pm, 6pm
September 9 – 6pm
Please don't bother to apply for any other times (which of course means that you'll read the update notices on the original blog post to get to this one).  This is what is there.
Well, that's the first update. More coming as soon as we've accumulated enough to update you on. Congratulations to those who have entered and the rest of you….get your butts in gear, slackers. You want to win right?