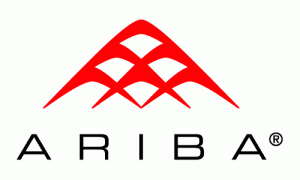 Following Ariba's quarterly results, which showed solid growth last week (yet I believe are at least partially representative of a rising tide lifting many procurement vendor boats), I thought I'd share a few thoughts on the potential of the vendor from the vantage point of "what you must believe" hypotheses on both positive and negative sides for Ariba to sustain its strong momentum. In our view, customers and investors should consider a few similar things in making their decisions/voting with their dollars when it comes to Ariba versus the competition and other factors. Without further ado…
What you need to believe if you're bullish:
Ariba's network volume increases and subsequent revenue and R&D investment will allow it to become a true many-to-many network rather than what may amount to little more than a high-growth EDI replacement with a similar fee structure for non-value-added transactions; this transformation and differentiated mode will, in turn, allow Ariba to hold off increasingly aggressive competitors including SAP (which is gunning for its business with similar offerings at lower price points)
Network connectivity with broader portfolio solutions (e.g., Sourcing) will create differentiation in the market that takes the focus away from advanced functional capability like optimization and formula building, where Ariba is lacking compared to best-of-breed vendors, and instead changes the basis of solution comparison — the adoption/pick-up of Discovery should prove insightful here
Supplier-paid business models can scale at a much faster rate than buyer-paid models — and sustain over time
The Ariba brand becomes the IBM of procurement — you can't get fired for choosing it
Ariba will use its currency to make up for functional and modular gaps in its portfolio (e.g., services procurement). At LIVE, Ariba employees were going around telling attendees from Beeline that they would be buying them; perhaps this is an indication — in poor taste or not — of their plans
The network will remain as sticky as Ariba believes it is and customers will not switch out connectivity partners or demand greater flexibility in how they connect with suppliers (for new SaaS deals)
What you should believe if you're proceeding with caution:
An aggressive SAP assault on Ariba in the coming quarters will create at least some customer defections and challenges in new customer acquisition
Ariba's legacy codebase for its modules and network architecture dates back approximately a decade, and will limit its ability to scale and compete against new models that were designed to exist in the space in between buying organizations and suppliers, plus it can allow much more rapid deployment, less expensive supplier enablement and a true many-to-many architecture and model (unless a new platform is in the works which we don't know about it)
Even though Ariba's larger competitors such as Oracle and SAP are too slow-moving internally to pose a grave threat in the immediate future with organic capabilities alone, their ability to capitalize on partner solutions (e.g., Hubwoo/Crossgate, Transcepta) in the field will make up for internal development slowness in key areas. Combine this with price pressure from competitive providers and the chance of commoditizing Ariba's network and supplier-derived pricing structure might look more real
As the basis of P2P and spend analytics competition shifts to information enablement and network intelligence from just transactional workflow, connectivity and data interchange, new architectures such as SAP HANA (which provides aggregated opt-in spend data across deployments) in real-time for benchmarking purposes as well as Coupa and Rearden will render ported SaaS models obsolete when it comes to the collective real-time cross-network intelligence emerging network models can provide
Ariba's focus on network acquisitions and development misses the mark in the need to develop or acquire new, functionally rich application capabilities in key source-to-pay areas rather than successfully betting that the space "in between the transaction" is enough to make up for modular innovation decline elsewhere.