In case you need the full monty as CRM 2011 keeps rollin': here are the two links to the oh so passé past.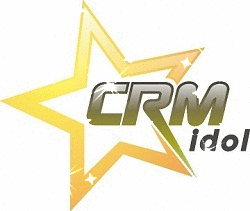 Now here are the latest updates:
Additions to the Judges
Lets give a big round of applause to Larry Ritter, Vice President of CRM for Sage Software who joins our Extended Judges Vendor Panel . Larry is a long time industry veteran who not only knows software but knows small business too. A huge addition for the panel
Now, put your hands together for Chris Carfi, Vice President of Antseyeview and the man who just may have coined the term "social customer" with his incredibly popular blog. Chris is one of the first social influencers and one who knew the CRM market from the get go. He is also incredibly popular.  He joins the Extended Judges Influencer Panel.
Finally, we've got one more to clap those hands for and that would be Brian Vellmure, Founder and Principal of Intium, LLC. Brian is one of those Social CRM influencers who appeared about 2 years ago and just keeps getting more and more prominent. He joins the Extended Judges Influencer Panel too.\
The Latest Calendar as of 9:00am ET
The CRM Idol 2011 Americas is closed. All the slots are taken but we've put together a waiting list. However, there are a few slots left for EMEA. As of 9:00am ET and 2:00pm GMT, there are 6 of 20 left in EMEA.
For all of the companies that have made it, please remember:
its provisional – dependent on your three references checking out. Once they do, we will send out notifications to everyone that will let you know the time and date of your actual slot.
I'm traveling and the other key judges are busy and we are all human beings so we might be a little slow in responding.
The waiting list is those Americas companies that submitted after closing of the competition. The order is based on the time stamped proper submission of the email. Any email that had something wrong with the submission has been asked to resubmit with the corrections. The resubmittal will be their actual time and date, not the original submission. Hey, it might sound sorta anal, but we haven't been asking much so reading the rules and making our lives a little easier isn't unwarranted, is it?
The Americas Calendar – FINAL (see #1 above though)
The Americas (all times are Eastern Time)
Date
August 15
3pm – PhaseWare
4pm – Performance Solutions
5pm – Solucciones
6pm – Jaguar TPM
August 16
3pm – Relenta CRM
4pm – LuxorCRM
5pm – thedatabank
6pm –Connected
August 17
3pm –Assistly
4pm – SplendidCRM
5pm – RO/Innovation
6pm – GreenRope
August 18
3pm – Cosential
4pm – Media Funnel
5pm – Tasker.ly
6pm – Aplicor
August 19
3pm -FreeCRM
4pm – Interactions Corp
5pm – Anthana LLC
6pm – Relayware
August 22
3pm –Lookout Software, Inc.
4pm – InvisibleCRM
5pm – Negoxia
6pm – CiviCRM

August 23
3pm –Vigilius LLC
4pm – Hyperoffice
5pm – SalesNexus LLC
6pm – Salestrakr
August 24
3pm – Brick St. Software
4pm – Stone Cobra
5pm – VIPorbit
6pm – Nimble
August 25
3pm – Front Row CRM
4pm – GetSatisfaction
5pm – ContactMe
6pm – FuzeDigital
August 26
3pm –bigWebApps
4pm – Loopfuse
5pm – Vertical Solutions, Inc.
6pm – Dovetail Software
EMEA – 6 of 20 Remain as of 2:00pm GMT
EMEA (all times are GMT)
Date
September 5
3pm – Swivelscript
4pm – InTouch
5pm – Efficy NV
6pm –
September 6
3pm –
4pm – B-Kin
5pm – Atollon
6pm –
September 7
3pm –Pipedrive
4pm –Akordis
5pm – Workbooks Online, LTD
6pm –
September 8
3pm – Iko System
4pm – Zestia Ltd
5pm – Really Simple Systems
6pm –
September 9
3pm –The SelfService Co.
4pm – Digita Srl
5pm –ABCrm
6pm –
Thus….Available Times as of May 3 at 9:00am ET, 2pm GMT.
Americas (all ET)
EMEA (all GMT)
September 5 – 6pm
September 6 – 3pm, 6pm
September 7 – 6pm
September 8 – 6pm
September 9 – 6pm
Please don't bother to apply for any other times (which of course means that you'll read the update notices as they are posted, right?).  This is what is there.
In Other News
We are cranking on several other fronts that are in progress as this is written. Among them:
We are working on a CRM Idol 2011 website that will feature a Joomla! based content management system at the backend. This will become the source for all updates and queries when its ready. Watch for it in the near to mid future.
We are also working on a Facebook page for all you fans and friends out there.
We are working on a YouTube channel, which as of now, is going to be the system of record for the videos though because we are at 10 minutes as a video, we reserve the right to move this channel elsewhere should YouTube rules interfere.
We are working on the 1 hour session guidelines for all the entries so that you won't feel lost and we will see what we can do to set up a system of mentors that will be available during certains as yet ascertained period for advice for the one hours. That will be in July sometime I would reckon for the Americas and August for EMEA.
Finally, we are continuing to provide more possible prizes and will be refining the rules for prizes etc as we go on.  Stay tuned for more announcements.