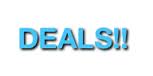 Groupon's IPO is potentially valued up to $25 billion and it's subscriber base is doubling once a quarter, LivingSocial raised $400M in venture funding, Scoutmob nails $1.5M in it's first funding round, FourSquare hits 3M daily check ins and Facebook announced it's second "deal" type offering last week. You don't have to look far to find some sort of online "deal" these days, and when I say deal I mean up to 90% discounts! Even AT&T wants to get a piece of this pie (in case you missed it, they launched a daily deals offer today from subsidiary YellowPages.com).
So what's this all about anyway? Well, I've talked about the impending change to commerce (social, mobile, local and the merging of on and off line) before (a couple of other posts here and here), but deal offers, especially if they incorporate some social sharing are taking on an important role in this change. Deals drive traffic (on and off line), or at least they're supposed too; and perhaps they even help build or increase customer loyalty and repeat business.
There are basically two types of deal offerings, the daily offer, which seems to be the fastest growing at this point, and location based deals (instead of locals deals, which fits both categories). In the daily offer approach a coupon is offered online for a deep discount to some business for an item or service. The consumer buys the coupon up front then goes to the business to redeem it. On most of these sites you can also buy the coupon as a gift or refer the offer to a friend. To see the offers the deals company usually only collects your email but to buy they need more data, or in most cases you can sign up with Facebook (thus giving the site more data to help target the deals in the future). The leaders in daily deals are Groupon and LivingSocial, but Facebook new offering is this type and both Google and AT&T are also moving into the daily deals business. While Groupon and LivingSocial have a significant lead in daily deals there are many new competitors and with the likes of Google, Facebook and AT&T jumping in this space will be hotly contested. Facebook in particular has some interesting advantages that could prove to be significant in this race, not counting it's 600M + members. For instance it's healthy mobile presence, the deep personal data for targeting, a newsfeed to display and feed viral expansion of deals through it's significant member base and the potential to use Facebook credits as a form of payment (at launch you can only use Facebook credits for vouchers for things like tickets to events, not for physical goods). AT&T power in wireless could certainly create some buzz around mobile deals, both through its YellowPages app and on a mobile browser. All of these deals vendors charge the company for doing the offer (presumably that's true of AT&T also, but since it launched in test mode today, I'm not positive).
Location based deals are the second type. Now I suppose daily deals are location based as well, but not targeted to your specific location, just your general area / city. Location based deals are tied to your personal context (location and time) and are offered in real time. There are several players in this space including FourSquare (although they've been quite slow to pursue this business IMHO), Facebook Check-in-Deals, Scoutmob and Groupon Now. The idea is to push offers to you based on location and other know factors ranging from time of day to loyalty programs membership and other transaction data. The more relevant the deal, the more likely it would be used. Differing from daily deals, customers don't pay up front for location based deals, only at time of executing the transaction. Personally I think that location (and context) based deals have a more interesting opportunity for local businesses and could even be tied to store loyalty programs. One has to wonder, with its strong ties to local businesses, why Yelp hasn't gone down this path.
Both types of deals have local focus and as such are really targeted at small and medium size businesses.  The concepts work fine for SMB's but could they scale to large enterprise? Frankly I don't think so, they would be very difficult for most large enterprise to coordinate and manage at that scale. There is another player in the deals space though, that is targeted at the large enterprise and has the ability to manage these deals at scale though multiple channels including Facebook. Social marketing automation vendor Crowd Factory includes the functionality to manage enterprise deals offerings and is doing so for some very large and respected brands (marquee customer list here). Enterprise deals management as a part of social marketing automation is a promising offering and Crowd Factory has a good lead with this functionality.
The final question I think though, is do deals increase loyalty and bring in recurring business? I have no doubt that daily deals bring in more traffic, that seems clear. I wonder though, if traffic equates to recurring customer revenue? The depth of discount from some of the sites (up to 90%) might not really bring in the type of customer that the business expects. Facebook has some advantages here, both because they are focusing on better targeting instead of deeper discounts and because the nature of Facebook interaction could lead to quicker viral sharing and increased uptake of deals through trust-filtering. I guess that remain to be seen, still I'd advise that businesses clearly think through what they want out of the deals offer before they commit to a vendor and an approach.