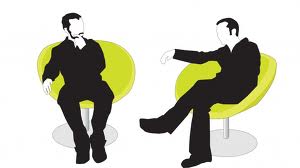 Businesses operate because of conversations, this is not some great new revelation. We like to talk about how social is about enabling conversations like it's something revolutionary and new but that's just not true. I was preparing to give a talk to a group of sales executives this week on what social business can do for sales people and I actually put on a slide that social is about conversations, when it hit me how silly it sounds to tell sales people they should have conversations with customers. I'm pretty sure that if anybody in a business understands the importance of conversations it would be the sales team. If they don't they don't last long as a sales person or maybe the business itself doesn't survive. So why do we keep talking about conversations if at least part of the business has always been "social"?
Maybe conversation isn't the right word to use here? I think the issue is bringing interactivity to all parts of the business, not just the sales team. You think about it, there are places across the business that should be having conversations or better yet, interacting with customers, suppliers, employees and partners but have we constructed many of those functions so that they can be interactive with each other? Conversation implies two things, talking and listening, but I'm afraid we often forget about the listening part. I had to make a call to a customer support line this past week and of course I was greeted with those dreaded words "please listen carefully as our options have changed". Those systems are called IVR by the way, which stands for interactive voice response, now why does that make me shudder? I have a hard time calling what I was doing with the automated system "interactive"! All I wanted was a conversation but it took me ten minutes to get to a person so I could accomplish my intended purpose. In some old business paradigm I guess that was acceptable but in 2011, it is not. 
If customers (and partners, suppliers and employees for that matter) want to have conversations with you "when, where and how" they choose then I think many businesses are in trouble today. The issue is control, businesses "constructed" the methods for holding these conversations the way it wanted to. Unfortunately the social web has given everyone new, better, real time, loud and uncontrolled communication channels that reach around those systems constructed by companies trying to control the conversations. For product support, for example, I used to accept that I had to go to the product manufacturer and use whatever system they had constructed to get what I needed. That's no longer the case though, as I'm much more likely to search on Google for an answer to my issue, or perhaps ask on Facebook, Twitter or Quora for assistance rather than go to the company sponsored method of interacting. I will also complain loudly and in a public way if I don't get satisfaction from dealing with your brand (think "United Breaks Guitars" if you want to understand the potential for brand damage from the tools available today for airing customer complaints). The same is true for getting product information. In the last decade I shifted from using company sponsored information sources to trusted recommendations from existing customers and from my social graph. It's a lot about simplicity and availability but it also is driven by trust. I trust my social networks because I have some established relationship with them, I may not (or is that probably not) have a trust relationship with the vendor. If I did, the vendor would have the opportunity to engage me in a conversation but if not, that opportunity is much less available.
Conversations need to happen across your business, that you cannot deny. How they happen however is the real issue I think. It's easy to fool yourself into thinking that building a better web site will get more people there or using some automated system will suffice as a conversation but that's just not true anymore (if it ever was). I overheard a conversation the other day on the use of Twitter that to me shows how wrong you can be in trying to be right. The "expert" advised the business owner that an automated response on Twitter was perfectly acceptable as an acknowledgement of a customer's support inquiry. An auto responder on email is common practice and I guess we're numb to it, although frankly I don't think it's acceptable on that channel either. On Twitter it is NOT ACCEPTABLE. I engage on Twitter to have conversations with people, not machines and in real time. If you choose to engage on Twitter and set the expectation that you will engage there, then you had better invest in people to manage the channel. Customer expectations have changed and the definition of what is acceptable has changed, you need to learn the new rules.
That all sounds defensive and I guess in some ways it needs to be, but the social web also opens up some great opportunities to change the conversation with customers, employees, suppliers and partners and perhaps build a relationship where none could have existed before. Building ongoing relationships with existing customers and thereby creating a "loyal" customer, at least for most businesses, is far superior to trying to generate business from new customers. Getting new customers is much more expensive than keeping existing customers (at least usually) and an ongoing customer opens up opportunities to gain better insight into what customers want as well as engaging them in ways that can yield much better and more successful products. It goes back to trust, relationships are built on trust so by inference you are gaining greater customer trust if they are willing to continue to interact with your company in a positive way (there's no trust relationship involved in brand bashing, just in case you wondered).
While conversations are not new to business the idea of having many open real time channels through which you can have those conversations is. So that's really what I'm talking about, using new social channels to have more and better quality conversations across the business. Sales can leverage these channels of course, but extending the use to marketing and especially customer service can have a big impact on the relationship with customers. I've talked about using social tools to add both customer communities and new communication channels to support in detail so I won't belabor the point. The idea of changing marketing from broadcast to conversation is a message that sometimes gets lost though. Marketing in many ways is generally broadcast focused and I guess that this new conversation paradigm might be a little uncomfortable at first, but once used, the level of engagement is well worth the change.
Internally the concept of conversation is also no less important. Conversation is one of the tools that can help destroy employee silos, not alone of course, but if supported by the right cultural changes and incentives it's a good place to start. The same principals that apply to conversations with customers and employees will also work on suppliers and partners. I'll save that for another post though. So what do you think, can businesses really open up to conversations across the organization?
Tags: conversation, SCRM, social, customer, e2.0, social business, socbiz, communication, engagement, sales