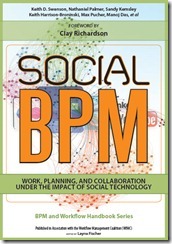 Well, okay, I only wrote a chapter in it, but I didn't realize until today that my name was on the front cover, too. I'm looking forward to getting my hands on a copy of it to read all the other contributions, it looks like a good lineup of social BPM papers. My chapter is on leveraging social BPM for enterprise transformation; I originally wrote it as a white paper for IBM, and they encouraged me to submit it here as well, so extra thanks to them, especially Mihnea Galeteanu for going through three rounds of revisions with me. From my introduction:
Social BPM is gaining recognition as a driver of knowledge worker productivity. But what is social BPM, and how does it compare with the more general classes of social business applications? How can social BPM be used as part of an overall enterprise transformation initiative?

This white paper explores the drivers behind social BPM, and provides insights into its four main manifestations: collaborative process discovery, runtime collaboration, process event streams, and BPM communities. It also discusses the network effects that fuel the expansion of social BPM, acting as a catalyst for transformation of an enterprise's processes, performance and work culture, and finishes with a number of best practices for adopting social BPM within your organization.
The book will be launched at the Social Business Forum in Milan on June 8th which, unfortunately, I can't attend because I'm giving a workshop at the BPM conference in London the same day. You can pre-order the book here and get a 20% discount, or it will be on Amazon at some point. No, I don't get a cut.
I often have people tell me that I should write a book, but I tell them that writing 700,000 words on a blog over six years isn't really the same as writing the equivalent number of words in a book (or 10). I count myself lucky that I manage to get a chapter in a book completed once in a while.