I've known NetSuite for many, many years. 'Twas back in 2004, I met Mei Li, their ultra-dynamic SVP of Corporate Marketing, who has become one of my closest friends. She introduced me at that time to Zach Nelson, the very charismatic and always well liked NetSuite CEO and co-founder, who I got to know at my house one Sunday watching football and drinking wine.
But, those relationships, as utterly refreshing as they are and as much as I genuinely cherish them, do not a great product make, so needless to say, I had to spend some time with their products over the years to independently ascertain whether or not these guys had enough to be players or were just going to play around awhile. Since I'm a CRM guy and they come at the world from financial management we had to start from different ends (don't take that any other way than literally and devoid of any human body part connotations, thank you) so, I knew even as far back as 2004 that this was going to be an interesting ride.
And, oh man, has it ever been. I'll run through what I think is the current direction in a short bit, but in order to understand NetSuite and the nearly unique role they play in the large company software world (note I said nearly unique – not unique) you have to understand the DNA of the company and the chromosomes that make up their software and what is soon to be their platform. AND their way of dealing with the market itself. All of which are almost unlike any other company in the industry.
So, let's get crackin'.
The Product DNA
Know this, all ye who enter here. There are a few things that rest at the heart of NetSuite that will guide you on your trip through their world. One of these was told to me by Zach Nelson several years ago, one I heard him say at a launch and finally, one is a conclusion that I reached about them as a result of my continuous interactions with them over the years. Just so you know, the last time they were a paid client was about 5 years ago so there is no consulting relationship here, just an affectionate one with some tough love too.
The story goes like this:
NetSuite's CRM offering was always solid with the basic sales and customer service functionality you would expect in a mid-market focused application.  So you had for example, the usual contact, account, lead and opportunity management, but you also had solid dashboards and pipeline management.  However, because they weren't geared to the enterprise, things like territory management weren't exactly a strong suit. It was as weak in marketing as every other CRM suite out there. What was odd was that it was a CRM application that was perhaps the most transactional CRM program I had ever seen.  I asked Zach about that because it seemed so tied to accounting practices e.g. pricing, quote creation etc. systems which at the time were not the norm for CRM technologies.   Zach told me that everything – and he meant ev-ery-thing that they created for the front or the back office was built around order management. Which, needless to say, explained transactional CRM.  Order management, the financial processes at the heart of a successful sale, drove their ERP, their CRM and anything they were going to produce in the future.
In 2008, social was getting hot.  We industry pundit types were in the midst of debate and discussion over what Social CRM a.k.a. at the time CRM 2.0 was; social media monitoring was getting interesting to companies, the social customer was established as a credible influencer and all the major vendors were in the midst of planning social "stuff." Except NetSuite. At the launch of NetSuite OneWorld, their first globally enabled application suite, Zach made a comment while he was rollin' on the stage that, paraphrased, was something like; "if there is a change in the VAT, by the next day, we will make sure that everyone who's systems are affected by that are updated."  What that confirmed for me is something that I had always kind of known but was certain of after that day.  While NetSuite wasn't terribly sexy as an application suite, they took care of the details. I can't tell you how important this one is. Look, look, look. At the end of the day, what your company needs is something that does what your company needs. That's probably the only way I can put it.  If you find the VAT sexy, then you're probably pretty kinky, but hey, who am I to judge. But if you find a system that pays attention to the fact that not knowing the increase in the VAT can cost you a boatload of money, then you're not kinky, just smart.
Here's what I realized and drives me to say what I'm going to say in the next several paragraphs.  NetSuite does one thing exceptionally well. It addresses questions that have to be addressed for businesses that ask them.  What that means for a technology company is that it is continuing refining that core suite built on order management and financial management years ago, starting when it was called NetLedger.  Consequently, they don't throw away what they've been building and replace it with new applications – what is new is actually built on their foundation. Even their innovations are actually refinements. Which makes for a very coherent and tightly knit set of applications. Its always been this way and, though, as we'll see they are moving in a new direction – it always will be.
NetSuite, Social and Me
In my most recent CRM Watchlist (2011) I wrote that NetSuite, who had eschewed social stuff for all these years and still were successful, finally had reached a point where they couldn't publicly ignore social anymore.  Social in the world of customer facing – be it B2C or B2B or P2P was now table stakes and technology companies that continued to not provide social capabilities in their applications and services would become irrelevant in time at a minimum.
So, coming to SuiteWorld 2011, NetSuite's first user conference (more on this later) was, to say the least, going to be interesting.  Very interesting.  Very, very, very interesting.
And, I have to say, they've started on social and they look to have made some wise decisions.  Though, what I see is, I hope merely the beginning. Because there is one important omission at the conference – and a very peculiar one – that will impact their social strategy immensely.  We'll get to the problem in a bit. First, let's get to what they've announced when it comes to social stuff.
Clearly, NetSuite has been noodling on what this social stuff means to their customers, their future customers and them for some time. Zach, I believe, referenced 9 months more than once at the analyst day briefings.
What they decided to do with it was what I would call both a good move and a tentative one simultaneously.  Good because the components they've addressed (launch seems to be in the 3rd quarter of this year) and tentative because of the general omission that I'll get into later (stop panting for chrissakes! I'll get to it.  I swear.)
They are going to integrate what they called SocialSuite with the enterprise social collaboration service Yammer, one of the more robust internal collaboration tools in the marketplace.
SocialSuite provides the users with the ability to subscribe to any process that can support an activity stream at a company. So for example, you could theoretically subscribe to an SAP supply chain inventory management activity stream so that any time its updated it appears on your personal landing page. The value that Yammer brings to the integration is its ability to provide peer to peer subscribed activity streams that not only provide updates to the individual's activities you subscribe to, but allow you to interact with them individual item by item. The power in this should be apparent.
Here's a scenario.  You subscribe to an activity stream that tracks a specific set of products that are being dispersed across the world to warehouse distribution centers. You notice in one update that there are 1000 too many units of the product in a warehouse in, say, ummm, Copenhagen.  Well, you also subscribe to the activity streams of the warehouse managers and you also notice that the Danish dude who runs the one in Copenhagen received the shipment the day before and didn't remark one way or the other on it.  You send him an internal whatever Yammer calls a message. He responds, sees the update in the system, says "oops" and prepares the 750 that are still there for reshipment. You watch the permissions being acquired and eventually see the excess units move out.
What I liked about what I saw, it was a no nonsense integration.  SuiteSocial did what it does and Yammer did what it does. It wasn't hot, the interface was nothing special, but, as always it got the job done.
Two things though:
I failed to hear anyone say and realized too late that they didn't that there were filters to configure the stream so that it separated all the ambient noise in streams like this from what was important.  This was what limited the value of Chatter's first incarnation – it didn't have them. This seems to be something that will be resolved at the level of SuiteSocial, not Yammer. What concerns me is while you can subscribe to any object that is subscribable (activity in supply chain e.g.), the question is can SuiteSocial give you what you need to filter the noise from the specific object you subscribe to? I'll find out. Hope so.
They claimed that what the integration did was unique and first to market. That is pretty much nonsense. This is exactly what Chatter did when it was announced. Please don't make the claim when you can't defend it unless you nitpick some little feature you have that chatter doesn't.
However, beyond that, there is a LOT of good to be said about this matter of fact second effort at social stuff from NetSuite.  I say second effort because their first effort at some sort of social integration is with star sales intelligence provider InsideView, an effort that though it is called a premium partnership, hasn't really shown a lot of results yet, largely I think because NetSuite isn't concentrating on what is actually a great value add for their suite.
They haven't stopped at this for social though.  They also announced an integration with Qontext – a true social network (they call themselves a social collaboration platform, I presume to differentiate themselves from something else) that made a first real splash just a few months ago when they provided the social network at SugarCon 2011 – the SugarCRM user conference.  I've seen Qontext and met their CEO Samir Ghosh, a very good guy and I think this is a product with promise. Their NetSuite integration gives NetSuite customers a chance to build out some community functionality without a lot of cost built in.  This is a good thing, people.
NetSuite continued down the path showing their iPhone mobile application which is focused, as most business application mobile apps are – around sales force automation.  It is functionally complete and it does something which is very cool, but they are not first to market on this one either. Using location based services, it finds which customers are in the area you're in and whether or not they are available.  First time this was done was about 2 years ago with SalesLogix mobile SFA. But nonetheless, it's a slick application. They are also releasing iPad friendly applications with other tablets to follow in the near future.
In other words, they have accomplished what they tend to always do. They've figured out that social is table stakes and then sat down at the table with what they needed to play to begin with.
But play where is the fundamental question that faces NetSuite this year and into the next?
NetSuite Says: We Want to Play With the Big Fellas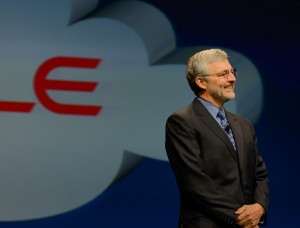 In a lot of ways, I think the most intriguing thing that showed up at SuiteWorld 2011 wasn't the "we're social dudes and dudesses" but what is NetSuite gonna do about the enterprise.
Keep in mind, the one advantage they have over other companies that have attempted to move upstream from the SMB world to the enterprise is that they have been incredibly successful in the heftiest part of the mid-market. Those companies that have $200 million and up revenues among other things.  In fact, NetSuite announced that the first quarter of 2011 has been their most successful ever, scarfing up revenues of $50.4 million up from $38 million plus a year ago. Pretty sweet.  Their deal size is one that you would expect from a company that is dealing with an aspiring enterprise. So they are better suited than most to enter the market.
But better suited doesn't mean better prepared.  Based on announcements and addressing a couple of real concerns (one of which is the blatant omission I referred to coyly earlier) will help us figure out whether or not they can actually make the move to the enterprise.
On the surface, they've done a lot that seems to prepare them for the enterprise market.
They've announced the NetSuite Unlimited Edition which unlocks all 23 of the modules that NetSuite provides where their other editions don't.  That means that they are providing a lot of functionality at a cost that I think Zach mentioned was around $1 million though he didn't elaborate on how that $1 million was handled – unlimited users?
They've cemented two critical business partners, RSM McGladreyand Accenture – both of whom are very comfortable cavorting in the enterprise space. They can both provide the street cred by association and the mentoring necessary to bring NetSuite to that space. Don't underestimate the value of these moves to McGladrey and Accenture Either.
They've announced a big partnership with Oracle – focused on the cloud based big iron – Exadata servers will now power NetSuite's cloud. This one is no big surprise. If you don't remember back to 2001-2004, NetSuite was hatched pretty much as Oracle's Small Business Suite – a nearly 4 year revenue sharing agreement that gave NetSuite a great deal of branded credibility back when it was a new company.  Plus Zach and Larry Ellison are good enough friends to throw an exclusive party at one of Mr. Ellison's homes in SF Monday night at the conference. There has always been a close tie there – and Larry E. was an original investor in NetSuite. So all in all nothing is a surprise in this one.
NetSuite announced the signing of Qualcomm – an enterprise client – for proof of concept I suppose. They also announced GroupOn as an "enterprise" client.  I'm glad they've signed GroupOn, though I don't think they prove enterprise readiness. They grew big fast and yet, as my fellow ZDNet blogger Larry Dignan, points out in his pre-conference post "Groupon went from no revenue to huge practically overnight, but was likely to be a green field as far as ERP implementations go." Qualcomm is the one to watch.
NetSuite is moving to become a platform (SuiteCloud) which of course, increases the level of sophistication and the amount of customization that they can provide to the enterprise and changes their toehold in a company potentially into a foothold as the company becomes more and more reliant on the platform. To that end, they made a point of speaking of SuiteFlow, which is a graphical workflow design tool that is now part of the platform arsenal. They also, as salesforce.com has often done, showed how customers are building new applications from scratch.  For a good summation of this, read PC World's Chris Kanaracus here. They are meeting what has become SaaS tablestakes recently – with multiple companies pushing their version of being a platform provider.  Good move on NetSuite's part.
Even with all of this, the question remains: Can NetSuite go up market to the enterprise? There are several things that highlight the question.
First, is just unlocking all the modules you have mean that you're ready for the enterprise. There is a significant enough difference between how extremely large businesses operate and how even the upper end of the midmarket works to assume the number of modules is not the differentiator. For example, the supply chain  can be extremely complex in the large enterprise and while NetSuite carries some supply chain management applications, this is an admitted weakness.
Second, NetSuite doesn't have tons of experience selling into the enterprise though they have a few enterprise clients at the departmental level so they are aware of the different sales cycle etc. The alliances with RSM McGladrey and Accenture will help them with that though they have to continue to hire the experienced enterprise guys to make the leap.
Third, their puzzling lack of support for their own CRM applications actually weakens their enterprise argument. IBM's excellent Institute for Business Value did its world class CEO study last November and found that the #1 priority of the 1500 CEOs, 88% of whom responded: "getting closer to their customers" is their top priority for the next five years. Seems to me that if this were the case, that they would spend more time establishing market presence for one of the most vital parts of vendor's enterprise offering.
Do I think they can do it? Most likely, yes. I do. I actually think they have pretty well be able to do whatever they have set out to do since I've known them – and they are admirable for it. So I think, that in a year, NetSuite will be selling successfully into the enterprise….if they take care of the issues that I mention above.
The Missing & the Bad
With all this "positivity" about NetSuite (I know that's not a real word, okay?), I do have one thing that totally puzzles me and another that I feel that, since they aren't going to listen to me anyway, I still have to say for my own sake.
First, what I consider their most egregious…and puzzling…error.
Where are You, CRM?
For some reason, once again, as in the past several years they barely mentioned CRM.  In private conversations, I heard about how they are realizing how important CRM is to them – especially as they move upmarket – but there was no noticeable public acknowledgment of that at all. It was odd in fact.  Denis Pombriant, Brian Solis and I did a panel on Social CRM which seemed to be very well received – packed room, back and forth, real interest, lots of tweets etc. Additionally, there was all this talk of "social" which when it boiled down to it was what is ordinarily called Enterprise 2.0 – meaning internal collaboration, which was clearly designed, despite protestations, to combat Chatter's market buzz/presence.  Not to enhance their CRM – i.e. customer facing capabilities.  Additionally, while there was lip service to the acronym, I didn't hear a single discussion in targeted analyst meetings on CRM at all.
Thing is, its not like they are hiding some bad product. They have a very good product, actually, that is solidly functional in sales and customer service and because its built with its core at order management, provides some great tools for sales folks particular – building quotes, catalogs etc.  They, like others in the suite business, have a weaker marketing module, though Marketo and others integrate with NetSuite should the marketing power needs amp up.  Their integration with social software right now is virtually non-existent if their discussion at the conference is anything to speak of. So for example, they don't have anything that I know of that does what CoTweet does with Microsoft Dynamics CRM – which is to integrate the social data with the transactional and bring up the integrated data in a single screen.  But for the hardcore traditional CRM functionality, they knock it out of the park (Oakland-Alameda County Coliseum of course).
Once Again, Attacking SAP
Sigh. I'm going to keep this one short because I know they won't listen to me.
They need to stop attacking competitors and focus on the quality of their own apps/services/platform. I've seen them spend countless hours attacking primarily SAP and salesforce and its a waste of time and effort that could go into providing some market presence to CRM, for example. Frankly, with two notable exceptions, its never been clever or funny so there isn't even entertainment value, much less any substance to the attacks. What is sad and ironic, is that they have an excellent set of products, they do what they say they are going to do, they provide value to customers, meaning they are a really, really good company, who could stand on its own merits.  Instead they spend countless hours mocking their competition, which is actually beneath them. I would think.
But….they will never, ever, listen  to me. So, for now, that's it.
The Event, Influencers & The Marketplace
One thing I want to make clear.  I really think that NetSuite (other than competitive mockery) is a classy, smart, enjoyable, quality outfit. They do things exceptionally well from their thinking and production of products to the events that they put on. Sure they have glitches like everyone else….for awhile their analyst program went way off track…but unlike many of the companies  in the space, they take most problems in hand and simply solve them.
This was their first user conference and they drew 2000 people to SuiteWorld 2011 which is remarkable for a first effort. In fact, it is the largest "first ever" conference in my memory.  But not only did they get an inordinately large attendance, but they managed to actually sustain a high level of discussion, participation and buzz with a well-organized incredibly well run event.
There are reasons for that.
First, you have the presence of Zach Nelson on the stage. Honestly, one of the best speakers out there in software land. He is engaging, funny and not histrionic.  He provides content without being overwhelmingly propagandistic.  A big A+ on that one.
Second, they know how to run classy events, so that even though this was a first user conference, they had a lot of prior experience in getting this right. Almost everything was done extremely well. The content they provided was useful in a practical sense, and valuable in an intellectually stimulating, strategic way.
Coupled with the excellent content, they kept the attendees engaged with all the atmospherics you need – networking, good food and wine selection. One of NetSuite's signatures is that they get the idea of an encompassing culture. It goes to the heart of one of my personal/business mantras – "you don't have to have luxury, you have to feel luxurious." NetSuite goes out of their way to do that with both attendees and the VIPs. For example, all the wine selections are ALWAYS good.  In fact let me tell you…..
A Story To Diverge Briefly
Several years ago, Steve Cakebread was the CFO of salesforce.com. He was a member of the family that owned great California vineyard, Cakebread Cellars, a premier wine provider.  Salesforce, probably rightfully, didn't ever serve Cakebread Cellars at their events, because they felt it would be a conflict of interest. I remember being at one NetSuite event that, in fact, the wine with dinner for about 100-125 people was Cakebread Cellars – both a dig at salesforce and a typical willingness to provide the feeling of luxury to those that they hosted. NetSuite's bad and good side in a nutshell.
….Back to Our Channel
They provide small touches like high quality chocolates from their customers – which of course means that they are buying their customers' products when given the chance rather than just taking their bucks and then showcasing them.
Not only are their wine selections good, the cultural side taken care, the content strong, but Zach and his senior staff make themselves very available to customers, to analysts/influencers/media, to whoever is at the conference.  In environments that are conducive to what has been called in other circles convivial discussion.
The Party at Larry's House
What may have been the absolutely most spectacular VIP event I think I've ever seen at a conference was NetSuite's party for about 80 people – their VIPs – at one of Larry Ellison's homes in San Francisco. Aside from the view being spectacular – a view of Alcatraz, the Presidio, the bay, the homes in the hills, etc. from the top of Pacific Heights. Aside from what I saw of the home being beautiful, they had Michael Mina, one of America's foremost chefs cooking the food for the guests who were a mixture of influencers, staff, customers and an assorted group of others who co-mingled, chewed a lot of small servings of superb food and all in all were dazzled by the whole event.  It was a brilliant stroke and a great time.  What it does, of course, is increase the good will with the attendees – which is not only fun but at the same time, serves a business purpose.  Its that feeling of luxury to the nth.  I don't own the home; personally, I couldn't afford Michael Mina doing my cooking, but for an evening I could be in the environment.
Smart smart move.  For more on the party, check out this Adweek article by  Dylan Byers which even includes the menu
In Sum
This is NetSuite's time. They have the street cred, the chops, the depth, the cultural smarts and the product strategy to go from a midsized company addressing the midmarket to an enterprise addressing the enterprise. There are caveats to be sure, but I don't doubt their ability to do it. They have been consistent in their approach to the market, have made some progress in the new set of table stakes required in that market and still have the products they need to address the jobs and issues that their current and future customers face.
Does that guarantee success? No.  The things that I pointed out they have to address aren't trivial.  But, for the most part, at this moment, I'm feeling kinda luxurious about them.
Other Posts/Videos/Articles Worth Reading
Here ya go.