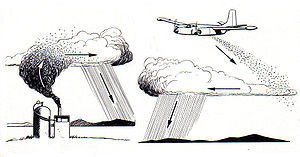 Image via Wikipedia
Well, not really *that* Cloud.. but it's the weekend (for a few hours), so light weight posts are in order. 🙂  Reuters reports:
Venezuela's President Hugo Chavez says he will join a team of Cuban scientists on flights to "bomb clouds" to create rain amid a severe drought that has aroused public anger due to water and electricity rationing.

Chavez, who has asked Venezuelans to take three-minute showers to save water, said the Cubans had arrived in Venezuela and were preparing to fly specially equipped aircraft above the Orinoco river.

"I'm going in a plane; any cloud that crosses me, I'll zap it so that it rains," Chavez said at a ceremony late on Saturday.
Cloud Seeding is not a new concept: amongst others the Mayor of Moscow plans to resort to it to keep snow away from Moscow (no more White Christmas?), the Chinese reportedly used it to clear the air for the Beijing Olympics, and it's an old trick of the long-gone Soviet leadership to provide such "air cover" for their big military parade.
But don't worry: "our" Cloud will be OK.  Oh, and they won't reach Cloud Avenue either. 🙂