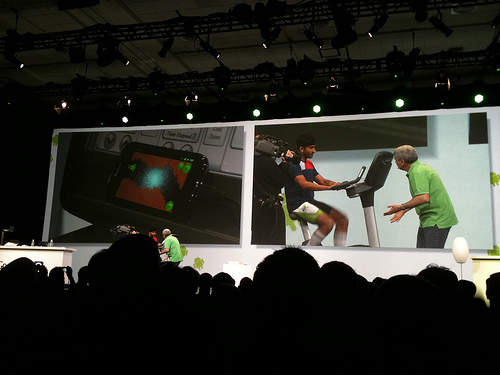 At the recent Google I/O 2011, the search giant unleashed itself into almost every nook and cranny of IT, consumer and "enterprise." This positions them against pretty much every vendor out there, and with their billions in money from advertising, they're like a wealthy but aloof giant that seems to have unlimited resources, just waiting to emerge from the haze of success.
Summary
Both Stephen and James have written up aspects of I/O – Android and Chromebooks. To pile on, here are my take-aways about Google from I/O this year.
The good:
App Engine matures, reminds world that it's a 3 year old PaaS in this age of rising PaaS-mania.
Android@Home is an ambitious attempt to get Google into every part of your life, in your living room, as it were – and the laundry machine.
The Chromebook program is a bold attempt to provide desktops as a service and completely displace the classic Microsoft PC model, as well as Apple, of course.
Google is the epitome of "the consumerization of IT," by which I don't mean the easy idea of bringing an iPadAndroid tablet to work, but returning to a focus on end-users and delivering features at a cadence that matches consumer-think, enterprise desires be damned.
The bad:
Current bandwidth limits (and heinous over-charges) hobble most all these efforts.
Displacing Microsoft Office as the reason to buy the Microsoft platform seems an impossible task.
A two OS strategy with Android and Chrome creates two dev stacks, creating the classic problem of intra-company fragmentation that every platform company has.
Google's notorious, release-early-kill-the-lame approach, along with their aloof nature at developer relations is odd, if just a "new" approach to platform "stability."
App Engine
This three year old Platform-as-a-Service seems to have finally graduated, with a swath of new features and pricing updates. As they say, "App Engine now hostsmore than 200,000 active apps that serve over 1.5 billion site views daily."
Awareness of App Engine has always been oddly low, almost providing a counter-example to the rising PaaS mania (which us RedMonk have as much as the vendors who weekly chest thump that part of the burger). Nonetheless, there's a good stock of figures and customer cases for App Engine: the Royal Wedding (scale) and WebFilings ("enterprise – booga! booga!"), to name two. The platform may not do everything ever developer needs (that's the well hidden Achilles heal of all PaaSes, by definition), but App Engine seems damn capability.
App Engine still suffers from lack of awareness and short-listing among developers I talk with. For example, when I sent the Royal Wedding case (built by Accenture, of all people!) over to one developer friend, more or less asking, "isn't this enough?" they replies with "I guess so, but I think I would like to see a long term successful app that has grown strong. And I would like to hear from their developers about their satisfaction with using Google App Engine."
Chromebooks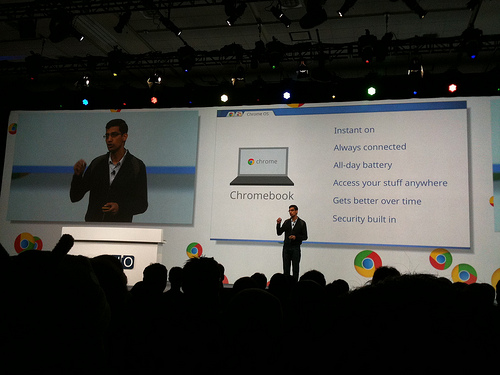 This is the most interesting of al I/O announcements: much like Ballmer decrying the iPhone as soon-to-be flop, the Cassandras are out in force. Their major beef is thick and juicy, though: you can't beat Microsoft Office. Indeed, if Google things it can beat the Office lock, they're setting themselves up for a nasty lyre contest: better to wait for the new Gods to come than to fight the old.
The Office hurdle aside, it's a wonderful idea: client PCs and networking as a service, a subscription to a laptop. Cost it out though: $350-500 up-front for the hardware, than $20-28 a month with a three year commitment, plus a little more for 3G, plus $50/year for Google apps and whatever SaaS subscriptions you need. The range comes out to $1,119 to $1,737, which ain't too bad compared to theories on the rate for "traditional desktops." (See pricing details over at Engadget.)
We all intuitively know that the issue is a cultural one: people wanting, mostly, Microsoft client software. The rest of the issue is building up the applications, both as SaaS delivered to the Chrome browser and Chrome plugins, if those are allowed. Developers are being given a massive incentive to be in the Chrome store: Google only does a 5% take on revenue. Compare that to Apple's 30%. This app market place thing is always a chicken and egg problem: Google has to build a large enough mob of users waving dollars around to get developers to write to the Chrome platform. Google, however, has the cash to subsidize that: I'm pretty sure Rovio isn't just making Angry Birds free in the Chrome store, as it is now, surely Google is paying them. Every other app store has this challenge – WP7, etc. -, going against Apple, and subsiding early developers seems the only route…