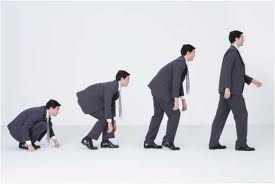 I was flying across the US last week and was really annoyed to find that my flight didn't have Wifi. I mean really, 6 hours without an Internet connection, how would I get anything done? Of course when I have an inflight connection I still find myself complaining about the speed. I'm reminded of a comedy routine that I saw on YouTube from Louis C.K. "Everything's amazing and nobody's happy". After all you're strapped to a chair at 35K feet flying at 550 mph surfing the Internet…it's a little slower than the connection in my home, I guess I can live with that.
This morning I decided to run down a little issue with my Verizon Fios account. I set it up last Fall and it works great but I did auto billing so I don't get a bill. Now that's great, it's exactly how I like it, no paper but the problem is that I want to get access to the myVerizon web site. When I try to register it asks for my Verizon Fios home phone number (I get Internet and Cable, not phone, I haven't had a land line in 6 years) or my account number. When you click on "find your account number" it shows you all of the handy places that one might look on their paper bill for that number…uh, well, I'm paperless remember. I tried to run this down months ago but gave up. Now I need access to the site for a couple of things so I thought, time to solve this. I asked for help on the site using the "chat now" feature and after a 30+ minute conversation with the support rep he tells me he can't get the account number because I don't have a phone number (yes, I know, if I had a phone number I wouldn't need the account number but the irony of that seems lost on him). Guess what I can do, call the number he gives me…and on the other end of that call, sigh, an endless IVR. I abandoned this attempt 40 minutes later…that's 70+ minutes to not solve my problem if you're counting. Now I'm happy with the service I get, although it's way over priced and I never get the actual advertised speed, it is fast and the cable is great quality. In the space of a few minutes I've gone from satisfied customer to I'm not happy. They took a simple experience and turned me sour on the whole thing mostly through some poor system design and clearly some CRM issues on the back end.
So what did I want…or what do people expect now? On one hand what I wanted was simple, to be dealt with when, where and how I choose and to have a reasonable outcome in a short amount of time. Even the chat experience was plagued by system design flaws, I filled out a form with all of my information then the chat window opened and the rep had me "verify" each data element one at a time…not a security question but everything I had already typed? As I and many of my colleagues have said over and over, it's about the customer experience today. In fact I would suggest it always was, but expectations have changed and your customers and prospects have learned that they have a voice and alternatives.
From a system design perspective I believe companies often do not try the experience from the user end, or at least not in a end to end process way. I mean if they did would the person who runs Verizon Fios customer service allowed the experience to be so poor to an otherwise happy customer whose monthly recurring investment in Verizon (7 wireless connections and home high speed Fios Internet and Fios cable) is substantial. You had me at I converted from AT&T wireless last year because you have by far the best network and switched from Comcast because your Internet speeds are way better and you even have resolved some wireless billing issues quickly and with a pretty good experience, a happy wireless customer and a happy home customer. Now break this down to the simplest issue, you can't tell me a critical piece of information that you are requiring of me to get access to my own account information online, not acceptable?
From a customer experience perspective companies have to realize that our expectations have changed significantly. Gone are the days where we didn't have choice or voice and channels to express our feelings about your brand. Word of mouth marketing is still the most powerful, remember? All businesses rely on backend systems of some form and large enterprise has gotten very complicated and sophisticated but if the reliance on the systems is screwing up your customer experience maybe it's time to evaluate your choices? Remember I want to interact with your brand (that's the good news) but I now want that interaction to provide a positive experience and be under my terms. A wake up call?