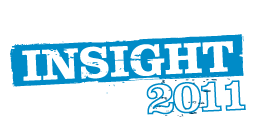 The Spring 2011 user conference season is finally winding down and for me basically ended last week as I attended my fourth Deltek Insight user conference. Deltek, a company on a multi-year journey of transformation from a sleepy family run culture to a fast growth, innovative international public software company, has always had two strong foundation blocks on which to build, a fiercely loyal customer base and a focus on project based businesses. The Deltek I saw this year looks very different from the one of four years ago, having made several key acquisitions, particularly in the last year, leveraged some key trends in social business, moved some of its portfolio into the cloud, expanded significantly internationally and made some management team adjustments to meet the needs of a company making a run to break through the $500M revenue milestone. Deltek goes to market in two distinct business lines, Government (government agencies and government contractors) and Commercial Project Based Industries (Architectural, Engineering and Construction, Advertising, PR and Marcom, Accounting, Energy and Environmental, Legal Services, IT and Management Consulting, Project Manufacturing, Nonprofit and Aero and Defense), a strategy that has been in place now for some time, but this year saw some interesting enhancements in both lines of business.
With the acquisition of European based Maconomy last year Deltek signaled its intent to make a much more aggressive move in the commercial project based business verticals. As I wrote after the announcement there was little overlap between the two companies as they focused on different micro-verticals and geo's. As expected the addition of a strong presence in Europe has started to offer many new opportunities to the Deltek Vision product and the same has proven true in the US for Maconomy's X1, as they used each product to go after a broader set of micro-verticals. To accelerate the integration of the two companies and provide a coordinated sales strategy Deltek appointed former Maconomy CEO Hugo Dorph as the EVP and GM of Architecture and Engineering and Professional Services. Dorph leads sales and marketing for Deltek Vision, People Planner and Maconomy. In a typical multi-brand portfolio approach the current plan is to continue to invest in both Vision and Maconomy, with the possibility of convergence at some point in the future. From a geographic perspective the team is seeing strong growth and activity in North America and in Europe.
On the Government side of Deltek's business there have also been some interesting changes. With three acquisitions, mySBX (now GovWin), Fed Sources and INPUT, Deltek has formed a new information solutions organization under new hire Catherine Morales, now EVP of Deltek Information Solutions. The solutions are aimed at extending up the government contracting value chain by offering content and community that help facilitate finding new opportunities, finding key partners / sub contractors and winning business in the cloud. This solution compliments another new Deltek offering, a cloud based full busines management solutions portfolio for project management, financial accounting, business development and payroll in small and medium size government contractors called Deltek First. Though not Deltek's first cloud based solution, it is the first end to end business system in the SaaS model. The combination of the content and community from the Information Solutions with full business management of Deltek First is a powerful and complete cloud based offering.
Not to be left out, larger government contracting organizations can enhance their business capabilities with the new roles based project management platform called PM Compass. PM Compass provides an integrated platform for program managers and project leaders that helps monitor, manage and report on multiple, interconnected projects and is a welcome addition to the Deltek Enterprise Project Management portfolio.
Cloud and SaaS, while the fastest growing segment of software in general has proven a difficult model for traditional on premise software companies to embrace. The transition of revenue models, sales models, relationships models and development models can be challenging and disruptive. That said, it is very important for vendors to develop a strategy for dealing with the cloud. In discussing Deltek's emerging cloud strategy with both CEO Kevin Parker and new Cloud Strategy VP Pete Mann, I found a measured and well though out approach. With the launch of Deltek First the company has a full blown end to end business solution in the cloud and can use that to gain better understanding and experience with SaaS. This knowledge will over time, translate to more of the portfolio moving into the cloud, while continuing to support on premise customers and offer customer choice for deployment models. Over the recent past Deltek has offer more of its portfolio in a subscription model, which starts to shift the overall company revenue model slowly to the recurring revenue model of future cloud offerings. With the addition of the Information Solutions, more of the product portfolio is now cloud based as well. Look to the near future to see new offerings in the other solution families, particularly on the Vision / Maconomy side of the business where there is a lot of opportunity for growth in SaaS and little competition.
Overall this year I left Insight feeling like I saw a different face of Deltek, one that builds on its strengths while showing a solid and innovative roadmap for the future. I also had an opportunity to take a glimpse at some double secret product development efforts, code named Kona, that are really dead center of some of the most compelling trends shaping the software industry today. Of course I can't say anything about it yet, but stay tuned for more. I should also mention that in conversations with Deltek's new EVP of Product Strategy and Engineering Namita Dhallen, the team is starting to roll out some new mobile capabilities and has a plan for more on that front in the near future. 
Tags: ERP, Deltek, Insight, project, cloud, govcon, professional services, SaaS