Today's big news is Salesforce Teaming up with Toyota to create a private social network where you can befriend your car and it will "tweet" you when it's thirsty, need a checkup etc..etc..etc – see the details from @Krishnan's post.  The opportunities are really endless – more on that later.   I have to get something off my chest first.
I admit when Chatter first came out, I did not get it.  Yeah, another activity stream, so what?  I've long agreed with Chief Curmudgeon Dennis Howlett that activity streams without business context offer little value in business.  Things started to get interesting when Chatter added the ability to follow documents, opportunities and other business objects.  Aha!  So now we're getting business context in Chatter!  But why?
The trick is to get enterprise data out of the complex, screen oriented business applications cluttered with zillions of field and serve it up to users in simple yet actionable format.  Enterprise software companies have long realized only a fraction of employees of their customers will ever use their systems.  What if they found a way to present key information, triggered by events to those users who might not even touch their systems?  SAP tried it half a decade ago with Duet… but it was a half-hearted effort that did not take off big time.  But now as the number of Facebook users  soon exceeds the population of Earth

we're all familiar with the activity stream format: traditional enterprise software requires training and process manuals – activity streams don't.  There's a real paradigm shift here, removing the barriers between structured and unstructured data and giving a much larger user community easy access to information that used to be locked up in structured databases and application programs.  To me that's what Chatter, Tibco's Tibbr, NetSuite's SuiteSocial and the like are all about.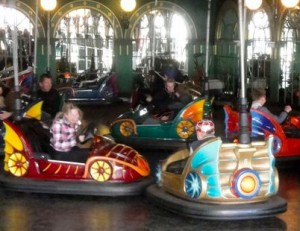 Now, back to cars. Aren't we all in an intimate love (hate?) relationship with our cars? What better way to popularize enterprise software than through the hearts and minds of car-owners:-)  And there are further  opportunities…  Peter Coffee talks about the Internet of Things, which is a step beyond machines interacting with us: it's machines interacting with other machines.   If my car can be my "friend", why couldn't cars befriend each other?  Hey, Google is experimenting with self-driving cars.  Can you see the day when self-driving GooCars Chatter with each other?
Now, if you can "friend" … you can certainly "unfriend".  Which makes me wonder about the day when a bunch of friendly GooCars gang up on an unfriendly

Related articles