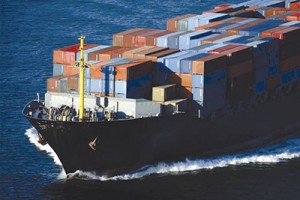 Earlier this month, Panjiva reported that its global trade tracking index was up, showing solid seasonal growth. According to their analysis, April saw a "healthy bump" in global trade activity with the "number of waterborne shipments coming into the U.S" experiencing "a 7% month-over-month increase from March to April." In addition, more suppliers are shipping to the US — 6% more in fact. Yet the numbers of suppliers that may pose a growing supply risk to customers increased from 18% to 19% (Panjiva defines these "Watch List" suspects as suffering a 50% or larger decline in volumes destined for the US in the trailing 3-month period). Rising imports to the US surprise me on a number of fronts, not the least of which is a weakening dollar. Owing to this and other reasons, it's certainly a signal that the US economy continues on an upward trajectory.
Yet the fundamentals in China and other markets do not necessarily support continued export growth to the US throughout the remainder of Q2 and into Q3 and Q4 of 2011. From rampant inflation in China — which is significantly outpacing inflation here, as our folks on the street tell us, let alone what the politburo reports — to a continued weakness in the dollar as the US continues to push its debt ceiling higher and higher, the likelihood seems far greater that the US will see reduced imports and greater exports if the current trends keep up. Moreover, it's unlikely that US consumer spending will help sustain an economic recovery unless we take care of the jobs issue (note to Washington: simply reporting that the unemployed are no longer unemployed because they no longer qualify for handouts does not solve the underlying problem).
Perhaps closer to home, our own discussions with procurement executives suggest that many are fed up with the variability inherent in global sourcing at the moment. The volatility and the fact that in many cases, suppliers are refusing to honor commitments and contracts in rising price commodity markets is causing them to reevaluate their strategies if alternative options exist to China and other global sources of supply (they don't in some cases). It's our bet at Spend Matters that we see the US materially narrow the trade deficit later in 2011 provided the weak dollar continues. From a sourcing perspective, if you're not looking closer to home and if you're not working to engineer cost out of the buying equation aside from haggling with suppliers, you're likely to come up short relative to top performers in your industry.