The CIO of today tends to be one more focused on the business and less on technology than in years past. Whether they're an activist CIO pushing for change or more concerned about the status quo, the consensus at the moment is that the role is first and foremost grounded in the business. Sure, the strategic application of technology is the goal, but without a profound understanding of the business, it just perpetuates the famous IT/business divide.
This refinement in CIO focus should make the transition to social business models an easier one for top IT leaders. But it turns out that it's not for many. Part of it is that the original transition to digital and online channels is one that most traditional organizations are very much in the midst of and still struggling to get right during growing technology and marketplace churn. In other words, while social business is the clear macro trend, CIOs are still dealing with the last major paradigm, digital business. Another closely related issue is that social media (like most of the Web) didn't start out with the enterprise in mind. Consequently, it can be big leap to make culturally and behaviorally, never mind that the approaches and technologies are just now being adapted effectively to the business world.
Frankly, after observing large organizations attempt to grapple with the challenges of Enterprise 2.0, external social media, and other aspects of social business over the last few years, it's become increasingly clear that incorporating social business into the way enterprises work is going to require some key elements that are either currently missing or actively impeding progress.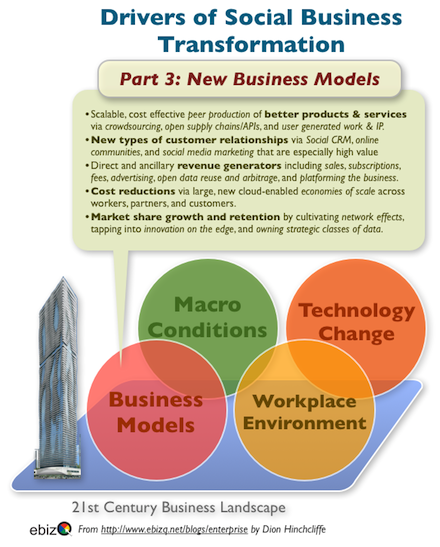 Squarely in the impedance category is the not-invented-here (NIH) syndrome. Most successful companies already have a core competency, and if that's not social business, you can bet that it will be challenging to introduce foreign concepts, particularly transformative ones, no matter how effective they are proving to be for others. NIH is also significantly an issue with social business, because at its root, it's about getting ideas and value from elsewhere, in scale. This sea change in where the most valuable inputs come from is one of the signature business challenges of the decade. It's also one that CIOs will have to successfully tackle head-on, both personally as well as organizationally, if their organizations are going to thrive in tomorrow's marketplace.
In the missing category, and what this post explores, is a clear-cut understanding of the new business models of enterprise social media. While most organizations are exploring them as an adjunct to their existing processes, perhaps incrementally improving marketing, product development, or customer care, ultimately these new models will fundamentally transform the way each part of the organization functions. Put another way, most corporations are dabbling seriously with social media in one form or another, but understanding how deeply it will ultimately change the organization is what's still missing. Framing up the real opportunities amidst a target rich environment is what's hard to do right here.
Related: The Social Business Landscape – The Moving Parts for CIOs
Below is a breakdown of the top-level ways that social business will change the business models of organizations over the next five to ten years. Some businesses are already well-down this road, particularly new, fast-growth "digital native" firms. For the rest, making the transition will require more than some side bets in a digital business division or a portfolio of acquisitions. In fact it's increasingly clear, as the examples given below, that change will have to go deep in order to reap corresponding rewards, as well as simple ongoing viability for some (see software industry, open source and the media business, social media for early examples of social business disruption.)
The Business Models of the 21st Century
1. Offering better products & services. Organizations can now move to much move scalable, cost effective models for product development and creation. The core force here is peer production, typically via crowdsourcing,open supply chains/APIs, and co-created intellectual property. A typical example is Fiat's peer production effort with their Mio vehicle, which ultimately resulted in the world's first crowdsourced car, co-designed with the marketplace, and was launched late last year. There are now dozens ofmajor enterprise examples of this social business model. The premise here is that social business allows the creation of more innovative and better products and services faster then before by working more closely and openly with customers and the market.
2. Customer engagement on a whole new level. Leading enterprise are now finding that holding customers are arms length out of concern for cost is no longer necessary. Better customer service, higher satisfaction levels, and better retention are possible by employing techniques and platforms such as social CRM, online communities, and social media marketing that are especially high value. For example, financial services leader Intuit has been offering co-created customer support via Live Community to millions of customers for years, driving down costs and supporting customers much better than traditional non-social methods.
3. Direct and ancillary revenue creation. Social business can drive sales, subscriptions, fees, advertising, open data reuse and arbitrage (such as what Sears has been doing with its developer network and business partners), and platforming the business such as what Alcatel-Lucent has been delivering to the market. Why this is so strategic? Most CIOs build IT capabilities once. But it's possible to reuse enterprise assets not just a few times, but cost-effectively to thousands or even hundreds of thousands of partners. And not surprisingly, social business approaches (typically with high-engagement developer and partner communities) are the best way to do this.
4. Capex and opex savings. Because social business provides almost frictionless, nearly-free scalable access to the resources and people in the cloud, it enables economies of scale not previously possible across the universe of workers, business partners, and customers. Customer care, product development, and marketing (see examples above) can be engaged in much more cheaply, often dramatically so, with higher effectiveness rates. Good examples and case studies now exist and social business models are now perceived to be increasingly repeatable, though I'd be remiss in not pointing out the failure rate is still higher than traditional models. However, now is the time to build competency in your industry, while there is time.
5. Market share growth and retention. By now, it's fairly well understood that cultivating network effects is the key to market survival in the future. But it's still poorly understood that it's the fundamental nature of today and tomorrow's marketplace that makes it so powerful, namely that it's deeply linked and networked in terms of information, resources, and especially, people. It's understanding the power laws of highly networked businesses and the ecosystems they operate in. While tapping into innovation on the edge is important for future growth, being the industry leader today increasingly means 'owning' strategic classes of data (and their associated online communities), period. This is the new lock-in, as long as the least possible non-essential control is exerted. The key here is that the attractiveness of a business in the social world is much more about trust and engagement than about control or out-and-out ownership. Possession of market share is now much now more about stewardship than about pure competitive stance. Only the social business leaders in this regard will have much success, though there will be a few rare exceptions for those that overly tightly control their products, services, and ecosystems.
What's a CIO to do about shifting business models?
Going forth and enabling these business models is not a minor effort if significant returns and successful future-resistant business transformation is — as it should be — a top near-term strategic goal. CIOs who have the vision, will, and political capital to drive successful organizational change towards these models will serve their organizations well as they adapt operations to the large-scale changes occurring in the marketplace. Those who can't, will become reactive as other parts of the organization (or relentless external marketplace pressure) ensure they either fail outright or attempt to make the transition in too short a time. Or even worse, too late to do any good.
I would also stress that it's a generational opportunity for CIOs to situate IT in a place that it too-rarely finds itself: As a direct driver and revenue generator for the business. This is just too good an opportunity for a capable CIO to miss, taking the off ramp from being a business support unit and overhead cost, to being a major channel for the business itself.
At the end of the day, CIOs are ones in the organization best situated on the front-line with adequate resources, and a lesser extent, the mandate to lead the enterprise in social business transformation like very few others. Whether they can successfully lead the charge towards models that are much more cost-effective, higher growth, sustainable, and profitable, remains to be seen. This is particularly true of the many industries that are just now realizing how much the world is changing the way it does business.
---
This is part three of a four part series on social business and next-generation CIOs. You can find the first two parts here:
Part 1: Social Business and Next-Generation CIOs – The Macro Conditions
Part 2: Social Business and Next-Generation CIOs – The Impact of Technological Change