Click here for the first post in this series.
Typical Vinimaya customers represent large, Global 1000 organizations that are already a number of years down the P2P implementation path and aren't maximizing the potential results they're after. Many of these organizations have complex multi-ERP and potentially multi-P2P environments. Companies that have grown through acquisition are often a good fit as well, given heterogeneous systems (and supplier) environments. Vinimaya suggests that companies justify the investment based on four specific areas for return: increased user adoption (resulting in a decrease in maverick spending), simplified comparison shopping (reducing in lower prices for procured items), enhanced supplier connectivity management (lower costs) and enhanced local catalog management capabilities (reduced ongoing costs).
Vinimaya deployment times are less than two months, even in highly complex environments. Users should note that in the time it takes to get just 2-3 punch-out suppliers enabled for SAP and Oracle without a tool like Vinimaya, they're likely to achieve results that are at least 3-4X better (both in aggregate numbers and depth of supplier enablement) in a similar timeframe with a targeted solution. Some of the big-name suppliers enabled on Vinimaya today include MSC, Staples, Office Depot, BoiseGrainger, Dell, Fisher Scientific, HP and Dell (among thousands of others).
Even though Vinimaya does not actively position its supplier-facing experience to buying organizations at first glance, the company has a long history of working with suppliers in creating punch-out environments. Given this, it's safe to describe Vinimaya as an alternative network type of enablement tool that performs many of the same capabilities (and potentially more) of an Ariba in their supplier business. Yet Vinimaya told Spend Matters that outside of customer relationships on the supplier side dedicated to specific enablement projects separate from buying organizations, the company does not plan to charge a transaction fee to buyers to use its system (even for suppliers that are already enabled). This is in contrast to Ariba, Ketera, Hubwoo and others that charge suppliers a percentage of volume (with caps) based on actual usage.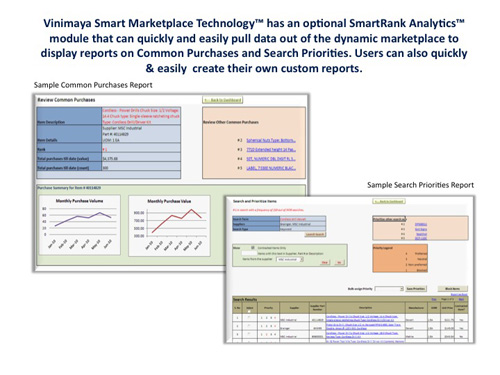 From a reporting standpoint, Smart Analytics enables companies to look at a range of search and shopping activity details. Traditional systems of records capture just actual transactional data versus activities that signal intent. For example, on the shopping analytics side of the equation, Vinimaya enables administrators to analyze exactly which users are searching for what items (and with what suppliers). Using Vinimaya, they may also consider which category users are most searching for as well as which specific catalogs/site bring back the most relevant information (and how often). On the actual shopping side, the analytics module can enable users to consider which items are being shopped for the most (and from what suppliers). The module also lets administrators analyze actual transactional information and provides reports for such areas as top search criteria, frequently purchased items, frequent shoppers and trending areas.
Vinimaya's Smart-Quote capability is very similar to the sourcing capability resident within SAP's SRM module with the exception of providing much greater flexibility on what catalogs and sites are actually searched (leveraging Vinimaya's core search and reporting capability). At its core, SmartQuote essentially pushes low-end sourcing work to business users (i.e., typically non-procurement users) who don't have the ability or time to go through a full sourcing event. Distilled to its core, SmartQuote is really a "3 bids in a box" type tool on search steroids.
Vinimaya's development pipeline continues to show innovation in the procurement area, including what they describe as "social" or team-shopping activity (which without further explanation sounds like a bunch of teenage girls on Facebook and at the mall if you ask me). On a more serious note, this capability will incorporate the collective intelligence of groups (e.g., pricing intelligence, required item features, etc. leveraging unstructured interactive information that exists outside of transactional and catalog information). In addition, Vinimaya is planning to debut a mobile capability that does more than just enable online catalog search, buying and compliance. It will feature the ability to conduct both virtual and physical searches (including bar code recognition) in actual locations — e.g., stock rooms, warehouse, office supply stores.
Stay tuned as we continue to investigate Vinimaya. In the final posts in this series, we'll walk through how the core product works in practice in a user situation as well as report on the results of our reference checks. Last, we'll provide our summary recommendations on Vinimaya.
To learn more about how tools like Vinimaya fit into the purchasing ecosystem as well as the role (and relative capabilities) of different vendors, we encourage you to register for and download our latest free Compass report in the area:
A Foundational Look at P2P Technologies
The report is part of our 2011-2012 Series: P2P and Working Capital–Bridging Technology & Collaboration to Drive Savings and Cash