On and off over the last year on ebizQ, in an ongoing series for large enterprise CIOs, I've been exploring how social business has begun overtaking the ongoing transition to digital business in many companies. The majority of large organizations have been investing in their digital business capabilities for over a decade now with varying degrees of success. Now a whole new generation of technologies and macro trends has emerged recently and is driving major changes in the way organizations operate, with social media underlying or influencing many of them. As companies begin strategically positioning social media in their business — which is now often referred to as social business — it's essential to balance the needs of the traditional large enterprise, such as shared coordination and compliance, with the increasingly compelling need to innovate and modernize to stay relevant in a today's rapidly evolving marketplace.
To further highlight that the key to successful social business transformation requires careful balance (and matching strategy), a great post this week by Cap Gemini's CTO Andy Mulholland, underscored the critical points in this conversation for CIOs:
Most organizations are looking at a very dangerous situation where even if they turn a blind eye to edge-based activities by business managers around opportunities that don't need to be integrated to, or delivered from, core enterprise IT there are still two obvious big issues that will inevitably end up damaging the enterprise.

The first is a loss of leverage from the overall strength of the enterprise in terms of experience and knowledge. A successful move in one area won't be recognized and rapidly implemented in other areas to multiply the benefits, or worse unsuccessful ideas will get repeated adding to the cost and time wasted. That's where the need to really address the combination of social networking, collaboration, knowledge management and business information is required, and yes, it is a radical task, and yes, currently it is a battle between centralized traditional management and new younger business managers, but it's key!

– The CIO is trapped between the CEO wanting innovation and the CFO needing compliance
The discussions around this issue, specifically how to move edge innovation in areas like social business into the core of the business, is a concern that's been discussed for a couple of years now. While approaches such as emergent enterprise architecture have been proposed, the reality is that major moves by the business must be driven, supported, and resourced by the organization's leaders. The question is whether the way forward past the issues Andy cited above is known, particularly since social business transformation will ultimately be making everything social that should be social. This is pushing organizations towards new types of organization-level strategies such as JP Rangaswami's "design for the loss of control" mantra.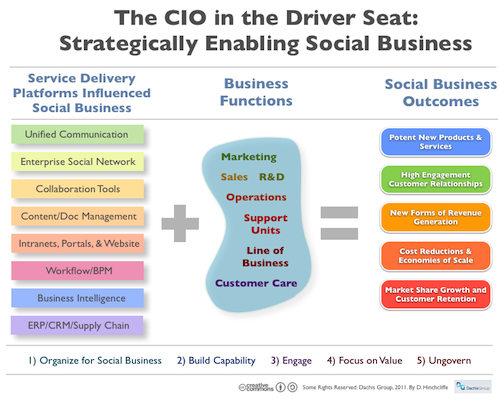 Given the tension between these two, where should CIOs take their organization? That's the difficult question, given that CIOs can only have so many top priorities. Yet the move to social business is increasingly among them as organizations attempt to improve global collaboration, access enterprise knowledge faster and better, and engage with customers and the marketplace far more effectively than in the past.
So, I've culled from my conversations with business and IT leaders in 2011 this CIO shortlist of social business strategy imperatives. Obviously the transition to social business applies to all IT and business leaders, but 2011 has certainly been the year where this conversation has moved into the corner office.
The Social Business Strategy CIO Shortlist
Organize for social business. Defining the roles, operating models, resources, and solution portfolio will be key to reign in the increasingly competing, diverse, and local social media activities within and across organization's today. Centralizing coordination and support into a social business unit will also address head-on the issue that Andy brought up of innovating on the edge and moving the successes to the rest of the organization. I've previously explored the issues in getting an organization ready, decreasing the madness, and gaining economies of scale while still enabling the grassroots action that makes social more effective and productive than older point-to-point approaches. As I explored this week, most important will be gaining an understanding of the opportunities that social business models offer while building competencies in them. Organizing will need to be an enterprise-wide activity and an internal social community is a great way to draw the entire organization into the planning.
Cultivate social business as a strategic IT capability. The tools and technologies of social business are important prerequisites for success. While cultural, organizational, and behavioral change will be harder, it can't be done without a supporting and enabling infrastructure. This means knitting together and keeping updated the organization's social business stack, which will increasingly be the loosely coupled backbone through which communication, collaboration, workflow, and business intelligence will flow as worker and customer activity streams are connected together. The CIO's job? Ensuring that a coherent social business stack is developed and maintained instead of a hodgepodge of local solutions that won't fit together at an enterprise-level. It also sometimes means empowering local solutions when they work better, as long as they can find a way to reconcile with the rest of the organization, ala CoIT. It also means looking at the leading edge, which include social app stores and social business intelligence.
Transition to new systems of engagement. Across the business, in marketing, sales, product development, customer care, and operations, there is a need to improve communication and collaboration with internal and external stakeholders. Social systems of engagement are increasingly augmenting systems of record, often by wrapping a more social intranet around existing IT service delivery points. Because this is all about business value, systems of engagement should be connected directly to the organization's emerging social business models including Social CRM, social media marketing, etc. Along the way, don't lose sight of the fact that systems of engagement aren't just the social applications, just like IT systems aren't an entire business solution; it's all about the full context including processes, support, change management, and especially the social fabric of the organization, the people.
Identify and focus on the high impact aspects of social business. While ROI accumulates continuously in social systems, with every interaction in a social business ecosystem leaving behind value in open, reusable manner, some areas have more value than others. In particular, measurement, analytics, and business intelligence provides some of the most strategic returns at the enterprise level, provided that it's applied and there's a closed feedback loop (managers actually look at the dashboards, reports, trends, and insights and take action based on what they see). One of the things I hear the most from managers and executives is that they'd like to spot trends in their business as soon as they happen, while there's time to get out ahead of the situation. This is possible in the open information and shared knowledge inherent in social business systems of engagement, particularly when they're connected to systems of record (i.e. the sales system is connected to the enterprise social network, the ambient buzz from which can identify upcoming deals, issues with existing clients, etc.)
"Ungovern" social business. At the leading edge of management theory is the concept of much more loosely integrated work groups that are empowered to work much more automously than before. These are Dave Gray's work pods, citing market leaders such as Xerox, Procter & Gamble, AT&T, and 3M, or Ruslan Kogan and The Rise of Unorganizations (link thanks to Andy Mulholland). In this same way, governance itself is becoming a distributed and more open function as well. As business delivery channels and IT service delivery models seemingly proliferate without end, it required a much more decentralized model to keep in line with concerns and objectives at an enterprise level. In this content, successful governance of social business will look more like work pods charged with the task and less like central committees that slow down the works.
Of course there's lots more that could be added to this list, but keeping it short and sweet is essential to have the focus on what's most important. For now, the CIOs I speak with are mostly not looking this comprehensively at social business. No, unfortunately, legacy baggage tends to demand most of their attention and it makes IT leadership largely focused on the past, rather than the future. But as I pointed out in the series, this is a time ripe with opportunity for IT to be a business driver like never before in the history of the industry. In the end, CIOs that can find a way to invest in their future and consequently social business strategy, rolling digital strategy into it, will likely be significantly better off than the other way around. I invite your comments and observations in comments below for discussion.