More than a few people on the vendor and advisory side of the house have approached me recently, questioning their participation and sponsorship of procurement, finance and shared-services conferences. A number have already begun to shift budgets away from traditional events into other forms of thought leadership and demand generation activities. Some have even asked us to get into the conference business in new ways (which we'll be continuing to dip our toes in around new content areas like global trade, which we did in the spring, and the intersection of sourcing strategy with commodity management and forecasting, which we're focusing on next). But I'm not convinced that the existing conference market is a wash — or headed into decline (in fact, I've personally observed the quality of recent events to be increasing). I just think it could be headed for a shake-up of sorts with the underwriters (i.e., the vendors) paying less and attendees paying for targeted value.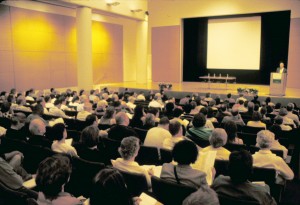 The old business model of for-profit conferences was pretty straightforward (outside of non-profit events like ISM, IACCM, etc.). To wit, a conference provider approaches a solutions provider and offers them a speaking slot (usually reserved for a customer), a booth, and a number of seats to sponsor an event. The vendor then pays the amount and budgets between 50-200% of the actual sponsorship costs to get the right team there, build or ship a booth, print materials, etc. Attendees, on the other hand, representing the actual buyers, just pay some nominal fee (often discounted relatively speaking compared with vendors) to join in the festivities. Incidentally, conference providers often limit the number of non-practitioner attendees and can charge more for these folks to attend. This entire model is predicated on getting vendors to subsidize the cost of practitioner attendance, while attendees, often without knowing it, receive a content diet determined in part by who is sponsoring (even if the content is not a blatant advertisement, which it rarely is anymore). This is the basic conference content model followed by IQPC events (e.g., SSON, ProcureCon), Procurement Leaders, SIG, etc. — although with the caveat that all are slightly different and many bundle sponsorship into broader programs.
I personally believe we're going to see some shifts in this model as practitioners seek to attend more specialized events organized around content of interest to them, rather than content determined behind-the-scenes by the actual sponsors. This will open up a new world of possibilities in terms of how providers make money (and who their customers really are). Sure, there will still be sponsors of events. But as attendees go to learn and network around "nichier" topics (e.g., commodity forecasts, country and supply market intelligence, supply chain risk, P2P systems tips) rather than simply hearing about XYZ's successful procurement transformation brought to you by ABC, I suspect we'll see attendees begin to cover more of their share of what it costs to put on events that are actually interesting to them. We'll see smaller events as well, including many that will be highly focused on one area. The Harbor Aluminum event we're speaking at next week is an example here. It also looks like ISM is going to put on a supply-risk focused event next year as well, targeting an extremely important area for companies across industries.
At Spend Matters, we plan to stay neutral in covering events and speaking. I'll personally continue to speak at select events for non-profits such as ISM on a pro-bono basis while continuing my policy of charging a standard speaking fee (nearly always covered by vendors) at vendor or for-profit events unless there's a more strategic relationship we have with the conference organizer. Our entire team will also continue attend and cover events as our schedule permits, if the content is on target with our interest areas.
Yet we believe that as this market shakes out in the coming year, we could see some shifts in budgets on the provider front, which will challenge many organizers to revisit how they plan and structure content to attract the right practitioner audience they're after. This will be doubly important if providers pull back on sponsorship budgets, opting to attend shows (if they can) rather than buying the sponsorship packages they have in the past. Of course the wild card here is the economy and travel budgets. But assuming we're not headed for a big double-dip, I think the need for targeted learning on the part of practitioners will outweigh the cost of attending up to a few focused events per year.
Which event providers will do well in all of this? I've personally seen the quality of events increasing. Of the for-profits, Procurement Leaders is my favorites for classy shows and networking. SIG is on the up as well (although is growing potentially dangerously fast as a business, and had some challenges filling seats internationally at a recent UK show). ProcureCon is branching out as well and we've attended and enjoyed their recent shows. SSON appears to be on the decline from those we talk to and Eye for Procurement is already dead. Yet whether these and other providers adapt to a fundamentally changing model if vendor spending shifts (at least with some, as we think it might) will remain to be seen.