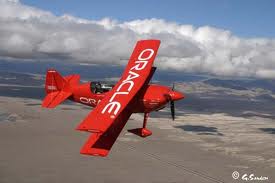 Oracle reported its Q4 and FY2011 year end results  and once again posted impressive numbers including its first quarter with over $10B in total revenue and first quarter with over $1B revenue in applications. New software licenses grew 19% year over year and improved on the FY 2010 growth rate of 14%. Oracle's business was equally strong across all three software business lines, applications, middleware and database and although the hardware revenue declined 6% year over year the all important net margin improved. Database revenue, a market that is very mature, grew at 28% year over year, a growth rate that is twice that of any year in the past decade, according to Oracle CEO Larry Ellison. Here's a look at the applications new license growth compared against FY2010: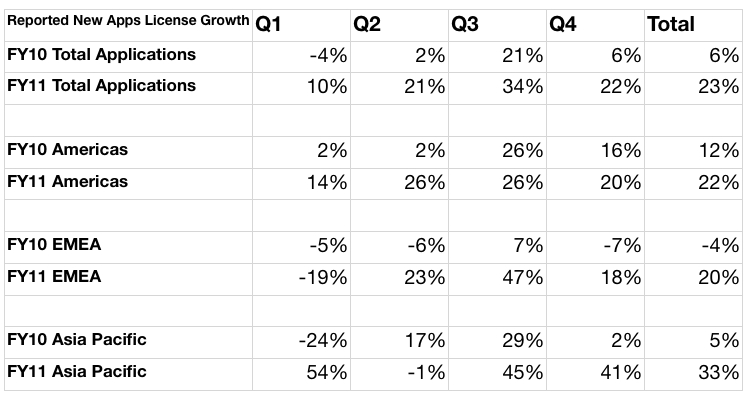 Overall, as you can see, the improvement year over year is very strong. From a regional perspective there is also marked improvement across all three regions with Asia Pacific showing particularly strong growth. The area of greatest improvement though is EMEA, the one region that had struggled in the past. That trend has been broken with three consecutive quarters of solid growth. We should also note that the quarter revenue was unaffected by any significant acquisitions.
So what's behind the continued strength in applications? There are no surprises or major change in the strategy, Oracle continues to execute what has worked well for them over the last 5-6 years. That strategy is comprised of:
Lead with and continue to evolve deep vertical applications managed by the vertically focused Global Business Units (GBU). These vertical applications then drag in other applications from the broad Oracle portfolio of applications, middleware and database.
Cross sell / up sell into the extensive customer base derived from the combination of the native Oracle customers with the customers from the more than 60 acquisitions it has made over the last 6 years.
Leverage both middleware and database sales as opportunities to drag other apps into the customer.
In my conversation with Oracle President Mark Hurd after the earnings call yesterday I had the chance to discuss the GBU's and the health of the vertical business among other things. The top growth verticals last quarter were Communications, which is having good success with its billing solutions including provisioning and metering; and Retail, with its expanding portfolio of offerings. From a bookings perspective both Financial Services, which recognizes a good portion of its revenue ratably because of the service bundling of the i-flex offerings and Health Sciences which is mostly sold in a subscription / SaaS model, had an outstanding quarter.
Apparently the field initiative to gain more density of coverage across all sales territories and GBU's is progressing well. Hurd reported adding over 800 more resources to the sales team in both pre-sales engineers and sales executives. This comes on top of the 1500+ resources already added in Q1-3 as reported in the Q3 earnings call. The concept is simple math, for example, take a sales territory / sales executive that has 20 accounts and split that up so that each sales executive has 5-6 accounts, which forces more focus and should yield additional revenue over time. As a part of the changes Hurd indicated that every effort is made to maintain continuity of the territory and to minimize disruptions, particularly where there are strong existing relationships.
Not to spend much time on hardware but I do think Exadata and Exalogic are significant enough that I should mention them briefly, particularly since pre-integrated devices are clearly a product area that Oracle plans to continue to expand. Oracle CEO Larry Ellison reported that Exadata had sold over 1000 units overall, with 50% growth in Q4 and with over 50% of the customers buying more than one system. In addition he reported that expects to triple that number next FY. As for Exalogic, while no unit figures were mentioned he did say that the ramp is better than Exadata.
As for Fusion Applications the team was again fairly quiet on the subject. When asked during the question and answer session at the end of the earnings call Ellison reported that Fusion Applications are completely rolled out and that there are several customers live already. He also spent some time talking about his view of cloud 2.0 and the fact that multi-tenancy is a 14+ year old approach that is outdated in a world with sophisticated virtualization. Fusion Applications, according to Ellison are about customer choice, with on premise, private cloud (managed by the customer or by Oracle) and  public cloud all as options. This discussion also provided Ellison a chance to take a shot at applications rival SAP, which, according to Ellison has "nothing" to offer in enterprise public cloud.
The discussion with the executive team on acquisition strategy provided some insight. When asked about whether Oracle planned to continue acquiring companies at its "normal" aggressive pace during the Q&A session, they indicated that the market was getting to a point where many companies were very overvalued and that they would not over pay for what they acquire. The focus for now will be on organic growth, particularly through engineered systems but if something comes up that is a good value, then of course they would act.
Overall Oracle continues to execute extremely well and there is every indication that the trend will continue. With expanded sales coverage, progress in hardware particularly through Exadata and Exalogic, a database business that seems to be accelerating, strong middleware growth, successful deep vertical applications, great overall applications growth and the promise of both more engineered systems and the broader availability of Fusion Applications it is well positioned for continued revenue growth and margin improvement…