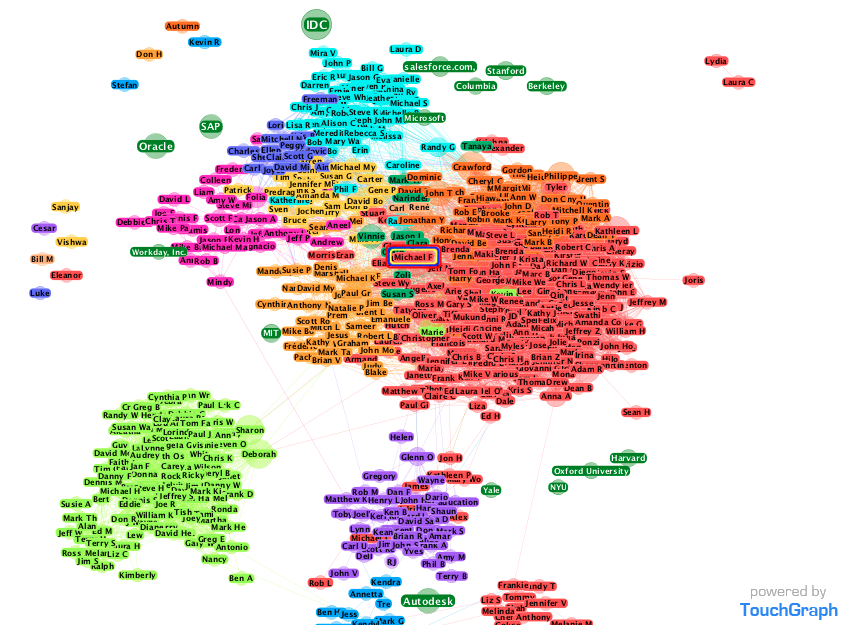 By now you'd pretty much have to live under a rock to be completely ignorant about online social networks, whether you participate in them or not. Earlier this week facebook hit the news again with its ever rising valuation now topping $70B, capping last week's news that unofficially the network's membership jumped over the 750M mark. Public social networks like facebook are mainstream now and they have a fairly clear business use as a marketing and advertising tool for the enterprise. Their use as a business communication channel has even extended to many customer support organizations. What they don't have though, even with some granular and complex security and privacy settings, is the level of security and control necessary for them to be used by businesses as internal social networks. What's public can't really be made private, no matter how hard you may try. Even with quasi business use by individuals the wise are very careful how they use them and what gets posted there. But I'm not planning on offering a lesson in building online personal brand presence in this post, instead I want to talk about the business use of the concept of social networking.
There are a few use cases for social networks in the enterprise, either public, semi-private and private, which fall into two general categories, 1. collaboration (internal or internal to external) and 2. use case driven. The first category, collaboration, is generally completely or mostly private. The second category, use case driven, can be public, semi-private or private depending on the specific objectives of the community.
Collaboration is a word that has been used and abused for quite a few years in enterprise software. In fact if you had asked CIO's a couple of years ago about their collaboration initiatives you would have gotten some angry answers. The old generation of collaboration systems were not particularly collaborative, instead they did an adequate job of controlling files, which frankly isn't all that useful and certainly doesn't help people work together more effectively. For me, today's focus on social has put an important shift in new generation collaboration systems, the move away from focusing on files to focusing on people. The people centric nature of these systems is proving much more effective in facilitating productivity. In our real time, hyper-connected and information driven business world people need tools to help deal with the ad hoc nature of information work where often the human part of the equation is in dealing with exceptions to rigid processes. The new generation of "social" collaboration tools have two key clusters of features, activity stream and social network. I've written on activity streams before so I won't cover it again. The social network functionality is pretty standard, profile with some professional information and perhaps some personal information to humanize the perception of the employee a bit. You could think of it as a modern replacement for the corporate directory but more interactive and providing a broader look at an employee. There's the potential to draw on corporate HR systems to get some of that information as well, with  the employee's permission of course. In some products I've seen there is also some additional capabilities that allow the creation of ad hoc or defined external networks with subsets of functionality and access. This, I believe is critical to the concept of building a business network that reaches beyond the firewall. This ability then is a very important evolution of the tools. I should also mention that I believe these systems need to move from the idea of forming an additional layer, the social layer and get embedded into the enterprise workflow through the software systems that people use every day. Vendors and their products that serve this need include: Salesforce.com Chatter, Novell Vibe, VMWare Socialcast, Tibco Tibbr, Yammer, Jive, Moxie, IBM Lotus Connections, Newsgator, SuccessFactors CubeTree, Neudesic Pulse, Clearvale / Broadvision, SocialText, Oracle Fusion Applications …I'm sure I forgot some, but this is at least a good start.
Use case driven business social networks are seeing rapid growth with companies finding some very creative ways to use the concept of community. Here are a few examples of some of the more interesting uses:
Customer communities for peer to peer customer support.
Healthcare patient communities (healthcare relationship management) where the patients and family members can find information, peer to peer interaction, family support, etc. These communities are generally private.
Ideasourcing communities where customers and / or partners can provide input into a companies product / service design and development process.
In government constituent communities to provide feedback on government initiatives at a local or even a national level.
Government campaign communities where candidates can develop a community of supporters to augment its campaign efforts.
Private communities serving specialized interest of a group like financial management advice or skydiving
Partner community that allows a company to interact with its partners, provide sales and marketing assistance and maybe encourage peer to peer partner cooperation.
Supplier networks. Companies like Ariba provide access to an established supplier network but companies could also develop its own. These networks can provide pricing benefits or could even draw suppliers into closer collaboration around product design and manufacturability.
Medical collaboration community, a private community of healthcare providers that facilitates all types of cooperative treatment, collaborative diagnosis, etc.
This is not an exhaustive list of course, but hopefully you get the idea. A business could use a community / network platform to build public, semi-public and private communities to leverage the network effect for specific outcomes. The application of community to business issues is virtually limitless. There are two types of social technology that  could be implemented, the network could simply be an extranet version of the internal social network (some of the vendors listed above provide that capability) or a full blown community platform like Lithium Technologies, Get Satisfaction, Sword Ciboodle, Private Social Networks, Inc. and others, see this list.
All of these networks have to address corporate concerns around security, compliance, IP protection, etc. Role based permissions can help give employees the right access to the right data and provide some confidence around limiting access when that is important. Enterprise use of social is growing up, there are still lot's of concerns though. I'm having a lot more conversations around social policies as well and I believe that every company needs to address the use of social tools by setting reasonable guidelines and then training employees on company expectations and limits.
If you have other examples of business social networks add them to the comments, these use cases are great patterns for other businesses to address some of their own issues…