SAP's recipe for success in the cloud was the main course served up for knowledge-hungry ISVs attending this week's EuroCloud Congress 2011 in Luxembourg. In a presentation Tuesday morning (June 28th), Rainer Zinow, who is SAP's product strategy chief for Business ByDesign and the On Demand family of enterprise cloud applications, set out the four dimensions that SAP sees as fundamental to success with cloud apps. Zinow also took the opportunity to pitch SAP's ByDesign infrastructure as a platform on which cloud ISVs should build their own cloud apps. [Disclosure: I organised the conference as an unpaid vice president of EuroCloud, and SAP is a recent consulting client].
Zinow outlined "four key areas for innovation and investment" for success in SaaS (see picture), adding the caveat that the strategy only worked if all four components were adopted together.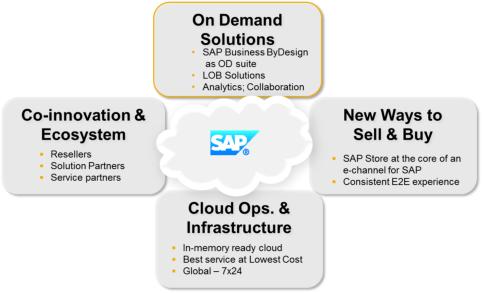 In response to an audience question, Zinow agreed that changing attitudes and mindsets was probably the biggest challenge in following through on the strategy. Within SAP, there was still more to do to propagate a cloud mindset, he admitted. Here are the four components.
Cloud ops and infrastructure. "You must have at the bottom a rock solid infrastructure — and invest a fortune to get there," he said. The presentation included a video emphasising the scale of investment that SAP has put into building its own resilient on-demand data center, with enough diesel fuel and coolant to survive a two-week power outage.
On demand solutions. "You must build native cloud applications," he said, admitting that SAP had previously invested in a hybrid architecture that had not worked out. That strategy has now been abandoned, he said. "What we are designing as SAP's applications for the cloud, we've not taken a single line of source code from our existing applications."
Co-innovation and ecosystem. "You must take partners with you," said Zinow. SAP's previous technology generation took maybe 15 years to create, he said. There is not the same breathing space today. "This time we believe we have three, maximum five years and we have to take our partners with us. Having a platform on which partners can build their businesses is equally important."
New ways to sell or buy. "Cloud computing allows you to do business independent of the size of your company," he said. Citing the examples of eBay, Amazon, he said, "What e-business did for the retail industry, cloud computing will do for any type of company."
Zinow went on to discuss some of the ways in which cloud apps differ from conventional apps. One huge difference is the standardization of intuitive UI conventions propagated by the like of Google and Amazon. "From a user perspective, [applications] must work without handbooks. We had big battles with developers who said, 'Yes, Google is great but I have a better way.' We had to tell them, 'It's too late, Google already defined how it's done'."
Another big difference is that developers no longer need to worry about CPU and memory constraints. "The future model of computing is based on infinite CPU cycles and infinite memory," said Zinow. "In a cloud computing world, CPU cycles don't matter any more. I can run easily on Intel's latest blade 500 concurrent users. With 4TB I can keep all the data that these companies own in main memory."
This led into a pitch for SAP's new in-memory compute architecture, HANA. "That is why we are investing a medium fortune in getting away from SQL databases," said Zinow. "With a columnar store we can keep everything in main memory and then we use search engines to find data."
Although this can drastically cut the time taken to run conventional processes such as 'dunning runs' of overdue unpaid invoices, the real benefit is in building 'big data' applications that were not possible before. Zinow gave the example of equipping automated Coke machines with smarts that allow them to report not only on status but also real-time usage and demand patterns. But collecting and analysing this scale of real-time information requires a new infrastructure. "Cloud computing is the answer," he said.
SAP's customers, though, don't want to rip out their existing application infrastructure. "Our customers told us, 'Don't even think about changing your existing infrastructure. We finally got it to work, we finally got our accountants to love it. Don't force us to upgrade it'," he said. Therefore the new family of On Demand applications for salesforce automation, career management and travel management are designed to extend or add new business processes without new upgrades or installs of the existing SAP application infrastructure. Customers have configured connections and completed implementations in as little as a few hours, he said.
For partners, SAP offers the ByDesign application platform running on its On Demand technology platform and SAP's own managed cloud infrastructure. SAP is committed to concentrating on its platform, he said, leaving partners free to develop and market their own add-ons, integration and mashups, forms, reporting and vertical solutions. As part of this story, SAP is positioning Business ByDesign as a PaaS offering for solution providers. Add-ons and solutions are then validated by SAP and published to the SAP Store .
For me, the two-day Congress in Luxembourg was the culmination of a period of intense work that has affected my regular postings here. I can now start catching back up with a series of posts over the coming days exploring some of the issues that have been on my mind recently.