Touted at the next thing in cloud, Platform as a Service is receiving much attention now. While PaaS has been far from a failure, it hasn't been a mega success…yet.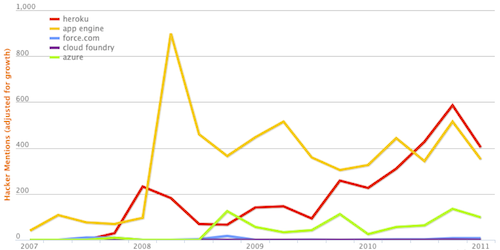 I've been talking with several people about Platform as a Service use recently: with all the vendors (and us analysts as well!) going on about how great it is, I've been trying to assertion both current momentum and ongoing developer desire. The point of PaaS is to make a developer's life even easier: you don't need to manage your cloud deployments at the the lower level of IaaS, or even wire together your Puppet/Chef scripts. The promise of PaaS is similar to that of Java application servers: just write your applications (your business logic) and do magic deployment into the platform, where everything else is taken care of. Pioneers like Heroku have certainly proven that out, initially. Still, aside from that big name in the PaaS space, I very seldom hear developers tell me they're using PaaS: they still prefer to use the lower-level of IaaS. Indeed, it seems that for many developers, the IaaS layer and tools around it are "good enough" for mow.
Taking Stock
Coming across PaaS usage numbers can be difficult. First, if they report at all, companies typically you how many applications, customers, and/or developers are using the PaaS. Customers is perhaps the only metric that's not suspect: a paying customer, after all, is a committed customer who, at the very least, is providing revenue to the PaaS provider. Applications can be totally bunk: how many of those are simple "Hello, cloud!" applications, dead applications, duplicates, etc.? Developers is even worse: a "registered developer" could just be someone filling out a form and clicking submit.
I spent some time back in January of this year to round up some numbers, and I've found some additional figures which slightly updates those January ones. For example, number of applications deployed on various App Engine, Heroku, and Force.com:
Each of AppEngine, Force.com, and Heroku are at sub 300,000 applications deployed. Which, is a big number, sure. But how many applications are there in the world? It's hard to know (and how many are just "Hello, world's!" and Pet Shops), but:
With those baselines and the estimates of the number of applications in PaaSes, things look luke-warm for PaaS adoption currently.
When it comes to customers, Microsoft Azure and EngineYard are the only ones I can track down:
Check out the raw data for the number of developers, which is perhaps the least helpful figure: akin to tracking downloads in open source horse races.
Sentiment, anecdotes, and other fuzzy analysis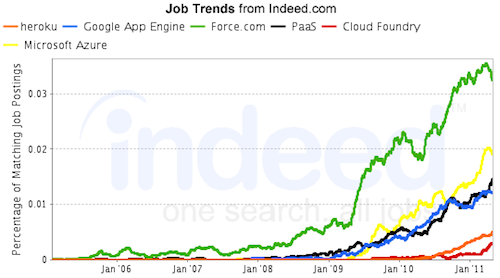 Overall, I don't hear a lot of excitement about PaaS from developers I speak with. Most of them have used Heroku (I tend to skew towards people who would, though), but they seem to be doing "just fine" with a "build your own PaaS" approach. As one enterprise architect put it:
[My] ideal is we leverage Chef/Puppet and stick to IaaS systems whether our own internal VMWare cloud, a public AWS or OpenStack or Rackspace or whatever tomorrow brings. Scripting the build out of what we need. I think that is going to be the most portable from what I have seen. But we have to balance that against the time/complexity savings of being able to deploy to a CloudFoundry with "one line."

I think the overall answer is "we don't know yet." We care about lock in. We worry about it. But I'm not sure we care enough to push us one way or the other…