Timing of Google+ Bodes Well For Enterprise Users And Google
Lately, one could say Google's been a bit absent from the social business party.  The premature launch of Google Wave exposed a canvas looking for a masterpiece painting.  Failing fast and learning from the Google Wave lesson, Google's latest offering, Google+ shows promise in bringing similar disruptive technology concepts to market, yet packaged in easier to adopt metaphors such as activity streams, walls, hangouts, and circles (see Figure 1).
As part of Google's aspirations to deliver enterprise offerings, it's flagship Google Apps continues to gain traction in enterprises despite a market position that places the product between a very strong pro-sumer play and an almost enterprise app.  The good news – a constant stream of incremental changes shows an evolution to an enterprise class offering built from a strong consumer bent.  As of this posting, Google Apps isn't integrated with G+, but Google's enterprise ambitions have been strengthened with the new offering.
Figure 1.  Logging Into Google+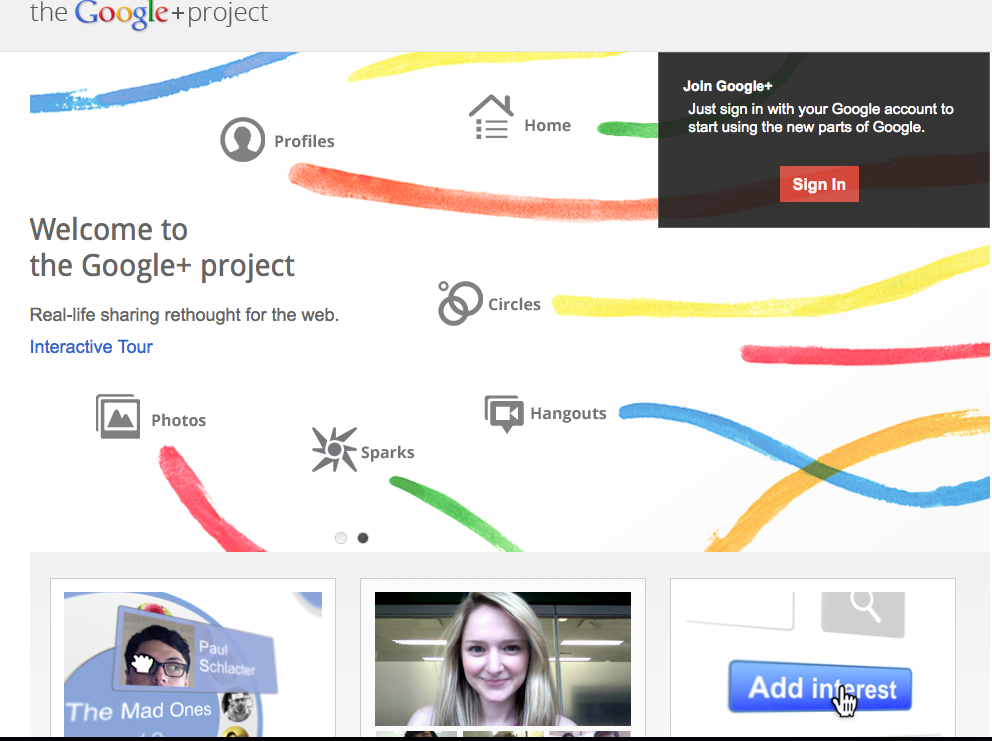 Convergence And Shift To A P2P World Enables GooglePlus To Go After Both Consumers And Enterprises

Google+ launch comes at an exciting time of convergence among the mega trends for the decade: social business, mobile enterprise, cloud computing, and unified communications.  The five pillars of Consumerization of IT (CoIT) fall in Google's favor as consumer users rapidly seek to bring these innovations into their enterprises.  Subsequently, Google+ already takes advantage of Google's assets to:
Unify the communications channels. Enterprises spend millions trying to get their fragmented communications systems to work, let alone integrate.  Google+ takes chats, emails, tweets, voice, mobile, and video and rolls it all up neatly into one offering.  More importantly, it works off of one login and its integrated.  Key video features such as Hangouts allow for impromptu video con calls without the hassle of most other video conferencing systems.
Provide an initial alternative to Facebook for the enterprise offerings. Procurement managers and line of business buyers face Cloud/SaaS best of breed hell as a flurry of purpose built solutions attack the enterprise IT landscape.  Should Google stream line convergent offerings for the enterprise, it will be poised to dethrone many incumbents.  Google can only succeed if they can match functional parity over the next 12 to 18 months.  Keep in mind, the long-term goal goes beyond Facebook for the enterprise.
Aggregate the user's social sphere. Facing near term social networking overload, enterprise users can't possibly fathom another social networking service.  Aggregation by a major player makes sense from a market position and user convenience. Google's initial list allows users to notate key services in their profiles through connected accounts from Facebook, Yahoo!, Flickr, LinkedIn, Quaora, Twitter, Yelp, Hotmail, and Plaxo (see Figure 2). A quick look into the codes shows that these connection services potentially can support a Microsoft Outlook email, an SAP feed, or Salesforce.com Chatter stream and may potentially support direct integrations in future road maps.
Figure 2.  Google+ Delivers Social Sphere Aggregation With Ease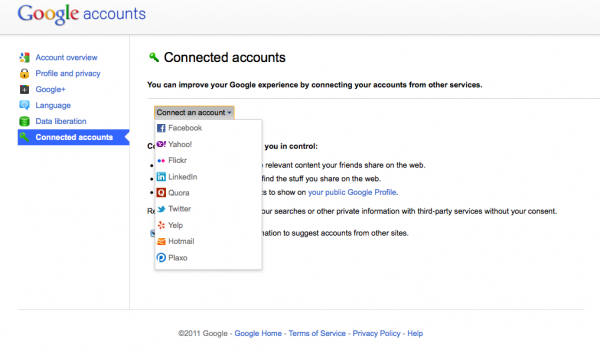 Google+ Off To A Good Start But Much Needs To Be Improved
After a few days of test driving, here's a quick run down of what works from a user and enterprise point of view.  Keep in mind, the product is still in beta and the engineers appear to be incorporating feedback in very rapid sprints.

What works:
What could be improved:

(Catch the full analysis for free at A Software Insider's Point of View)
Your POV.
Trying to fix your social business program?  Have a lessons learned from your Social business initiative.  Got a question?  Add your comments to the blog or reach me via email: R (at) ConstellationRG (dot) com or R (at) SoftwareInsider (dot) com.
Please let us know if you need help with your Social CRM/ Social Business efforts.  Here's how we can assist:
Assessing social business/social CRM readiness
Developing your social business/ social CRM  strategy
Vendor selection
Implementation partner selection
Connecting with other pioneers
Sharing best practices
Designing a next gen apps strategy
Providing contract negotiations and software licensing support
Demystifying software licensing
Related Research:
Reprints
Reprints can be purchased through Constellation Research, Inc. To request official reprints in PDF format, please contact sales (at) ConstellationRG (dot) com.
Disclosure
Although we work closely with many mega software vendors, we want you to trust us. For the full disclosure policy, see the full client list on the Constellation Research website.
Copyright © 2011 R Wang and Insider Associates, LLC All rights reserved.