Citrix announced the acquisition of Cloud.com this morning hoping to flesh out its long-running cloud road-map. This Brief Note covers what this means for Citrix and provides some background.
Summary
There's some clear motivations for Citrix:
Filling whitespace – Citrix has long spoken about cloud computing, but they've yet to make a big splash on the overall scene. By purchasing Cloud.com, Citrix might be able to finally fill in the potential they've been marketecting for themselves over recent years.
Move from call centers to cloud – In the long term, Citrix needs to come up with new lines of business around virtualization and cloud computing to replace (or supplement) the "cash cow" of its legacy, desktop business. That BU could be revitalized if the whole idea of virtualized desktops takes off, but that's been rocky when it comes to blow-out acceptance.
As real a deal as you'll find – Cloud.com is regarded as one of the more "real" cloud offerings out there, building a respectable story over the short years they've been around. They've built up a nice list of public references out of 65 reported customers overall, including KT, a large public cloud project that most every serious cloud player is currently involved with (you hear all sorts of things good and bad about it, sure, but it provides an ongoing test of this whole "cloud" idea beyond Amazon).
The Citrix Context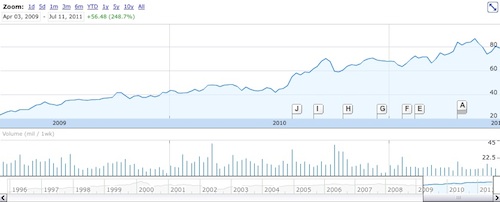 If you're like most people I talk with, you're probably like, "Citrix…?" Indeed! Citrix is one of those under-appreciate, billion dollar companies. They started out with technology to host desktops on servers (think thin clients and call centers) and with their purchase of XenSource some years ago have been expanding into general IT management and, now, cloud. One of their core assets (and liabilities, the tin-foil hats would say, when it comes to portfolio expansion) is a long-standing, bi-directionally beneficial relationship with Microsoft (needed to make their thin client technology extra, super-magical).
Here's their revenue by business unit since 2009, the red line is the virtualization and cloud gaggle: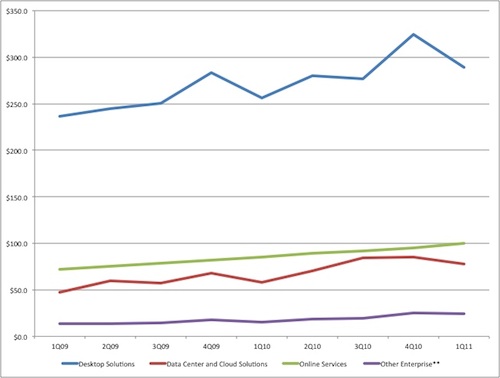 How good is Citrix at capitalizing on acquisitions? It's difficult to track what they've done with XenServer exactly, but it seems like they've done well. The Xen brand certainly took over most of Citrix, but because they bundle their NetScaler product line together with XenServer, you can't perfectly track revenue for the "Data Center and Cloud Solutions" business unit. (And, indeed, NetScaler seems to have "lead" revenue for this BU in the most recent quarter). But, hey, when has tracking product line revenue ever been easy from the outside?
Last year the Data Center and Cloud Solutions BU reported $298.6 in revenue (up from $231.4M in 2009). As the chart below shows, it's still a smaller part of overall company revenue, and smaller than the Citrix Online BU (home of GoToMeeting and other GoTo products):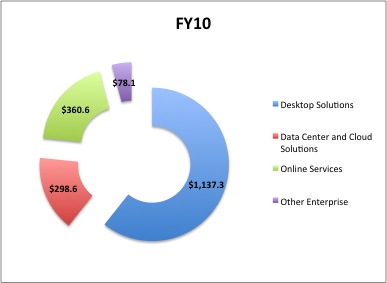 As some rough comparisons: VMware brought in $844 million company-wide in the last quarter of 2010 and $2.9 Billion for all of 2010, most of that, no doubt, around virtualization and "data center management" – the Spring revenue is probably small compared to the overall VMW cash-pie. And when it comes to market share, I continue to see numbers that show VMware far in the lead, by large margins, with Microsoft's Hyper-V a distant second, and Xen third, down there with the other hyper-visors.
But, with Gartner reckoning that "at least 40%" of x86 machines are virtualized, just to pick one estimate out of many, there's all sort of room to close those gaps.
One thing is certain: Citrix has yet finished its cloud strategy over the years. Their CEO, Mark Templeton is extremely charismatic and along with the recently departed Simon Crosby can talk a good vision on cloud. Their presence in cloud, despite all that Xen-driven cloud, hasn't been as much as it should be. Hopefully, the Cloud.com team (who seems to be taking a leadership role) can help accelerate that.
Back to Cloud.com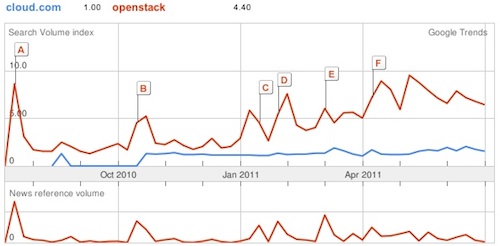 By coincidence, I recently wrote-up my current thoughts on Cloud.com in response to a press inquiry:
Cloud.com has a few things going for it: based on their momentum, their software seems to work, which is saying a lot for something as new as cloud computing. Many of the "real cloud" projects out there require a tremendous amount of what we used to call Systems Integration (now "cloud integration"?) work to make up for immature software. From what I've heard, Cloud.com seems to be suitably functional for its age…