Companies are adopting social technologies across a broad range of enterprise  activities from new ways for employees and partners to collaborate to more effective methods to engage customers and prospects. In a recent IDC social business survey we found that 41% of the respondent companies had some type of social project underway. Companies that are consciously applying social business approaches and tools are getting value from that use. For example, in the same social business survey, respondents reported that using social tools internally made them 11-30% more productive.
While 41% is a solid number of companies engaged in social activities, what it doesn't show is the level and maturity distribution in that population. More companies are formally embracing social business initiatives but this is a recent development. Many initiatives begin as grassroots efforts from well meaning employees operating independently, and spread over time and as the initiative demonstrated some measure of success. Social business initiatives tend to be viral and often, at least in early stages, go around established IT guidelines. At some stage of adoption projects seem to move into a more formal approach driven by departmental objectives and eventually tied to company strategy. The diversity of projects and the continuum of adoption can create some confusion and difficulty in assessing a companies current level of adoption and ability to use that to support strategic planning for future social initiatives.
Based on our research in social business over the last three years, a team made up of me, Erin Traudt and Mary Wardley built and published a maturity model for use in assessing a companies level of maturity across a continuum of social business activities. The IDC document, published last week, is available here (warning, subscription or purchase required to access the complete report). The report outlines 5 stages of maturity in detail and provides criteria for assessing a companies current level and guidance to help companies plan for future stages. The five stages are: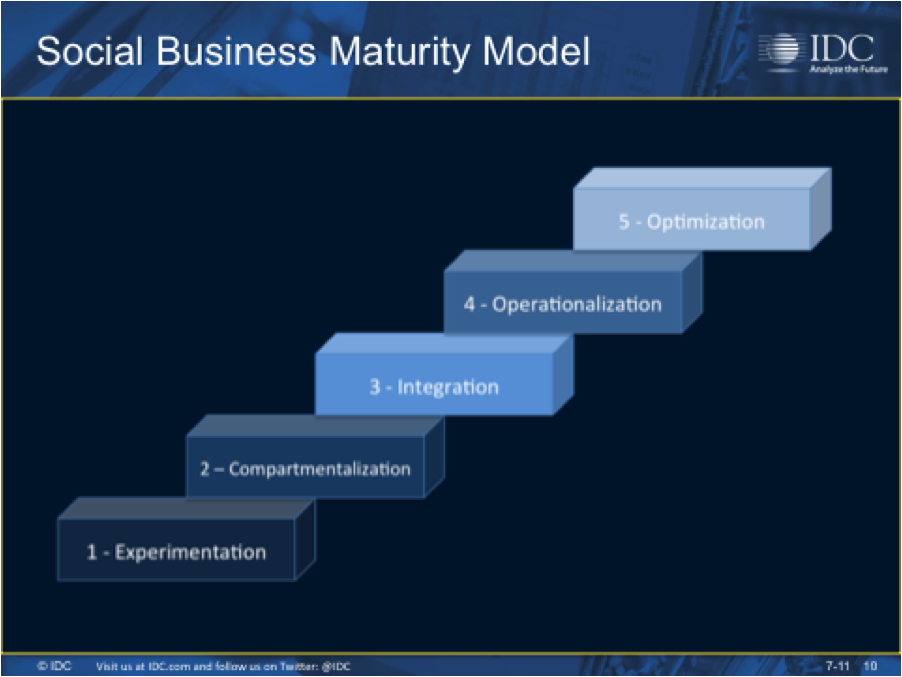 The model is built as a continuum from early isolated pilots and experimentation through strategic cross enterprise initiatives and measures maturity across these dimensions:
Culture
Organization
Technology
Barriers
In addition the model is designed to work on the common social business use cases including external, customer facing initiatives, internal employee focused initiatives, and external projects engaging partners and suppliers. Change, particularly culture change can be challenging and must be tied to clear benefits and returns to be successful. Social business initiatives are demonstrating good returns and can offer significant competitive advantage. Alignment with overall company strategy is key for long term adoption and to maximize the overall benefit from the initiatives. Using a maturity model can be very useful as a framework for understanding a companies progress in implementing social technologies and the accompanying culture shift required to underpin adoption and use.