The big players are moving in for a piece of the Big Data action. IBM, EMC, and NetApp have stepped up their messaging, in part to prevent startup upstarts like Cloudera from cornering the Apache Hadoop distribution market. They are all elbowing one another to get closest to "pure Apache" while still "adding value." Numerous other startups have emerged, with greater or lesser reliance on, and extensions or substitutions for, the core Apache distribution. Yahoo! has found a funding partner and spun its team out, forming a new firm called Hortonworks, whose claim to fame begins with an impressive roster responsible for much of the code in the core Hadoop projects. Think of the Doctor Seuss children's book featuring that famous elephant, and you'll understand the name.
While we're talking about kids – ever watch young kids play soccer? Everyone surrounds the ball. It takes years to learn their position on the field and play accordingly. There are emerging alphas, a few stragglers on the sidelines hoping for a chance to play, community participants – and a clear need for governance. Tech markets can be like that, and with 1600 attendees packing late June's Hadoop Summit event, all of those scenarios were playing out. Leaders, new entrants, and the big silents, like the absent Oracle and Microsoft.
The ball is indeed in play; the open source Apache Hadoop stack today boasts "customers" among numerous Fortune 500 companies, running critical business workloads on Hadoop clusters constructed for data scientists and business sponsors – and very often with little or no participation by IT and the corporate data governance and enterprise architecture teams. Thousands of servers, multiple petabytes of data, and growing numbers of users are increasingly to be seen.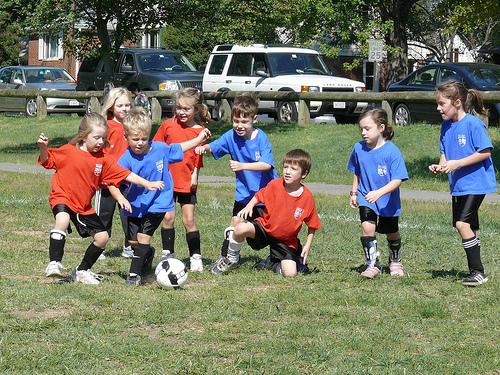 by 
 elstudio
Community Growth – Chasing the Ball
At Hadoop Summit 2011, the community itself was in many ways the star – big, diverse, attentive, engaged, tweeting up a storm. Sessions were packed; content, dense and technical, was well received and understood; deep inquiry was the order of the day. Sessions on Youtube are here.
Sponsorship was substantial – 26 sponsoring companies did continuous, deeply engaged business throughout. Several told me when I asked…