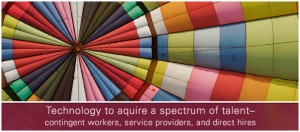 Earlier this month Fieldglass announced a new suite of analytics capabilities designed to help their customers — and MSP partners on behalf of their customers — make better contingent labor spending decisions.
Fieldglass positions these enhancements as fitting into three categories: reporting, visualization, and benchmarking. But to me, they all fall under the broader umbrella of analytics. More important than what to call it, however, I had the chance to look at the application a couple of weeks ago and came away from the demonstration with the belief that Fieldglass put significant thought — not just development time — into the type of contingent spending intelligence that companies need to both save more from overall programs and realize better performance from partners for contingent spending.
But what's driving the need for a new level of analytics, benchmark intelligence and visualization of services spending data?